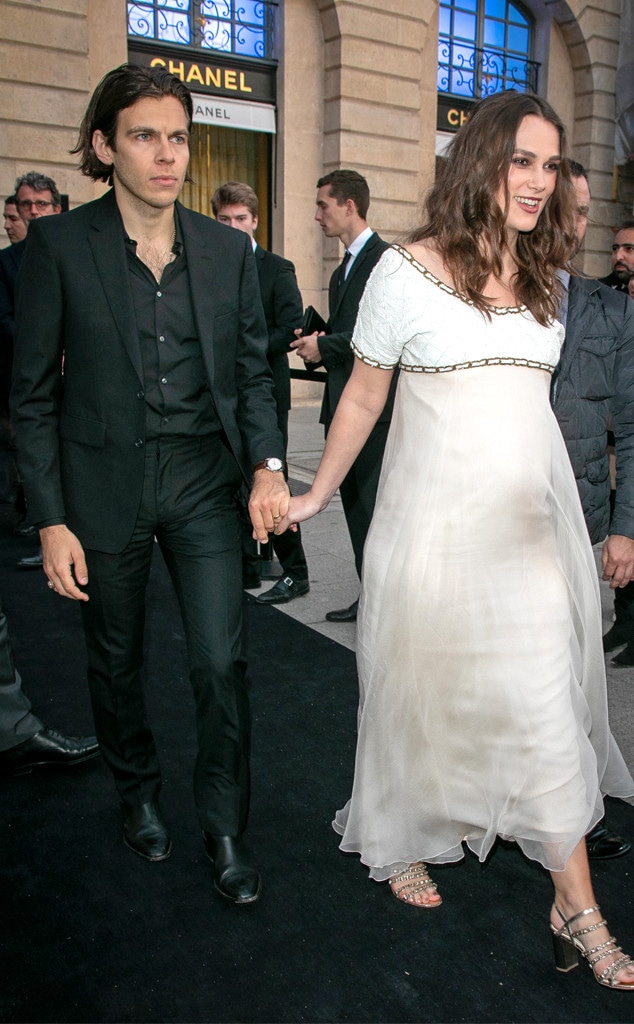 Marc Piasecki/GC Images
It looks like Keira Knightley will soon become a mother for the second time!
On Thursday, the British actress appeared to debut her baby bump while stepping out for a Chanel-hosted cocktail party in Paris, France. Keira, 34, was joined by husband James Righton. 
Dressed in a Grecian-inspired, empire waist gown and chunky gold heels, the A-lister lovingly placed her hand on her belly as she made her way past photographers. Alexandre Maras of Gala captured video of the star with her apparent bump as she got out of a car. 
In 2015, the notoriously private couple welcomed their first child together, a baby girl Edie Knightley Righton. Two years prior, Keira and James tied the knot in an intimate ceremony in the South of France. 
Last year, the Pirates of the Caribbean star spoke candidly about the impact motherhood has had on her acting career. 
"There's that sense of, like, I don't give a f--k," Knightley joked to Harper's Bazaar. 
She continued, "Once you've had that whole experience of leaking breasts everywhere and the messiness of it—there's no control, it's animalistic. I feel that in a funny way with acting it sort of helps; there is no embarrassment any more."
Knightley also penned a controversial essay about her childbirth experience, in which she critiqued Kate Middleton's postpartum actions and compared them to her own. The actress would later clarify her remarks. 
She's already instilling her feminist beliefs within 3-year-old Edie, recently revealing to Ellen DeGeneres that there are few Disney films the toddler is "banned" from watching. 
As Keira described, Cinderalla is a big no-no "because she waits around for a rich guy to rescue her. Don't! Rescue yourself. Obviously! And this is the one that I'm quite annoyed about because I really like the film, but Little Mermaid [is banned, too]. I mean, the songs are great, but do not give your voice up for a man. Hello! But the problem with The Little Mermaid is I love The Little Mermaid! That one's a little tricky—but I'm keeping to it."
Congratulations to Keira and James!
E! News has reached out to her rep for comment.