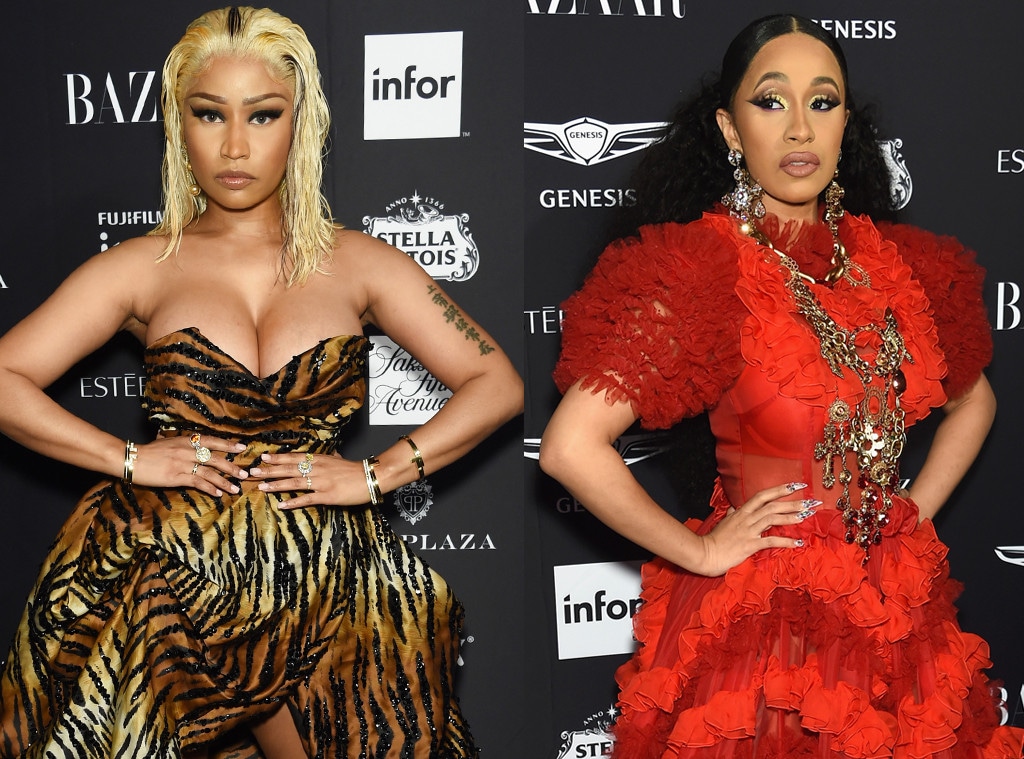 Dimitrios Kambouris/Getty Images for Harper's Bazaar
Cardi B is focused on rejoicing—not reigniting explosive feuds.
On Wednesday night, the "I Like It" rapper had an incredible evening at the 2019 Billboard Music Awards where she won several awards including Top Hot 100 Song and Top Female Rap artist.
And while the A-list artist would have likely wanted to continue celebrating today, she found herself slamming rumors on social media.
Earlier in the day, an Instagram comment surfaced online that appeared to come through Cardi B's account. The target was for the one and only Nicki Minaj. 
"AINT THREATEN BY NOBODY WHAT DON'T YALL GET??? I JUST WON 6 AWARDS TONIGHT AN YA FABES WIN NOTHING!!!" the post read. "TELL NICKI TO COME OUT OF HIDING INSTEAD OF WORRYING ABOUT ME."
"YALL LOVE YA SOME BARDI! NAME ONE BITCH WHO CAN DO THIS S--T BETTER THAN I CAN!!"
Ultimately, Cardi B says the comment never came from her. In fact, she claims it's completely "fake."
"This is fake ass f--k!" she wrote in a now-deleted tweet. "This is why I post it what I post yesterday on Twitter because ya constantly make fake s--t up and try to put me against people all the f--king time! Please get a f--king life. I had an amazing fun night last night for me to do bulls--t!"
For those wondering what she's referencing, Cardi B took to Twitter before any award was handed out to make it clear that there's room for everyone in the music business.
"What another bitch eat don't make me s--t. There's enough room for everybody in the game. Stop comparing and constantly putting me against others," she wrote to her followers. "Everybody shines and sound different. Ya want to hear the same s--t or ya want to have variety? It seems like ya just want drama."
Despite any drama online today, Cardi B lived her best life at the MGM Grand Garden Arena in Las Vegas Wednesday night.
In addition to displaying some serious PDA on the red carpet with Offset, the rapper felt plenty of love from her loyal fans.
"Thank you soo much everybody for the support. I know I'm one crazy bitch and I express myself too much," she wrote. "I be having ya like 'here this bitch go again' but hey! Stick with me, I mean no harm naaa but seriously thank ya for riding and supporting me. Ya keep me motivated to keep on pushing!"