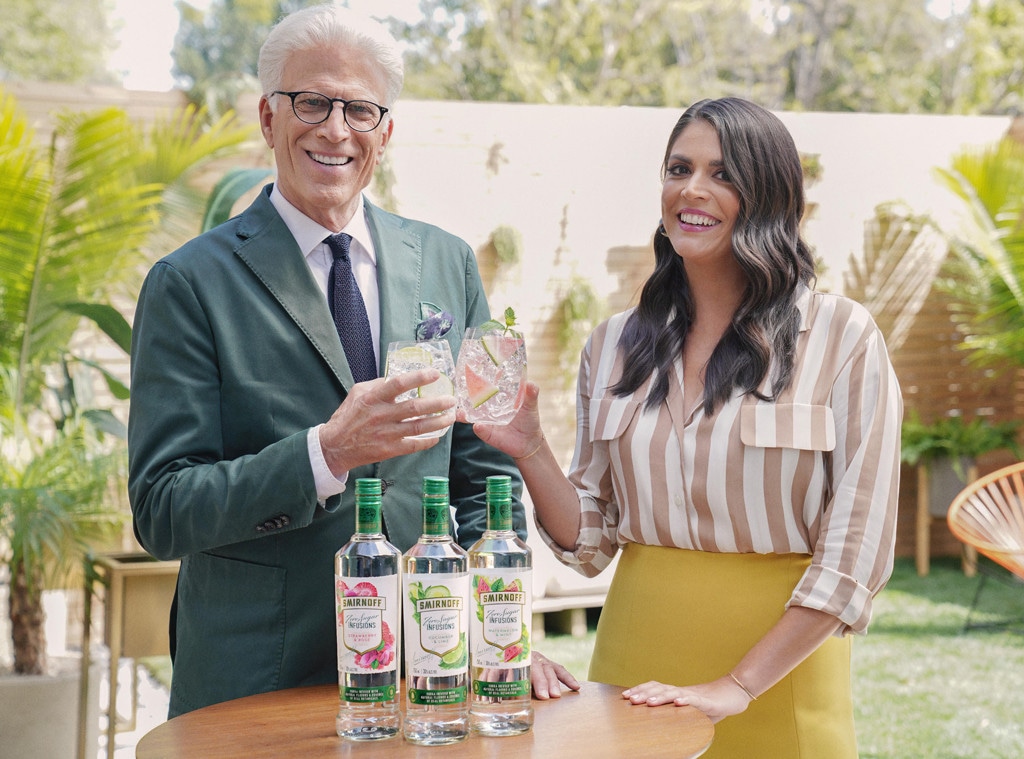 Smirnoff
Week after week, Cecily Strong is working with some of the biggest names in show business when they come through halls of Studio 8H for Saturday Night Live. But her latest venture, working with Ted Danson in a new campaign for Smirnoff's Zero Sugar Infusions line of vodka specialty spirits, is one she's been bragging about. The duo star in new commercials for the product.
"It was as fun as you could imagine—and more so. It's been fun to brag about to family and friends," Strong told E! News. "[Ted Danson] is so delightful and charming and funny. It was a beautiful day. We had fun, I liked the director, I liked our little scripts. We just—we laughed a lot for hours. So, it was kind of the ideal shoot."
The spots feature the two comics at a party, getting the drink on, and Danson reveals his nickname as "Sweet Cheeks Teddy."
"He is absolutely 'Sweet Cheeks Teddy,' I can see why…I get it that people call him that," Strong said.
Danson is known for being a true Hollywood good guy—just ask his The Good Place costars—and Strong said it was on full display when they worked together. "He immediately came to my trailer and said hi. I mean, he was just so kind but he's also so funny," she said. "My favorite combo."
Now back at work with just three episodes left of Saturday Night Live season 44, Strong is mixing and mingling with some A-list talent, including Paul Rudd, Emma Thompson and Adam Sandler. But Strong rarely gets star-struck.
"You know what? I think it's exciting to meet everyone, but because it is such work, I have to be so diligent about the work week," Strong said about quelling her nerves when meeting the hosts. "There are definitely people that I fangirl at a little bit. I was very excited about Idris Elba because I'm such a fan of Luther."
Strong is finishing her seventh season on the show, but that doesn't mean keeping her laughs at bay during a scene has gotten any easier. "Anything that's a little bit unexpected will always make me break, usually. You know when the camera is on you, and hopefully it's not on you when you break," she said.
With a variety of characters in her arsenal, Strong said there's no real favorite. "It's hard to say. I mean, you love 'em and then you do 'em a couple of times and then you want to do something else. I think anytime I get to play sort of an over-the-top lady it's fun for me. Any version of that," she said.
She's recently appeared as Fox News personality Jeanine Pirro in a number of sketches and said that's "become very fun."
"I have not heard from [Pirro], but I think, for me anyway, I never want to really attack. I don't want to go too mean when I do one. I still thought, in the back of my mind, I still thought, 'Yeah maybe there's a chance. Maybe she would laugh.' I don't know. That's how I see it," Strong said.
While on Watch What Happens Live with Andy Cohen, Strong revealed she gets inspiration fro characters from watching shows, including various Real Housewives. "Some are from TV, some are in the news. Obviously, if you look like somebody that's in a topical news story that's done something funny that's an easy way to try to get on the show," Strong told E!. "My friend Shane works for The New York Times and he sends me some really, really fantastic internet videos. I love a good public meltdown. Just a lot of people with no shame are my favorites because I have maybe too much self-awareness as someone who does comedy."
With the season almost behind her, Strong said she's looking forward to relaxing.
"I have a house in LA now that I love and I'm working on building out the backyard…I love having little parties over the summer. I just recently had a tramp stamp party," she said.
Strong noted Lorne Michaels told her to be sure to take vacations.
"That's my favorite thing to pass on to newer cast member...You have to walk away. You have to teach yourself how. Give yourself time to relax and just take a little down time too. Because everybody wants to keep working, working, working, even on your off time. It's like, just do one week at least where you're taking a vacation, where you unwind because you really have to just for your own sanity."
Saturday Night Live airs Saturdays, 11:35 p.m. on NBC.
(E! and NBC are both part of the NBCUniversal family.)