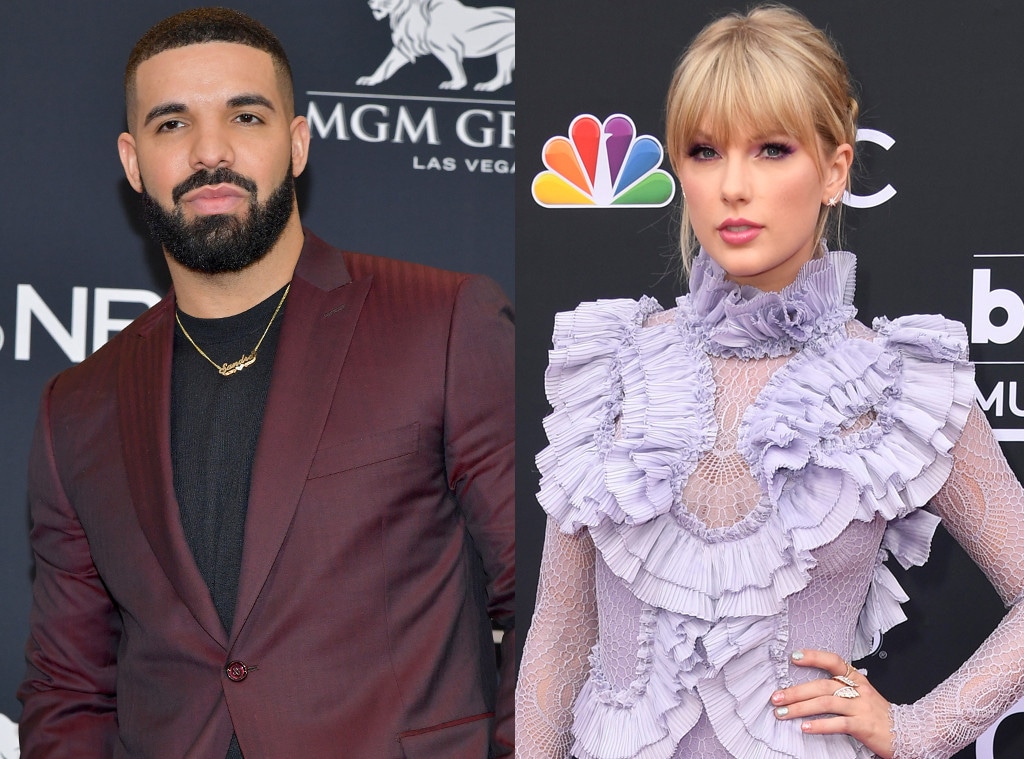 Frazer Harrison/Getty Images
Drake has good reason to be all up in his feelings tonight.
The Scorpion rapper officially dethroned Taylor Swift at the 2019 Billboard Music Awards as the artist with the most awards ever from the show. Drake walked into the evening with 17 (!) nominations and he did pretty well for himself throughout the night. He now has a total of 27 Billboard Music Awards.
The "God's Plan" rapper won a number of awards at the show, including Billboard Top 200 Album, Top Male Artist and Top Artist. During his many acceptance speeches, the 32-year-old urged his fellow artists and fans to spread the love and not shy away from telling people how you feel.
"We just got back from our tour recently in Europe and we spent a lot of nights talking to each other and conversing. We've obviously had an unfortunate series of losses within our business and I want to encourage everybody to let other artists know how you feel about them," he asserted during his Top Male Artist speech.
Drake was likely alluding to the tragic death of Grammy-nominated rapper Nipsey Hussle, who was fatally shot in front of his clothing store in Los Angeles on March 31. The rapper XXXTentacion, who was shot and killed in Florida on June 18, 2018, was posthumously nominated for 10 awards.
Drake continued in that speech, "We put in a lot of work. This is our thing. We got to protect it. I encourage you to show somebody some love. Tell them you love their music and love what they do."
Jeff Kravitz/FilmMagic for dcp
The Canadian even brought a $400 bottle of Mod Sélection Rosé champagne with him onstage during the aforementioned speech. He suggested in his Billboard Top 200 Album speech that he would definitely be popping bottles later in the evening. Drake also garnered a ton of cheers from the audience and social media when he gave a special shout out to Game of Thrones hero Arya Stark (played by Maisie Williams).
"I need a glass of champagne," he said before finishing off his speech. "Hey, shout out to Arya Stark for putting in that work last week. Hey!" 
During his Top Artist thank yous, Drake made a point to thank his mom, Sandi Graham, whom he raps about in many of his songs. He only loves his bed and his momma, after all. 
Kevin Mazur/WireImage for MTV
He called her dedication to his career a "relentless effort in my life." Winning that specific award was "surreal" and "unbelievable" for him.
"I want to thank my mom for all the times you drove me to piano when I didn't want to take piano, all the times you drove me to basketball and hockey. That clearly didn't work out," he added. "You know, all the times you drove me to Degrassi. No matter how long it took me to figure out what I wanted to do, you were always there to give me a ride and now we're all on one hell of a ride. So, thank you. I appreciate it."
Swift had a big night of her own as well. Although she didn't take home any awards tonight, she made a splash at the top of the awards show with the debut live performance of her new hit song "ME!"
She and Panic! at the Disco's Brendon Urie both opted for colorful outfits, much like the music video that broke streaming records. Swift entered with a marching band and at the end of the song, she and Urie floated above the crowd in a floating umbrella chair.
Before tonight's Billboard Music Awards, Swift led the awards pack with 23. Host Kelly Clarkson confirmed the big news at the end of the show. She told the crowd, "Drake is having a good night. He has won the most Billboard awards of anybody ever."
To quote Clarkson, "Way to go, Drake!"
Check out the full list of Billboard Music Awards winners here.