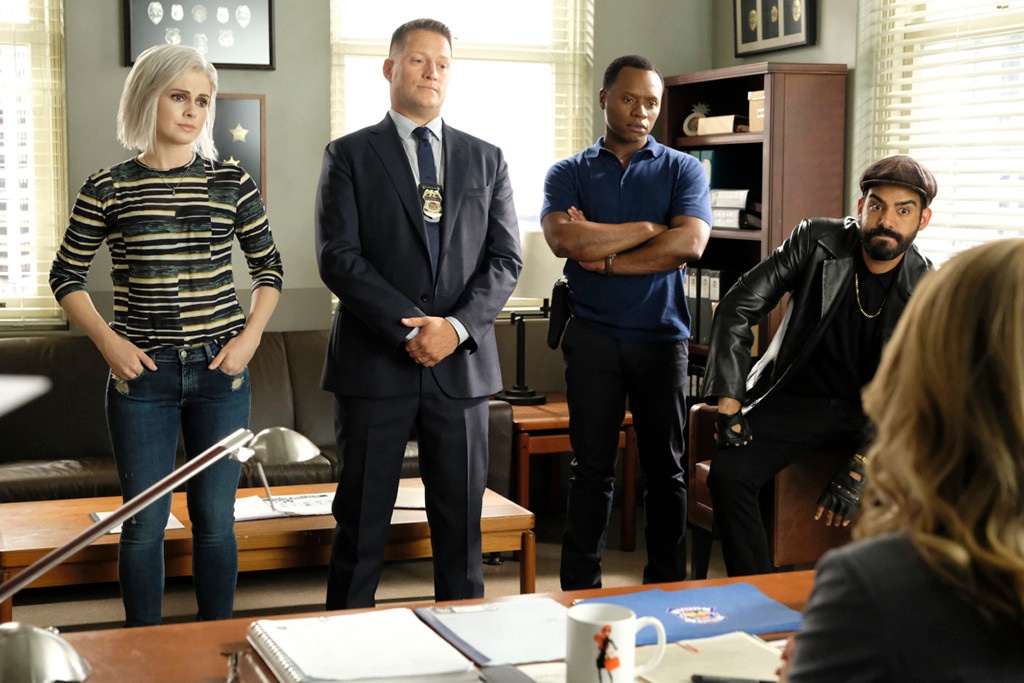 The CW
For many weeks over the past year, there were two different small blonde women talking in Rob Thomas' head. 
The creator of both iZombie and Veronica Mars found himself working on two high-profile seasons of two of his shows at the same time, as iZombie ends and Veronica Mars begins again on Hulu, and it was not an easy task for his brain. 
"I'm just now at a moment where I am not working 16 hour days anymore," Thomas told E! News over the phone. "This was an incredibly fun year, but it was a difficult year." 
Thomas recalled rereading some of his Veronica Mars pages and realized he had been accidentally calling Veronica Liv. 
"I would do it in the writers' room all the time. I would be in the wrong writers' room, and use those character names interchangeably," he says. "So yes, it was very difficult. Which small blonde speaking voiceover right now? But it was a fun year." 
While iZombie fans (like us) may feel like the season, which premieres tonight, is as bittersweet as any final season, Thomas is feeling pretty good. Great, actually, as this is a career first for him. 
"The flip side of that is I was really pleased that for once in my career, I got to end a show, know that the end was coming, and write to an ending, rather than finishing every year wondering, are we coming back? Is this the end? How much should I give away? So it was not the worst thing in the world this year." 
iZombie, perhaps more than most shows, has moved so far beyond how it started that there won't be any sense of the show going full circle in its final season, as many shows are wont to do. Liv Moore is no longer one of just a few goofy zombies using her brain-eating powers for crime solving. She still solves crimes, but now they're crimes committed within the walled city of Seattle, which is in the midst of a zombie/human crisis and a serious lack of brains, and Liv also moonlights as Renegade, the person responsible for illegally getting people in and out of the city for emergencies. 
"When we met Liv, she was a person who basically wasn't sure life was worth living," Thomas reminds us. "I mean she really found a calling in being a zombie and being one of the first zombies and being Renegade. I think she would have been content with just being happily married, and being a doctor would have been great for the character we met in season one. But now that seems too small in scope for what she's become." 
That doesn't mean Thomas wasn't thinking about going back to the beginning over the past year. It just wasn't with iZombie. 
"It's funny, that is a question I wrestled with a lot doing Veronica Mars," Thomas continued. "Like, returning her to outsider/outcast, you know. A little bit of s--t raining down on Veronica and like taking her back to sort of personally where she was in episode one of that show. That seems more feasible to me, almost. But now [on iZombie] things have gotten so out of hand in Seattle, and our characters are all in such positions of importance and power that you know, in season one, it was just a tiny zombie world that she might be the only one...it's now a big universe that she's coping with, so it stays big this year. It stays big up 'til the last scene." 
And by "big," Thomas partly means final. 
"It certainly is a season of big ideas in terms of the payoff. Like we do not end the show enigmatically," he says. "We bring it to a close. You know what happens to Seattle, you know what happens to Liv and Major, you know what happens with Liv's family life, how everyone's love lives ends, how the big zombie/human conflict ends. You will get answers to every burning question of iZombie by the end of the season." 
At the end of last season, Liv had lost yet another boyfriend (RIP Levon) and killed Chase Graves, but there's no time for mourning in this final season, especially with a helpful time jump. This isn't like previous seasons, which picked up directly where the last season left off. Major's been in charge of Fillmore Graves for a while, and Liv has continued her Renegade gig relatively in peace, and as Thomas says, the show comes back "fresh, and not wallowing in pain." 
But what does linger from the end of season five is a bit of the tension between Liv and Major, as she saw him as at least partially responsible for Levon's loss. Major's trying to make up for a lot as he tries to make changes at Fillmore Graves. 
"The reforms he's making, the things that he's doing to try to improve the relationship between the human population, the zombie population, and Fillmore Graves, I think she sees...they're not warm and close right off the bat, but I think she does admire the things that he's doing at Fillmore Graves." 
Speaking of the relationship between the human and zombie populations in Seattle, "it's a really difficult spot that they're in," Thomas says. It's bad. Zombies are starving, and that leaves the humans terrified and ready to take action before the zombies get too hungry. 
"Humans look at zombies and say they don't have enough food, they're going to come after us, we should probably go after them first. Zombies are hungry and start probably looking at humans with hunger in their eyes, so Major has found himself in a very precarious position," Thomas says, but there's one guy who might be able to save the day, sort of. "Sadly for both Liv and Major and probably everyone else, Blaine is kind of the swashbuckling hero who brings brains to the city through various smuggling operations..."
While those who know him know that he's one evil dude, most of the city sees Blaine as a kind of pirate hero, and Thomas says, "he's going to enjoy that right up until the moment that the population turns on him." 
Aside from Liv and Major and most of Seattle, many of iZombie's characters are in a pretty good place right now. Dale (Jessica Harmon) and Clive (Malcolm Goodwin) got married and Dale was cured, so now they can have kids. Peyton (Aly Michalka) and Ravi (Rahul Kohli) are going strong, even through his monthly zombie episodes. There's a glimpse of hope right now, that maybe everyone  could end up happy despite all the death and failed zombie cures, but obviously Thomas refused to say if there's a happy ending to be had at the end of all of this.
"I will say expect endings," he says. "The thing I can promise that we are not leaving a lot of questions at the end of this. People who watch this show will be rewarded with concrete answers on how things turn out. We did not save anything." 
iZombie's final season premieres tonight at 8 p.m. on The CW.