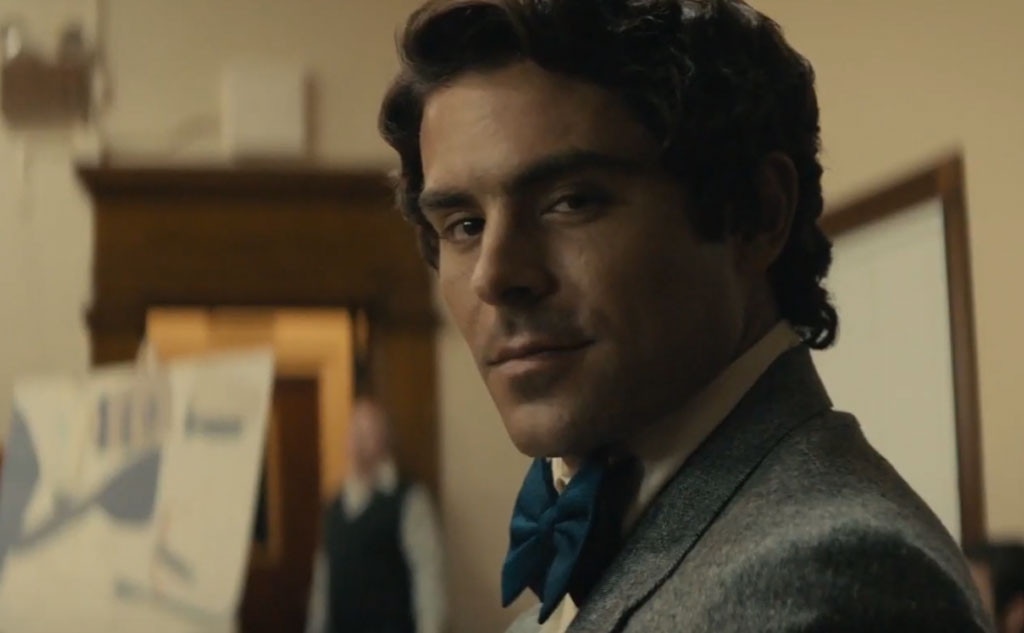 YouTube
Extremely Wicked, Shockingly Evil and Vile...but totally accurate? 
After the success of the docu-series Conversations With a Killer: The Ted Bundy Tapes, Netflix's highly anticipated new movie starring Zac Efron as the infamous serial killer Ted Bundy premiered on Friday, May 3, and it may not be the true crime-based movie audiences are expecting.
Though he would go on to confess to over 30 murders, with most experts agreeing his actual number of victims is far greater, Extremely Wicked chose to show just one of his murders play out on-screen, something a viewer may not have expected when they pressed play on a movie about the infamous serial killer. 
That's because it's not really Ted's movie; it's Elizabeth Kloepfer's movie, his longtime girlfriend who dated him for six years, even after she gave his name to the police in 1974. 
The movie is based on The Phantom Prince: My Life With Ted Bundy, the memoir Liz wrote under the pseudonym Liz Kendall in 1981, just after her former boyfriend had been found guilty and given the death sentence. And while it's fictionalized account, star Lily Collins and the film's director Jon Berlinger , who also helmed Conversations With a Killer: The Ted Bundy Tapes, actually met with the real Liz before filming began. 
"I think Liz was basically checking us out to make sure we were deserving of trust for the first couple of hours," Berlinger told the Deseret News. "And as someone who had a loving relationship with Ted Bundy, you can imagine that trust for her is hard-won."
But they did earn her trust, with Liz even sharing personal photographs and letters the couple had written to each other with the filmmaker and the actress, who also spent time with Liz's daughter. 
"And Lily holding those letters, written on these yellow legal pads—and Lily actually read them aloud—I think that was a very big moment for everybody," Berlinger said, "and crystalized …one of the controversial questions of the film: Is a psychopath capable of love? And why didn't he kill her?"
For Efron, he was hesitant to take on the role before he read the script, worried it would "glorify" the killer. 
"I liked the idea of bringing attention to the element of Ted Bundy that was so charismatic, and who was able to win over the world and yet be so evil and duplicitous," he told AP News. 
The film examines that idea using real events and fictitious ones in its exploration. Here's everything Extremely Wicked got right and everything it changed about the Ted Bundy story: 
The Beginning of Liz and Ted's Relationship: The movie mostly sticks to the couple's original meeting: the single mom was out at a bar in the University District of Seattle in September 1969 with a girlfriend. Recently divorced and new to town, Liz was looking for a new start and didn't know that many people in town.
In the film, it's Ted who first notices and approaches Liz, smoothly walking up to her at the jukebox. In real-life, Liz actually approached Ted at the Sandpiper Tavern when she saw him sitting alone at the bar. "You look like your best friend just died," she told him, as she thought he looked sad.  
"I've never forgotten this," Liz's friend Marylynne Chino (renamed Joanna in the film and played by Angela Sarafyan), who was with her that fateful night, told KUTV. "I walked in, and across the room, I saw Ted for the first time. I will never forget the look on his face, it wasn't evil but he was staring, nursing a beer."
"I knew when I first looked at him, before we had even danced, that he was a cut above the rest of the crowd," she wrote in her memoir. "The way he moved projected confidence. He seemed to be in control of his world."
Up close, she noticed his blue eyes "lit up when he smiled."
As depicted in Extremely Wicked, they spent the rest of the night dancing before he spent the night at her house. (The couple did not sleep together in real-life as well.)
From then on, he did become a doting father figure to Liz's daughter, Tina (her name is changed to Molly in the movie), with Liz writing that "talking and eating and taking care of Tina and sleeping together all flowed along so effortlessly that we had become a family."
As the film's director Joe Berlinger said in an interview with The Deseret News, "There was this nice family unit of three going sailing, going camping, going hiking, having birthday parties, but that male figure was Ted Bundy."
Ted became an essential part of her new world, even as he hid his darker one from her. 
"I handed Ted my life and said, 'Here. Take care of me,'" she wrote in "He did in a lot of ways, but I became more and more dependent upon him."
One of Liz's lines in the film is actually taken directly from her memoir to fully describe her feelings for him: "When I felt his love, I was on top of the world; when I felt nothing from Ted, I felt that I was nothing."
For Ted, he fell just as fast for the shy secretary. 
"I loved her so much, it was destabilizing," he said in The Ted Bundy Tapes. "She was from a Mormon family. She was from a wealthy background. She was somewhat meek. Liz had a child that she had to raise alone for a time."
And for the serial killer, who had grown up resentful of his mother, the idea of being part of a family "was a whole new dimension to living that I had never seen before." 
Trouble in Paradise: In Extremely Wicked, Ted and Liz's relationship is almost idyllic until his first arrest, filled with dancing to records and smashing wine glasses without a care in the world.
In real-life, however, there were signs of issues early on.
"I felt such a strong love for her, but we didn't have a lot of interests in common," Bundy said in the tapes. "Like politics or something, I don't think we had in common. She liked to read a lot. I wasn't into reading."
While Ted is pretty doting in the movie, taking care of Molly for Liz, he spoke about not being able to show his affection for her in the docu-series. 
"Not being able to make my genuine feelings for her come out, whether it's fixing a special dinner or going out or bringing flowers or taking out the garbage or changing the sheets or doing the laundry," he explained, "but on occasion I would experience this fit of guilt as it were and I would vacuum and I would straighten up and wash dishes or fix dinner or do something. The area where I really failed would be not opening up my whole life to her...don't know what I was hiding."
He added, "I was terribly jealous of her. I used to agonize about losing her. I used to just torture myself. I did a lot of dumb things." Viewers really don't see the jealousy he felt for Liz in Extremely Wicked. 
"We would be getting along fine and then a door would slam and I would be out in the cold until Ted was ready to let me back in," Liz wrote in The Phantom Prince. "I'd spend hours trying to figure out what I had done or said that was wrong. And then, suddenly, he would be warm and loving again and I would feel needed and cared for."
There were other oddities in his behavior that she noticed, too; in her memoir, Liz wrote of Ted getting "very upset" any time she discussed cutting her long hair and that she would often wake up in the middle of the night to find Ted inspecting her body with a flashlight under the covers, which we do get a scene of in the film.
Also not included in Extremely Wicked was Ted's pretty serious shoplifting habit.
When she once questioned where he had gotten a new TV, she alleged he told her, "If you tell anyone, I'll break your f--king neck."
He later copped to his penchant for stealing, explaining in Confessions of a Killer, "The big payoff for me he said was actually possessing whatever it was I had stolen. I really enjoyed having something that I had wanted and gone out and taken."
Liz Was Almost One of His Victims: One surprising real-life experience that was left out of the film was Ted's attempt to murder his girlfriend, Liz alleged in her memoir. 
One night, he closed the chimney flue and placed a towel under her door, ensuring the smoke couldn't escape as she slept. 
She also recalled that attempt in her memoir, writing, "I remembered that night well. My eyes were running and I was coughing. I jumped out of bed and threw open the nearest window and stuck my head out. After I had recovered some, I opened all the windows and the doors and broke up the fire the best I could. I had gotten on Ted the next day for not coming back with the fan."
She wrote, "He wanted me to die that night."
After their break-up, Ted still tried desperately to get in touch with Liz, who would move often and change her phone number; he even continued sending her a single red rose on the anniversary of the day they met: September 26. The note he would attach, according to Ann Rule's book, The Stranger Beside Me? "My heart valves need adjusting."
In an interview with Thrillist, Berlinger talked about his decision to not really depict any of Ted's crimes in the film.
"I made the conscious decision to not really show any murder or any criminality on Bundy's part because the whole movie is experienced through the POV of the people who loved him, especially his longtime girlfriend," he explained. "So by the time you get to the trial and finally at the end of the movie when you realize what a horrible person he is, I wanted to give the audience the same experience that the real character was having."
Why Liz Called the Police in 1974: One of the film's big reveals is that Liz was actually the one to call the police and tip them off that Ted might be the serial killer they were after in 1974. Aside from seeing his sketch on the news and thinking it looked like Ted, we don't get a lot more information on why Liz thought the man she loved (and would continue to for years, despite tipping off the police) was capable of murdering all of these women. (She called them again once she heard of killings in Utah, where he was attending law school.)
In The Ted Bundy Tapes, journalist Stephen Michaud revealed she had actually found women's underclothing, a bowl killed with house keys and bandages in her boyfriend's apartment, along with a knife under the right front seat of his car.
And in Ann Rule's book The Stranger Beside Me, which came out in 1980, Liz (referred to as Meg) detailed even more things she found that led her to contact the authorities. 
"A lug wrench, taped halfway up, under the seat of my car. He said it was for my protection. Plaster of Paris in his room. Crutches. He had an oriental knife in a kind of. wooden case that he kept in the glove compartment of my car. Sometimes, it was there; sometimes it was gone. He had a meat cleaver. I saw him pack it when he moved to Utah."
She also noted he went out a lot in the middle of the night and she didn't know where he went. And she eventually realized she was never with him on the nights any of the women had gone missing. 
Liz also told police that she often found him sleeping in his car outside of her house as they didn't live together in real-life.
In a later interview, Liz said, "In my own mind, there were coincidences that seemed to tie him it. Yet when I would think about or day-to-day relationship there was nothing there that would lead me to think that he was a violent man capable of doing something like that."
And it's that idea that the film really focuses on; Liz's struggle to accept her lover is also a killer.
"There was so much love and so much trust between the two of them, or so-called trust," Lily Collins said in an interview with AP News. "There are these two worlds that I think were really important to show in the film because that's the truth of it. The reality is that there were happy times. She was leaning so far into those happy times that she didn't see the other side until later, in the trials."
She added, "It's based on what Liz would have seen, which is nothing. In order to make the audience feel like they're in the mindset of Liz at the very end of the movie, you have to earn that. And it almost heightens the anxiety because you're teetering on the edge of 'is he or isn't he guilty?'"
His Confession to Liz: Given that her book came out in 1981 and she has retreated completely from the public eye, it's actually not confirmed is Liz ever visited Ted just before his execution on January, 24, 1989. 
In the film, we see Liz visit Ted, revealing to him that she was the one who called the police and gave them his name, shocking her ex. But according to Rule, who was friends with the serial killer after meeting him at a crisis hotline center they both worked at in Seattle, Ted knew back in 1976 that Liz had called the police.
Back to the film version: Wracked with guilt, she pleads with him to finally tell her the truth. In a chilling moment, Ted finally does, revealing to her how he decapitated one of his victims, Donna Mason, writing "Hacksaw" on the glass between them with his finger. 
During his interview with Detective Robert D. Keppel toward the end of his life, Ted revealed he did something he considered far worse: He had incinerated Manson's head in Liz's fireplace. "Of all the things I did to Liz,  this is probably the one she is least likely to forgive me for. Poor Liz." 
Liz's Life After Ted: As depicted in Extremely Wicked, Liz did battle alcoholism during her 10-year ordeal with Ted. (Though we don't know is she actually married her co-worker, played by Haley Joel Osment in the film.)
She also turned to religion, writing in her memoir, "My spiritual growth is extremely important to me now. I try to live my life according to God's will. I pray for Ted, but I am sickened by him. The tragedy is that this warm and loving man is driven to kill." 
At the end of the film, it's revealed that Liz and her daughter "still reside in Washington State. Liz has been sober for decades."
Ted vs. Judge Edward Cowart: While it may be hard to believe that Ted, serving as his own lawyer, had such a riveting back-and-forth with Judge Edward Cowart (John Malkovich), the judge who presided over his trial in Florida for the murder of  two students at a Florida State University sorority house. But yes, they really did verbally spar, but Judge Cowart often called Ted "partner" and delivered his ultimate sentence, the death penalty, with surprisingly sympathetic words, which the movie doesn't alter.
"You're a bright young man. You'd have made a good lawyer and I would have loved to have you practice in front of me, but you went another way, partner. I don't feel any animosity toward you. I want you to know that. Take care of yourself."
His final words to Ted "stunned" the court room and the public at the time.
And the movie's title comes from Judge Cowart's description of Ted's "heinous" crimes in his sentencing, which he called, "Extremely wicked, shockingly evil, vile and the product of a design to inflict a high degree of pain and utter indifference to human life." 
As for Ted's final statement in court, where he said he found it "absurd to ask for mercy" for something he didn't do, it actually was delivered before his sentencing in real-life, not after. 
Court Theatrics: In a memorable scene from Extremely Wicked, Bundy fires his Dan Dowd, his lawyer, ahead of his Florida trial after he is strongly advised to take a plea deal that would net him life in prison. 
"F--k you," Dan yells before throwing his papers and storming out of the courtroom.
OK, so...that F-bomb did not happen IRL, but the firing did. After a plea bargaining that settled on 75 years in prison without parole rather than the death penalty for Ted, who had initially signed a statement admitting his guilt, the serial killer decided to fire his defense attorney, whose name was actually Mike Minerva. (A public defender named Ed Harvey remained on his defense team and actually conducted the cross examination on the forensic odontologist about the bite marks, not Ted.) 
Years later, during a mental competency hearing, Minerva and Harvey both testified that Ted had sabotaged their efforts.
"He has a defect in his reasoning process that prevents him from making a decision," Minerva wrote in a memo before the trial that was used as evidence. "He lacks the mental stability to decide on a course of action."
Relationship with Carol Anne Boone: We don't see the first meeting between Ted and his eventual wife in the film, but the couple met when they both worked at Washington State Department of Emergency Service in 1974. He was dating Liz at the time and they were just friends, though Carole, played by Kaya Scodelario, seemed interested early on.
"I liked Ted immediately. We hit it off well," she said, according to the 1983 book The Only Living Witness: The True Story of Serial Sex Killer Ted Bundy. "He struck me as being a rather shy person with a lot more going on under the surface than what was on the surface. He certainly was more dignified and restrained than the more certifiable types around the office."
Carole did uproot her life and move to Florida to be near Ted during his trial, bringing her son (who is not referenced in the movie) with her.
Ted and Carole's impromptu wedding during his trial actually did happen the way it's depicted in Extremely Wicked, though Ted did tell the jury after, "We didn't do this for your benefit. It was the only chance to be in the same room together where the right words could be said. It was something between she and I.''
The major changes in their relationship as it was shown on-screen?
Their "random" meeting at the dog adoption center likely didn't happen, as Ted had actually hosted Carole and some of her friends at his place in Salt Lake City years earlier when she was visiting from Washington, so they clearly had stayed in touch in some way over the years.
And it's unlikely Carole revealed her pregnancy to Ted just before his sentencing, as the timeline doesn't match up. Their daughter, Rose, was born in October 1981.
However, their surprise wedding did happen on the same day he was found guilty. 
While the movie is largely focused on Liz's relationship with Ted, Carol did eventually divorce him in 1986 and left Florida, moving back to Washington and retreating from the spotlight after basking in it for years as Mrs. Bundy. 
In her 1994 book, Defending the Devil: My Story as Ted Bundy's Last Lawyer, Nelson alleged Carole refused Ted's final phone call to her because she was "devastated by his sudden wholesale confessions" and  "hurt" over an alleged relationship with Diana Weiner, one of his civil attorneys.
Rose is now 37 and has remained out of the public eye. 
Extremely Wicked, Shockingly Evil and Vile is now streaming on Netflix.