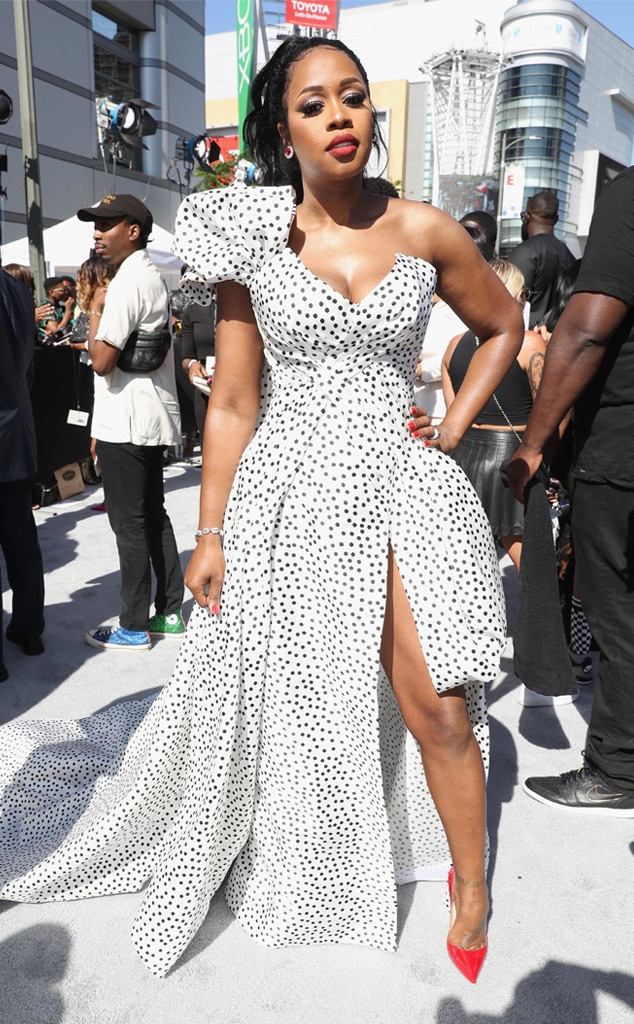 Johnny Nunez/VMN18/Getty Images for BET
UPDATED: Remy Ma's parole is officially over. 
The Department of Corrections and Community Supervision has confirmed to E! News that the rapper's community supervision completion date was Aug. 1.
"She is officially off post-release supervision, which is similar to parole but it's stricter because it's for violent offenders," her attorney, Dawn Florio, told E! News on Thursday. "She completed five years perfectly without ever missing a curfew or having a dirty urine. Typically they end it early for good behavior, but I think they didn't because she's a rapper and they always want to make a point with celebrities. She got her ankle monitor off this afternoon. No more curfew or travel restrictions. She is so excited to be able to travel with her family freely again."
The artist celebrated the big news by posting a video of herself riding in a convertible with Fat Joe and listening to Anita Baker's "You Bring Me Joy" on Instagram.
"Remy off parole, baby!" he said.
In addition, he said that Remy's husband Papoose and their "Golden Child" Reminisce Mackenzie Mackie were right behind them and that they were all going out to eat.
Remy also said a quick hello to her followers—many of whom expressed their excitement over the news on social media, as well. Furthermore, she quipped that she was taking all meetings after 8:00 p.m. because she didn't know "how the air feels outside after that time."
Papoose also shared a video of everyone singing and celebrating on a boat.
---- 
Remy Ma is having another brush with the law.
The rapper was arrested on Wednesday afternoon for an alleged assault that occurred on April 16 at around 9:30 p.m. NYPD confirmed to E! News that "Remy Ma aka Reminisce Smith was arrested for assault at Irving Plaza against 29-year-old female Brittney Taylor."
Taylor is a cast member on the VH1 show Love and Hip Hop: New York.
The police department explained to E! News why Ma's arrest happened today even though the alleged assault took place weeks ago. NYPD explained Taylor "was embarrassed to report it at the time" but she ultimately "ended up filing April 17."
NYPD continued, "Remy surrendered to police at the 13 Pct today. She was placed into custody at 12:30pm. She is still in custody. Remy was charged with Assault."
According to the police, Taylor "sustained bruising to her right eye. The victim was treated at Mount Sinai for her injuries."
TMZ, who first broke the story, reports that Taylor alleges Remy Ma punched her during the Pretty Lou Benefit Concert on the 16th.
Taylor's attorney Sanford Rubenstein gave a statement to E! News on behalf of his client and condemned the alleged assault.
"This arrest demonstrates how serious this matter is, it is real life and not reality TV entertainment.  The victim Brittney Taylor has confidence in our system of justice and will continue to fully cooperate with the authorities," Rubenstein wrote in his statement.
The 38-year-old will soon be arraigned for the case. The Manhattan District Attorney's office told E! News, "She is awaiting arraignment for this case. We can't provide guidance on her prior case or parole until she is arraigned. She will likely be arraigned this afternoon."
Remy Ma's parole ends August 1.
In March 2008, Ma was convicted of intentional assault and she was later sentenced to eight years in prison after shooting a woman named Makeda Barnes-Joseph. Ma and Barnes-Joseph were allegedly pushing and pulling on the rapper's purse because she believed Barnes-Joseph stole $3,000 from her and Ma's gun went off during the argument.
Ma was released in 2014 after serving six years in prison.
The "All the Way Up" rapper and her husband Papoose welcomed their first child together, a daughter named Reminisce Mackenzie. She also has an 18-year-old son named Jayson and Papoose has three kids from a previous relationship.
E! News has reached out to Remy Ma's rep.
(This story was originally published May 1, 2019 at 1:45 p.m. PST).