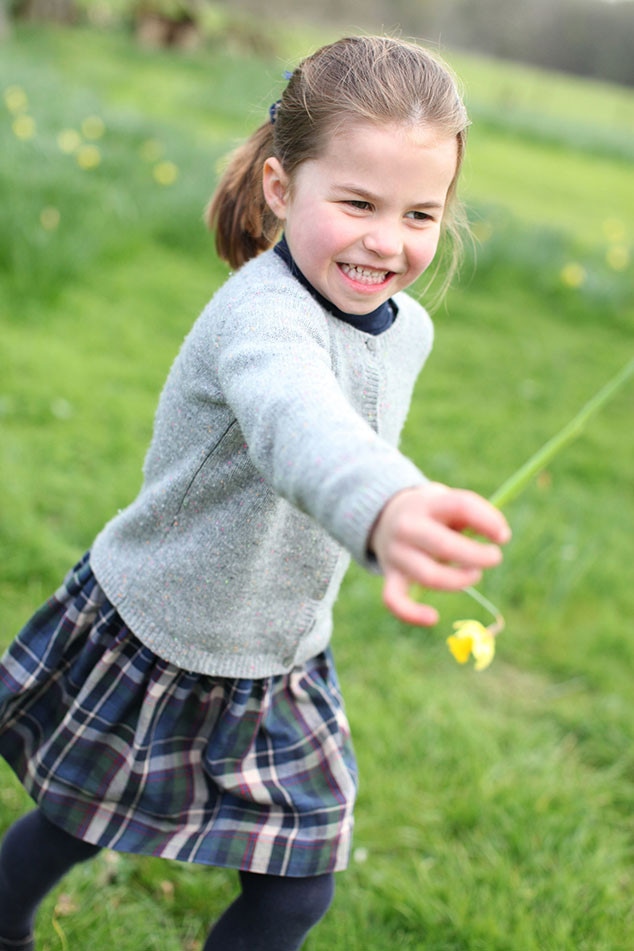 The Duchess of Cambridge
For a while there, it seemed as though Prince George would have no competition in the cuteness department. With photos like these, how could anyone come close to matching the little towheaded tyke, third in line to the British throne?
And then we met Princess Charlotte.
It's hard to pinpoint exactly when Prince William and Kate Middleton's daughter—their middle child now, thanks to last year's arrival of Prince Louis—began to steal the show, but steal it she did. Maybe it was the way she met an adoring public a mere 12 hours after arriving in the world on May 2 only four years ago. Or maybe it happened later, at the royal family's myriad public engagements where her burgeoning personality couldn't be contained. Maybe it doesn't even really matter when because it's happened—she's made the press fall for her, stolen our hearts, and given the unborn Baby Sussex, her cousin due any day now, quite a lot to live up to.
HRH The Duchess of Cambridge
We got our first taste of the sass to come from Princess Charlotte—or Lottie, as her family lovingly refers to her—when the portraits taken in celebration of her first birthday were released. Already, they showed us an inquisitive girl on the go. Just look at her pushing that baby walker full of blocks!
Mark Cuthbert/UK Press via Getty Images
But it wasn't until that year's Trooping the Colour, marking her great-grandmother Queen Elizabeth II's 90th birthday, that we caught a glimpse of one of Lottie's signature moves—her adorable wave. Knowing how impossible it would be to media train a child that young, it only proved just how much innate personality the young princess had.
Danny Martindale/WireImage
While attending services in St Marks' Church on Christmas Day 2016, we got another look at the young princess' expressive faces and her rebellious streak as she gave the candy cane she'd been enjoying during mass a tap on the dirty floor!
Courtesy of the Duchess of Cambridge
But it wasn't until her second birthday portraits were released that we got to see the little person coming alive in Charlotte. In her new portrait, taken by none other than her mother, the Duchess of Cambridge, the princess delivered the wry, knowing half-smile of someone much, much older.
That was also when we learned the the "spare heir" had an estimated net worth of $3.8 billion. According to London-based branded business valuation and strategy consultancy Brand Finance Group, Charlotte was seen as being worth just a bit more than her older brother (whose worth was valued at $3 billion) thanks to the "Charlotte Effect," which referred to the fact that photos of the princess inspired people to buy the outfits and brands she's seen wearing. The pastel yellow cardigan in the photo above? Sold out at popular British department store John Lewis in 24 hours.
From her Aunt Pippa Middleton's wedding weeks after her second birthday to her uncle Prince Harry's nuptials to Meghan Markle in 2018, Charlotte has been known to steal the spotlight at any family wedding. Whether it was sticking her tongue out outside of St George's Chapel as her uncle prepared to marry his new wife...
Or blowing a kiss to photogs while en route to Princess Eugenie's wedding to Jack Brooksbank in October 2018—Charlotte always finds a way to win the day.
But perhaps our most favorite sassy moment of them all came at her younger brother Prince Louis' christening in July of last year, as her family departed the Royal Chapel at St James's Palace to head to private afternoon tea, when she let photographers know they weren't welcome to tag along. Caught by UK news network ITN, Princess Charlotte turned to the press and fans waiting outside and told them plain as day, "You're not coming." Priceless. 
Through it all, it's clear that, despite growing up in arguably the world's most famous and highly-scrutinized families, Princess Charlotte is just a regular little girl: funny, goofy, and full of charm. And she has her parents to thank for that. "William and Kate very much prioritize bringing up the children in as normal an environment as possible over anything else," a royal insider told Us Weekly back in September. "They haven't lost sight of that."
As if it wasn't abundantly clear, another source told the publication that Charlotte is "very bubbly," unlike her shy older brother. "She's definitely the biggest character of the three children at the moment," the source added, explaining that she loves to play hostess in Kensington Palace. "She'll come up to guests and ask them if they want tea or coffee or offer them sweets — so adorable!" Adorable and not afraid to put that shy brother of hers in his place.
In a rare public comment on her great-grandchildren, Queen Elizabeth—whom the princess bears a striking resemblance to, when you compare photos—admitted in January 2018 that when it comes to Charlotte and George, she's the one calling the shots. Visiting with a young Emily Clay, who won a signed bible "for a school religious education project," Eastern Daily Press reported, she asked if Emily "looked after" her younger sister. Emily's mother Ellen responded, "It's the other way around."
The Queen replied, "It's like that with Charlotte and George."
Never change, Princess Charlotte. And have a very happy fourth birthday!