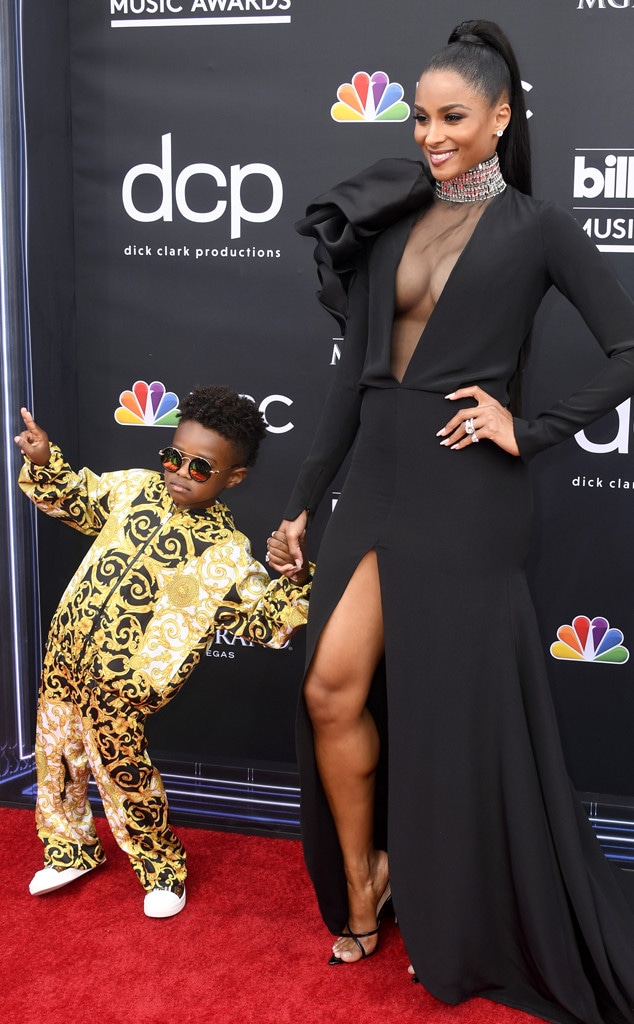 Frazer Harrison/Getty Images
Ciara may not be nominated for anything at the 2019 Billboard Music Awards, but she can certainly take home the accolade for the best plus-one at the show.
The "Level Up" singer brought her 4-year-old son Future Zahir Wilburn, whom she shares with rapper Future, as her date to the awards show and he looked like the epitome of cool. Future wore a matching Versace top and bottom and paired the look with some round sunglasses. Ciara stunned in a black Stéphane Rolland dress with a deep V and a thigh-high slit. 
Ciara and Future arrived at the red carpet and she chatted with Jason Kennedy and Tanya Rad about her new music as well as her family.
The 33-year-old singer is one of the performers at the star-studded show tonight and she'll be debuting her new single "Thinking About You" live in front of the crowd.
"It's a lot of energy, good feelings and I want the crowd to have fun tonight," she said.
Ciara shared some videos on her Instagram Story before the show, including one where she and Future talked on FaceTime and he showed off some of his dance moves that he clearly inherited from his mama. 
"Ooh, you look swaggy boy," she told Future in the call. 
"Billboard here I come!" he said into the TV.
Ciara then likened her son to a "blankie" and explained why Future is her plus-one.
"He's like my blankie," she said. "You know when babies carry around their blanket and they can't do without it? Well he's here with me tonight as well."
The singer then talked a bit about her 2-year-old daughter Sienna Princess Wilson. Sienna is her first child with her husband Russell Wilson.
"She can't sit still in a chair yet so that's why she's not here," Ciara explained about her daughter.
She added, "She's 2 going on 20."  
Ciara gushed about her daughter a bit more and said she's "a lot of fire" and that "time goes really fast when they're young."
The "1,2 Step" artist just started her own record label and explained it was "the time of her life" and it feels "incredible."
"I'm in my best place right now," she told Kennedy.