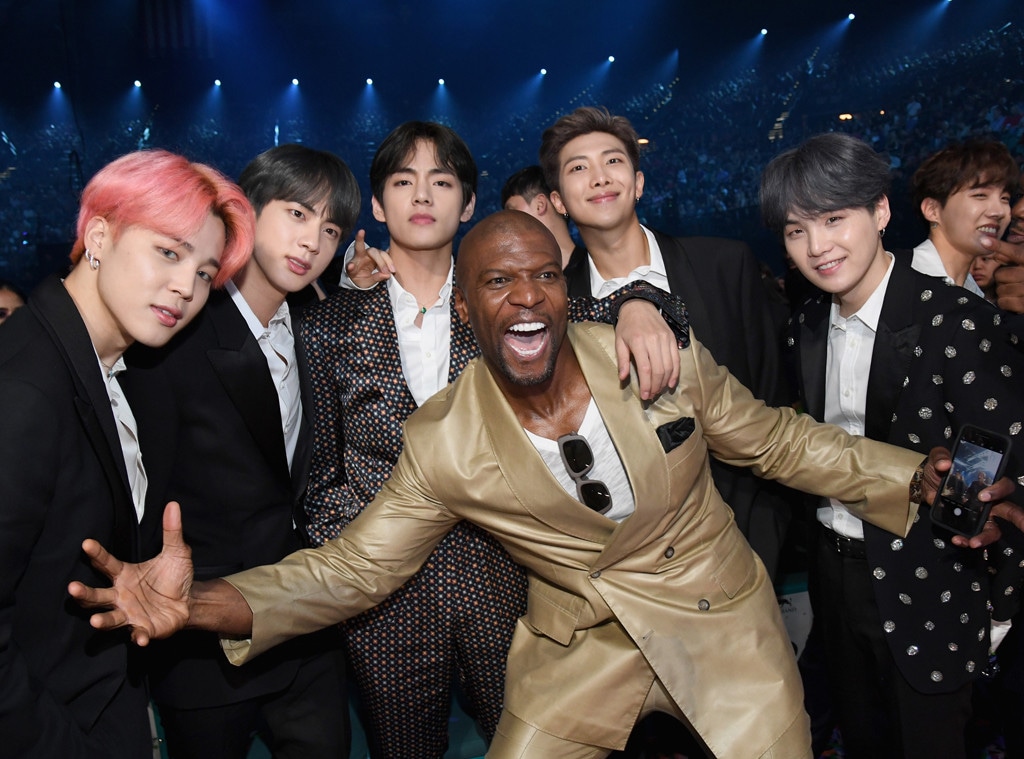 Kevin Mazur/Getty Images for dcp
Hundreds of talented artists from around the country and world gathered at the MGM Grand Garden Arena in Las Vegas for the 2019 Billboard Music Awards, but there was one band that basically everyone freaked out about: BTS.
The K-pop band is a global sensation and they're coming off one of their biggest months yet. They dropped their new album Map of My Soul: Persona on April 12 and performed on Saturday Night Live just one day later. 
BTS' fan base, known as BTS ARMY, is one of the strongest in the world and it turns out that many members of BTS ARMY were right here on the red carpet at the award show.
The fan-favorite band will be performing at the show alongside Halsey and they'll be debuting their new song "Boy With Luv." 
The "Without Me" singer gave E! News some clues about their performance and said it would be "super fun and friendly."
A number of celebrities took photos with BTS as they strutted their stuff on the carpet. It's pretty safe to say that some were more successful than others. Julianne Hough, for instance, was this close to getting a perfect picture with the band, although some rogue fingers made their way into the shot.
Terry Crews looked like a kid in a candy shop in his epic selfie with the band.
"TERRY LOVES BTS!" he tweeted. "TERRY LOVES AWARD SHOWS!"
Be still, our beating hearts.
Crews even likened the band to The Beatles.
James Charles also couldn't wait to meet BTS. He said he's been "obsessed" and watching a ton of their videos recently.
The Jonas Brothers were just as pumped to meet the band. Nick Jonas, Joe Jonas and Kevin Jonas took a live video from their ride over to the show, which was their first red carpet together as a band in 10 years.
At one point in the video, the JoBros said their "main goal was to meet BTS."
Kumail Nanjiani and Dave Bautista presented an award and they took a moment to give a shout out to BTS.
"I saw BTS and freaked out," Nanjiani said. They then attempted to take a selfie and he asked everyone to "duck down" so they could take a selfie. Needless to say, the crowd went wild.
Kevin Mazur/Getty Images for dcp
Kalid looked so pumped to meet them inside the arena.
Bachelor Nation alum Ashley Iaconetti interviewed BTS on the red carpet. She shared a photo their chat on Instagram and captioned it, "Today I got to interview the biggest boy band in the world right now. I feel like I'm right where I belong."
BTS took home the award for Top Duo/Group and the crowd's reaction speaks for itself.