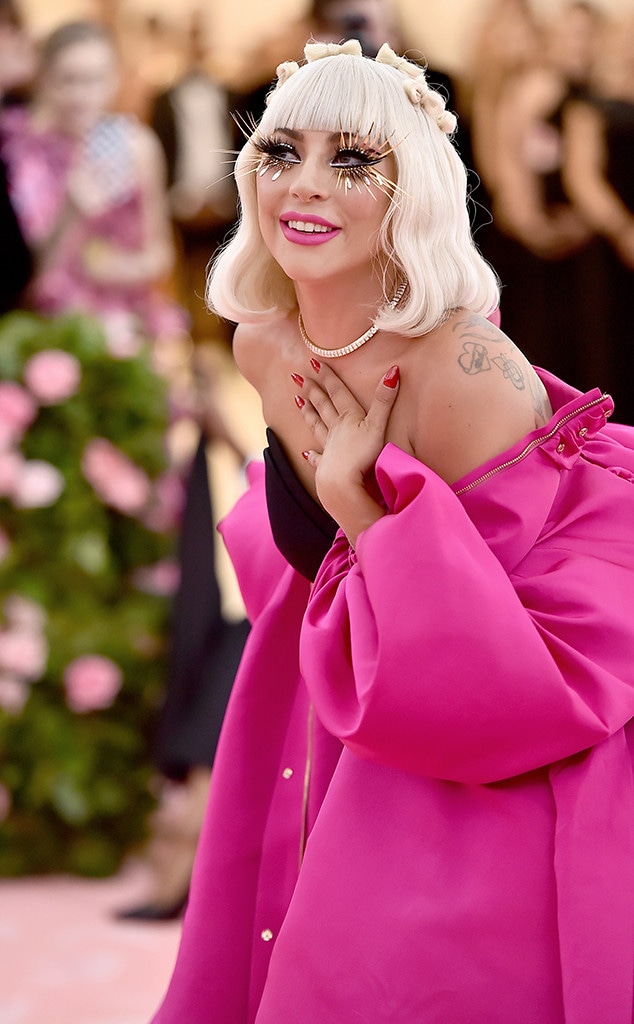 Theo Wargo/WireImage
The Met Gala is consistently fashion's biggest night of the year. After all, it's called the Super Bowl of fashion for a reason, so it's safe to say there were many touchdowns and a few fumbles along the way.
Global fashion weeks pale in comparison to the show-stopping looks that grace the carpet outside of the Metropolitan Museum of Art in New York City every year where celebrities, athletes and other artists strut their best looks related to that year's theme. We definitely saw all sorts of variations and interpretations on the 2019 Met Gala's theme of "Camp: Notes on Fashion."
Lady Gaga stopped the show in her Brandon Maxwell look that involved four separate outfit changes just on the red carpet alone. Her arrival was definitely something we all saw, but it's too good not to mention. She paired her black and pink looks with over $1,750,000 in Tiffany & Co. jewelry.
Last year's theme "Heavenly Bodies: Fashion and the Catholic Imagination" brought some truly unforgettable outfits, including Lena Waithe's pride cape, Katy Perry's gold Versace dress with floor-length angel wings, Frances McDormand's Valentino cape, head piece and jumpsuit and so much more. 
Fashion isn't the only big moment of the night. The carpet is often the place for couples to make their official debuts, such as Lili Reinhart and Cole Sprouse in 2018. 2 Chainz even went one step further last year and proposed to his longtime love Kesha Ward. She of course said yes.
The Met Gala is home a few mysteries (i.e. the Solange-Beyoncé-Jay-Z elevator incident—what really happened?) as well as some pretty strict rules. The Oscars of Fashion costs $30,000 bucks a pop to attend if you're even lucky enough to snag an invite and get a coveted seat at a table.
While there may or may not be some selfies (they're technically illegal) including all of our favorite stars, there's surely a ton that goes down when the professional cameras and iPhones aren't snapping.
E! News has got you covered with everything you need to know about what you didn't see at Fashion's Biggest Night of the Year.
Dimitrios Kambouris/Getty Images for The Met Museum/Vogue
Vogue's editor-in-chief and co-chair of the evening Anna Wintour and her daughter Bee Carrozzini were the first arrivals of the evening. Gaga showed up moments later and Wintour briefly camped out at the top of the steps to take in the singer's entire entrance. Someone asked her on the carpet in reference to Gaga's dress and performance, "How is anyone supposed to follow this?"
Wintour shrugged and replied, "They can just go home."
She's just telling it like it is!
Rihanna loved the editor's pink Chanel look enough to give her the title of "best dressed" of the evening.
Rami Malek arrived to the gala looking handsome in a black velvet tuxedo coat and bow tie and paired it with a shiny black shirt. He and his girlfriend Lucy Boynton made their red carpet debut at the event and at one point, Malek stopped to talk to the model Taylor Hill.
Mary-Kate Olsen and Ashley Olsen didn't socialize on the carpet and instead just went straight inside.
Hailey Baldwin arrived sans husband Justin Bieber, but he was still the number one fan when it came to her pink Alexander Wang dress that featured a matching thong on full display. She saw one of her friends on the carpet and ran over to talk to them before heading over to talk to Vogue.
Kerry Washington's husband Nnamdi Asomugha seemed pleased to be plus-one for the evening as he looked on lovingly while she took photos. Asomugha held onto her purse and took his own pictures while she smiled for the professional ones. So sweet!
Gigi Hadid was covered head-to-toe in sequins at the event tonight that she attended with designer Michael Kors. Gigi ran into Kris Jenner (who went blond for the night) and gave her a big hug. They talked for a few minutes with Kris' boyfriend Corey Gamble.
Gamble also socialized with Liam Hemsworth and they had some laughs and a fun conversation. Meanwhile, Kris took out her phone and snapped some pics of her daughter Kim Kardashian and her husband Kanye West doing interviews on the carpet. Then they all had a big family hug when Kylie Jenner, Kendall Jenner and Travis Scott arrived. 
Neilson Barnard/Getty Images
Demi Moore exchanged pleasantries with her ex Bruce Willis before going over to talk to Vogue.
Celine Dion was living her absolute best life at the Met Gala on Monday. She was having a blast posing for the photographers and showing off her toned legs. Dion revealed to E! News on the carpet that she didn't really know what to expect when she first heard that the theme this year was "Camp: Notes on Fashion."
"I thought it meant 'camping.' We're going camping! We're going to be at the Met and everyone is going to stay and sleep all night together. But, no," she told us.
We're not sure what type of camping the "My Heart Will Go On" singer does, but she certainly set the bar high for camping attire in her 22-pound silver Oscar de la Renta outfit.
Karlie Kloss and her husband Josh Kushner showed a little bit of PDA on the red carpet as they held hands, but they mostly kept their affection under the radar. They greeted a few friends and then went straight inside.
Dimitrios Kambouris/Getty Images for The Met Museum/Vogue
Gisele Bündchen looked as elegant as ever with her husband Tom Brady. Gisele twirled when she got to the top of the stairs and he stared at her lovingly as she did that.
Katy Perry definitely had one of the most shocking looks of the evening as she dressed up in a dress dripping in crystals surrounded by...a chandelier. She made the best of her look and joked to reporters that she was henceforth retiring the term "lit" to reporters.
It must also be mentioned that Jared Leto brought his decapitated head (not the real one, of course) with him on the red carpet, which is a call-back to a similar move that Gucci used at their Fall-Winter 2018 show during Milan Fashion Week. At one point, he threw the head to Shawn Mendes, who awkwardly held onto it when posing for photos. The severed head apparently took around six months to make.
Billy Porter's arrival was just as unforgettable as he showed up getting carried by six shirtless men who all wore gold pants and gold shoes. Porter wore a gold one-piece suit designed by The Blonds and, according to Vogue, included a pair of 10-foot wings.
Frank Ocean brought his own camera to the Met Gala and proceeded to take photos of the photographers and press instead. The tables have turned indeed.
Zac Posen got ready with Nina Dobrev before the big gala and he also dressed Katie Holmes. Katie's beau Jamie Foxx was also there taking pictures. Although they didn't pose on the carpet together, he did give her a subtle shout out because his shoes matched the same purple hue as her custom Zac Posen gown, which was made with 300 yards of tulle.
Omari Hardwick and Ava DuVernay gave each other a high five before heading inside to the main event. 
High fives seemed to be a big trend for the evening because Gaga gave her designer Brandon Maxwell a huge one when they got to the top of the stairs after a lengthy red carpet arrival.
And before the night came to a final close, Lizzo made sure to rush down the stairs to introduce herself to none other than Cardi B before hitting the town for an after party.
Make sure to check out all the photos above for exclusive snapshots of celebrities arriving at the Met Gala as well as all the red carpet looks.
-Reporting by Eleni Lazares & Ashley Lewin
(This article was originally published on May 6, 2019 at 4:00 a.m.)