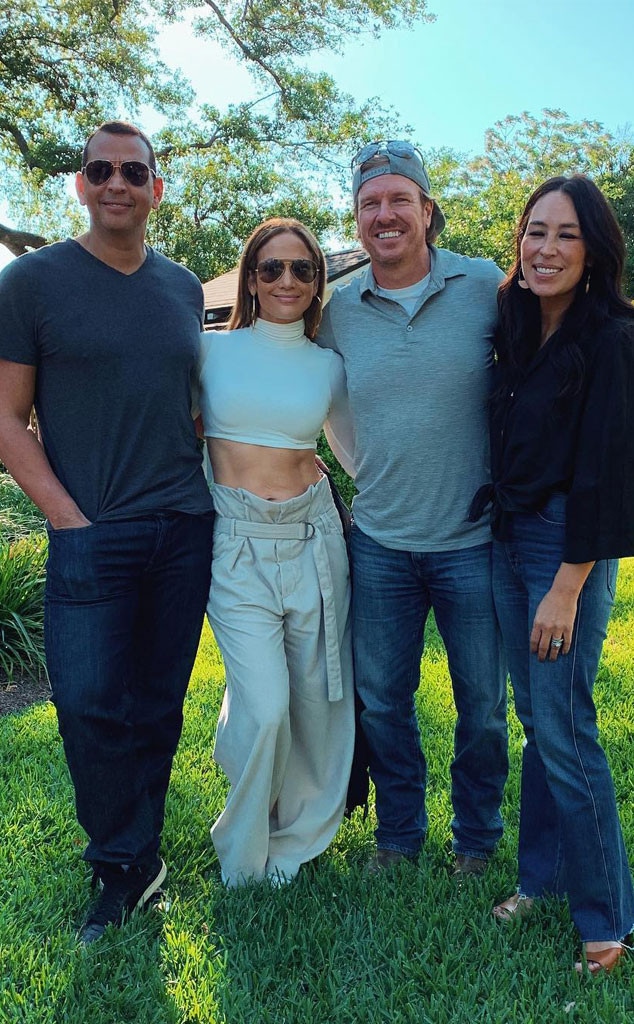 Instagram
For five straight seasons, contractor Chip Gaines and his design-focused bride Joanna Gaines made a name for themselves out of taking the worst house in the best neighborhood and turning it into their client's dream home. 
But now they've hit the big leagues.
Because at some point this past winter, a 14-time MLB All-Star approached them about transforming his fixer upper—a three-floor, four-bedroom, 4,404-square-foot spread in the decidedly upscale neighborhood of Malibu, Calif., some 1,500 miles and lightyears away from where they go about their business in the Texas city of Waco. And, oh yeah, the client was his bride-to-be, Jennifer Lopez. Perhaps they had heard of her? 
And with that the foundation was laid for an entirely charming celebrity friendship.  
Lopez has long redefined multi-hyphenate with her hands simultaneously in the worlds of singing, acting, dancing, producing, fashion and beauty. But she's still found time to indulge a fun side passion for home design, the Bronx native a longtime fan of Fixer Upper's endearing, opposites-attract pair and their elevated farmhouse aesthetic. Much like Blake Lively, who joked to People, "I've practically looked into enrolling my kids in school in Waco," the 49-year-old has binge watched many an episode of the now off-the-air HGTV hit, marveling at the self-trained decorator's work. 
So when she and fiancé Alex Rodriguez snapped up their $6.6 million oceanside spread, she couldn't help but imagine what kind of magic the shiplap- and oversized clock-loving Joanna could work. 
"We got a little fixer upper next to the water, and we were like, 'Oh, we gotta fix this up, it's really a house that needs work," the Second Act star shared during a February appearance on The Ellen DeGeneres Show. "I was like, 'Wouldn't it be amazing to have [Joanna] do it for us?' But she doesn't do anything outside of Waco, like nothing." 
As it turns out, that rule comes with a few exceptions. 
Getty Images for ELLE Magazine
Eager to surprise his gal for their second anniversary, Rodriguez, 43, reached out to the mom of five and made his pitch: Would she consider indulging in a little consultant work? 
Details arranged, Rodriguez inserted an appointed into Lopez's calendar. "He goes, 'I want you to go to this meeting with us for the architect for the house,'" she told Ellen DeGeneres. "And I was like, 'OK, great.' And he opens up FaceTime and it's Joanna Gaines. And I was like, 'Are you kidding? Hi!'" 
The chat lived up to every expectation Lopez didn't know that she had—"I totally fangirled out. And she was like, 'Hi,' just like she is on the show,"—and it was just the start. "She's like, 'I don't do things—but I will help you with this or that or whatever,'" she recalled to DeGeneres. "And I was like, 'Yes, just help me! Just a little bit! You don't even have to come out here."
But saying no to J.Lo isn't something that come easily and by March, Joanna had arrived in California, cameras in tow. "Jennifer wanted to walk the space with Joanna in person," a source told People. "They're both extremely busy, but it's hard to take on any kind of home project without actually seeing the space."
Though the presence of a crew suggested the renovation could be captured for the Gaines' forthcoming multi-platform media venture with Discovery, "There is no formal plan for any of the footage," the source told People. Nor has Joanna officially signed on to Project Malibu. "There have not been any final decisions made in terms of whether Jonna will be involved or to what extent," noted the source, adding the get together was "really just an opportunity for them to walk the space together and for Joanna to hear Jennifer's vision for the space." 
In a word, that would be homey. More specifically, a space that would stand in sharp contrast to the 11,000-square-foot midcentury modern Florida retreat Rodriguez once showed off to Architectural Digest, the waterfront spread awash in sleek lines and monochromatic rooms in black and deep blue hues. 
"He's a little bit more of the modern, masculine side. He just goes all the way modern. Like the stones, and marbles," she told DeGeneres. "And I'm like, 'Can we have a pillow? And a blankie?'" 
Her streamlined, but more cozy style, as evidenced in glimpses from her social media, like the brief snippet she shared on Instagram of her Manhattan duplex's kitchen, all white marble counters and open shelving, seem more in line with Joanna's trademark designs, a sophisticated blend of vintage and farmhouse with a wall of reclaimed wood thrown in for good measure. 
And though it's not yet clear if Joanna will be commissioning one-of-a-kind dining tables and sculptural metal pieces for Casa Rodriguez, nothing says their business relationship can't become of the for pleasure variety. 
Because just last weekend, Lopez and Rodriguez, who tend to split their time between Los Angeles, Miami and their shared hometown of New York City, turned up in Waco. 
"ARod Corp hits Capital Gaines in Waco, Texas. #CapitalGaines," Rodriguez captioned their group shot while Chip adopted his preferred self-deprecating stance. "What is going on!??" he wrote in a matching post just one day before taking on the Silo District half-marathon he and Joanna dreamt up. "This is like a Twilight zone of hot people. Then there's me, looking as usual.. disheveled. Thanks for coming to town @jlo and @arod!"
Watch:
Chip and Joanna Gaines on "Fixer Upper" Ending Rumors
With so much business savvy in one place, they very well could have been plotting out a joint business venture. It's also possible Joanna was walking them through her plan for their Malibu space, complete with three-dimensional digital renderings and homemade scones. 
But if it were purely a social call it wouldn't be without precedent. Because just a few years back, Lively was able to turn her appreciation for Joanna's aesthetic into a real life friendship. It presumably began in 2015 when husband Ryan Reynolds tweeted about his mission to ingratiate himself to the Baylor University grads. "Current goal: Move family to Waco. Infiltrate the lives of @TheMagnoliaMom and @chippergaines," he wrote. "Eat stuff. Build stuff. Smash stuff."
While Chip replied, "I'm more nervous about how to respond to this, than i was typing my first tweet..." his better half, forever the straight man to her husband's endearing antics, chimed in, "Pretty sure we can accommodate all those requests... Especially the 'eat stuff' part." And before long, the foursome were exchanging emails and, we're going to go ahead and assume, recipes for Lively's go-to cupcakes and Jo's buttermilk biscuits. 
"Ryan and I have actually become friendly with Chip and Joanna, and they are just amazing," Lively told People in 2015, adding that their kinship involved the HGTV darling inquiring about a watch she spied on Lively's now-shuttered lifestyle Preserve. 
So we're here for the Gaines duo collaborating with Lopez and Rodriguez on a one-off design special or perhaps a line of elevated home furnishings and we're here for the group breaking bread (or buttery croissants) at Magnolia Table. But more than anything, we're really here for turning this dream quartet into the ultimate celebrity sextet.