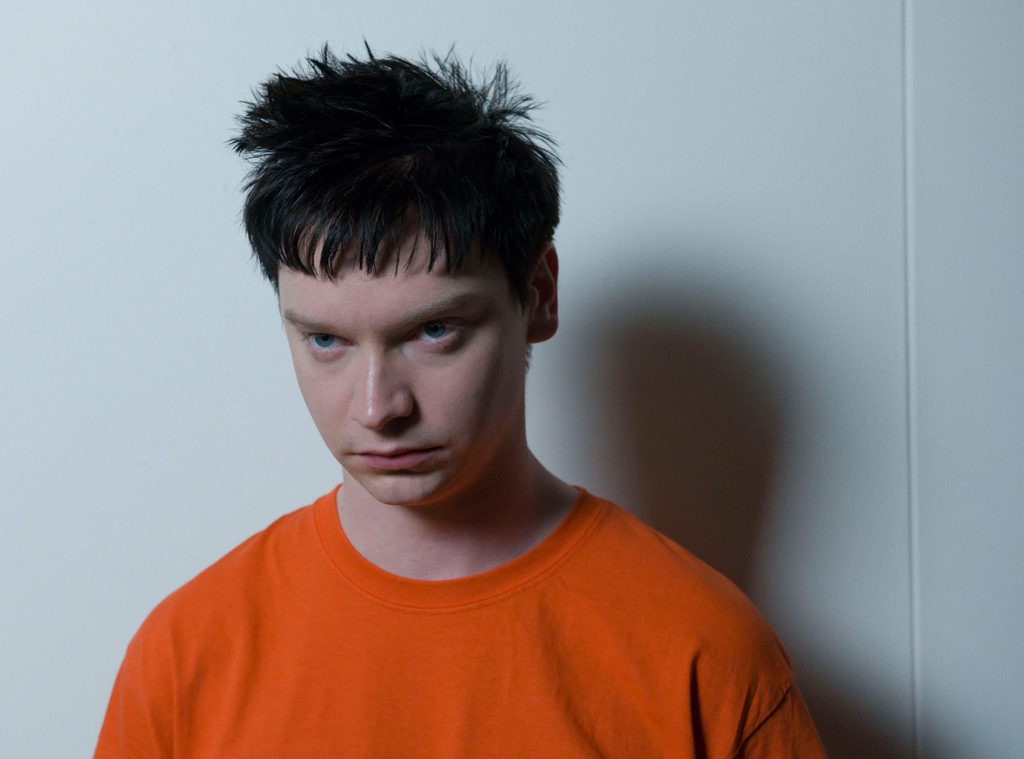 Hulu
If Calum Worthy did his job properly, The Act viewers will think of Nick Godejohn, the man currently serving a life sentence for murdering Dee Dee Blanchard, differently. Worthy certainly does.
"[The Act] made me feel a lot of empathy for everybody involved, and it made me feel like this isn't a story where there are protagonists and antagonists, or good guys and bad guys. This is about people, and people are really complex and people make mistakes, and that's what makes life interesting," Worthy told E! News in a phone interview.
Worthy, who is primarily known for his comedic roles in family-friendly fare like Disney Channel's Austin & Ally, went to great lengths to prepare for the role of Nick Godejohn in the saga of Gypsy Rose Blanchard (Joey King in the series) and her mother, Dee Dee (Patricia Arquette). Dee Dee is believed to have suffered from Munchausen syndrome by proxy and made her daughter and others believe Gypsy was battling a number of illnesses until her death at the hands of Godejohn. The story was chronicled in print by executive producer Michelle Dean, and in HBO's Mommy Dead and Dearest documentary.
Worthy said he became interested in the project because co-creators Dead and Nick Antosca wanted to dive into the psychology of those involved in "an intense way."
"I also found interesting that with the character of Nick, whenever I researched him, they would always call him a murderer…They put him in that box. I wanted to know more about him. I wanted to say, 'What are the elements about him that are completely separate from the crime that make him a really interesting person?' I found that investigation really interesting," he said.
To prep for the role, Worthy went deep. He found out what Godejohn likes to eat, mastered his walk, researched his likes and dislikes, and did plenty pf reading about Godejohn's autism. In addition to the reading, Worthy said he spent time at a center that works with autistic adults. "I really wanted to make sure I was doing the autistic community justice by exhausting every source of research possible," he said.
In addition to the research he did before production on The Act started, Worthy established a number of rituals to help him get into the mindset during shooting, specifically at bedtime.
"I knew that he struggled with a lot of disturbing thoughts, so at night I would watch disturbing videos and fall asleep to that. I also know that he was haunted by some of the images of the crime, so I found some of the images that were available through the documentary and I had them on my phone. I would make that my home screen at night...I would try to stay in that headspace because I really wanted to make sure that I did him justice," Worthy said.
Just what kind of "disturbing videos" did he watch? Worthy wouldn't go into detail, but said, "There's a lot of crazy things on the internet, especially on YouTube. Things that were disturbing for me, specifically. There was a lot. It was a broad spectrum."
While shooting, Worthy said he made an effort to stay in character during short breaks on set, but when it came time to shake Nick for a bit, his costar Joey King helped him.
"At night, the only thing that would help me was looking at pictures of him from before the crime. There are only a few pictures that we had from before he met Gypsy. I would look at those and remember that he had a lot of life that he lived before the actual events took place and that kind of made me feel like I was doing it for Nick, that I was putting in all the work to make sure I was doing his story justice," he said. "And to shake it, I would just try to zone out. Sometimes Joey would show me funny memes after we wrapped. Anything you do, watching TV shows and that stuff, but I would mostly try and stay in that zone."
The fact that Godejohn is serving a life sentence for his involvement in Dee Dee's murder added a greater sense of responsibility, Worthy said.
"When I knew that he might be getting [a life sentence in prison], I really wanted to make sure that we told his story in a complex way—and make sure it was layered— because I felt like this was an opportunity to give him a voice, even though he doesn't have that same kind of voice in the situation that he's in. That added a lot of pressure," Worthy said. "Being his voice and knowing that I would represent him for his family and the community he had around him, and the people that were also affected by the crime that he committed as well. I found that was the most challenging part, making sure that I stayed as true as possible and really painted him in an accurate way and not just as a caricature."
With The Act behind him—the finale dropped on Wednesday, May 1—Worthy said he still has Godejohn on his mind.
"There are so many nights where I fall asleep and I think, I'm falling asleep here and this character I've connected with so deeply is falling asleep in a cell—for a crime he committed," Worthy said. "I'm not saying there shouldn't be consequences for murder, but I also know there's a human in that cell. And he has challenges of his own, and I just want to make sure that he's OK, that he's safe and that he's at peace with himself."
The first season of The Act is now streaming on Hulu.