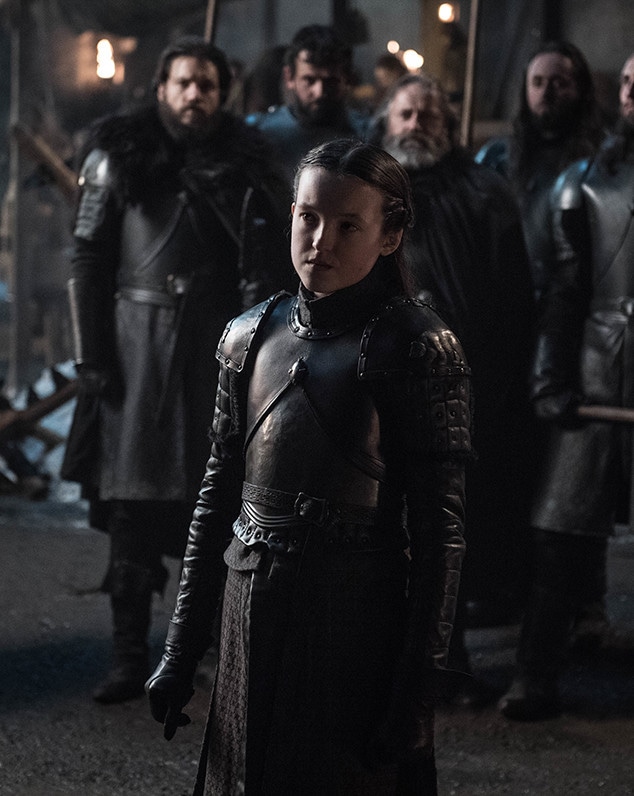 HBO
One of Game of Thrones' most beloved characters, Lyanna Mormont, was only supposed to have one scene. But when the world—including series creators D.B. Weiss and David Benioff—met Bella Ramsey, that changed.
"Lyanna Mormont was supposed to be a one scene character, and then we met Bella Ramsey and realized we would not be doing our jobs if we kept her as a one scene character," Weiss said. "We knew that you can't give a big death to everybody who dies in this battle because it would've been too much, but also if she were to die, there was no way to not make a moment of it so that's where the zombie giant comes in."
Ramsey, 16, paid tribute to her beloved character on Instagram.
"I had a song in my head during the filming of episode three...Every Giant Will Fall by @rendcollective it basically sums it all up. I'm overwhelmed by the response, thank you so so much," she wrote. "'I will not hide underground. I pledged to fight for the North, and I will fight.' RIP Lyanna #gameofthrones #everygiantwillfall #lyannamormont."
Weiss said the zombie giant added a whole new level of complexity to the big moment, and was needed to "give one of the strongest smaller people in the show a chance to out taking down one of the strongest larger things we've ever seen on the show."
In an interview ahead of her character's death, Ramsey said she'd miss one key part about her character: "I think the opportunity to stand up in front of a load of grown men and shame them," Ramsay told The Cut. "I think playing confident characters also helps with your own confidence. Say you're in a situation where you're feeling anxious or nervous—you can become a character and work through it that way. I'll miss that about her."
See more behind-the-scenes photos below.
Game of Thrones airs Sundays, 9 p.m. on HBO.