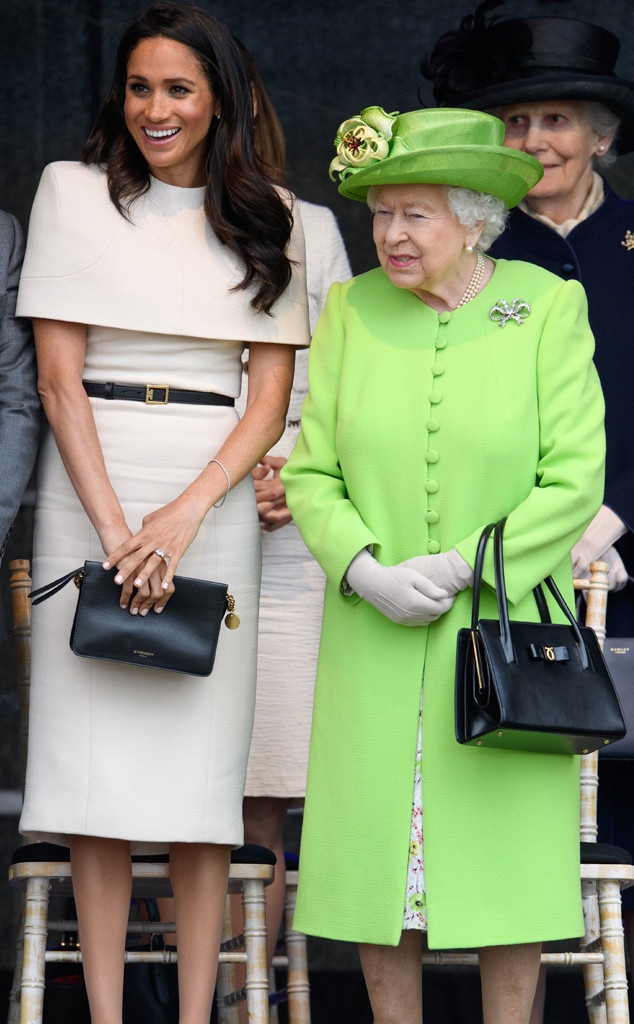 Tim Rooke/Shutterstock
Knock, knock. Who's there? Queen Elizabeth II.
According to multiple outlets, the Queen ventured to Prince Harry and Meghan Markle's new home, Frogmore Cottage, in Windsor after Easter church service at St. George's Chapel a week ago. Fans may recall Prince Harry attended the Sunday service solo, where he reunited with Prince William and Kate Middleton. 
The Duke and Duchess of Sussex moved into Frogmore from Kensington Palace in early April once some renovations were finished. The couple opted to move away from London and to Windsor "as they prepare for the arrival of their first child." 
Queen Elizabeth's visit happens to coincide with the vague time span of Meghan's due date, which is supposed to be around the end of April to early May. Kensington Palace initially revealed in their pregnancy announcement that she was due in "Spring 2019."
All eyes have been on the royal family in the recent days and weeks as people eagerly await Baby Sussex's birth announcement.
The royal family's schedule has offered some potential clues but no concrete evidence. Prince William spent the past few days in New Zealand, where he spent time visiting the Al Noor and Linwood mosques, which were both affected by the Christchurch attacks on March 15. Kate Middleton and Prince Charles, however, remain in London.
Prince Harry himself has had a few public outings as birth watch continues. On April 25, he arrived at the Anzac Day Service of Commemoration and Thanksgiving at Westminster Abbey and surprised everyone because he was not among the announced attendees.
His cameos continued into the weekend as well. On Sunday, he "cheered on runners, thanked volunteers for their selfless support, and congratulated the winners" at the London Marathon, which holds a special place in his heart. 
The Sussex Royal Instagram account posted photos of the 34-year-old smiling with finishers and wrote about the race's significance. Sussex Royal explained, "The Duke has been Patron of the Trust since 2012 because he believes that mental fitness is absolutely crucial to our wellbeing."
They added, "The joyful atmosphere created by locals, tourists, families and friends speaks to the spirit of what community is all about - supporting one another, even complete strangers."
Meghan has been out of the public eye as of late because she has been on maternity leave. Prince Harry reunited with his royal family for their Easter Sunday Service, but the former Suits star stayed behind at Frogmore.
It appears that Meghan has been getting some extra maternal help of her own while on leave. Multiple outlets reported on April 21 that her mom Doria Ragland arrived in London as Meghan's due date inched closer and closer.
Kensington Palace announced in October that Ragland "is very happy about this lovely news, and she looks forward to welcoming her first grandchild."