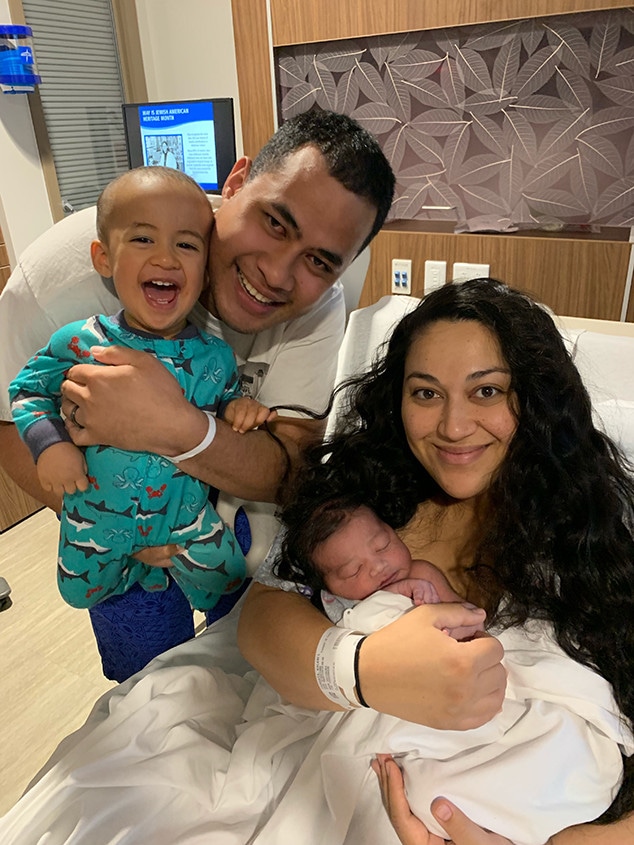 TLC
It's a party of four for this 90 Day Fiancé family!
Kalani Faagata and Asuelu Pulaa are parents-of-two, as the TLC reality TV stars announced the birth of her second child, a baby boy named Kennedy, whom they named after Faagata's father.
The famous couple welcomed their little bundle of joy on May 7, and they couldn't be happier about the new addition to their family. In fact, the reality TV star shared a behind-the-scenes vlog of her newborn on YouTube and Instagram.
"Our baby was worth the contractions," Faagata shared on Instagram, alongside a short clip of her in the hospital. In the vlog, the family wrote in their description, "He's finally here! I labored at home from 11 PM (5-6-19) to 6:30 AM. We arrived at the hospital at 6:40 AM (5-7-19) and he was born at 9:11 AM."
The caption continued, "Thank you to the supportive and sweet staff who helped me through another medicine free birth!"
The child weighed eight pounds and 15 ounces upon arrival. He also measured in at 21 inches.
"I'm so thankful that everything went well and that I'm now able to hold my new son," Faagata told E! News. "It's been heartwarming watching Oliver with him.  They both cry if the other cries—Oliver will even run to find Kennedy's pacifier to put it in his mouth.  I'm just so grateful to be a mama of two healthy, happy boys." 
The proud papa added, "I am happy I could see this baby born. My wife did amazing, fantastic job. I love to be a dad."
Earlier this year, the TLC star announced she and her husband were expecting another little nugget on Instagram. "We're having another boy," she revealed. "I'm now 24 weeks and due at the end of April."
Since first sharing the baby news in early January, Kalani invited her followers to experience her not-so-easy pregnancy journey. Back in March, the reality TV personality admitted that she wasn't "doing very well."
"I haven't done many pregnancy updates because I haven't been doing very well both mentally and physically," she captioned her social media post. "I'm so thankful that my mom's in town for a while so I can have a break and finally start nesting. I'm fortunate to have such strong women in my life who help me when I'm struggling."
This is the second boy for the 90 Day Fiancé couple, who welcomed their first child, Oliver, last January.
A few weeks after sharing the baby news, the pair  celebrated their son's first birthday and went all out for the special occasion. The family enjoyed a fun-filled day together that included a lunch and a trip to what looked like a farm. Asuelu also performed a memorable Siva Samoa dance with his nieces, nephews and 1-year-old son.
Fans of TLC's reality TV series will recall the pair got married on the hit show, 90 Day Fiancé. They wed in September 2018 on a boat in California. 
Congrats to the Kalani and Asuelu on the new addition to their family!