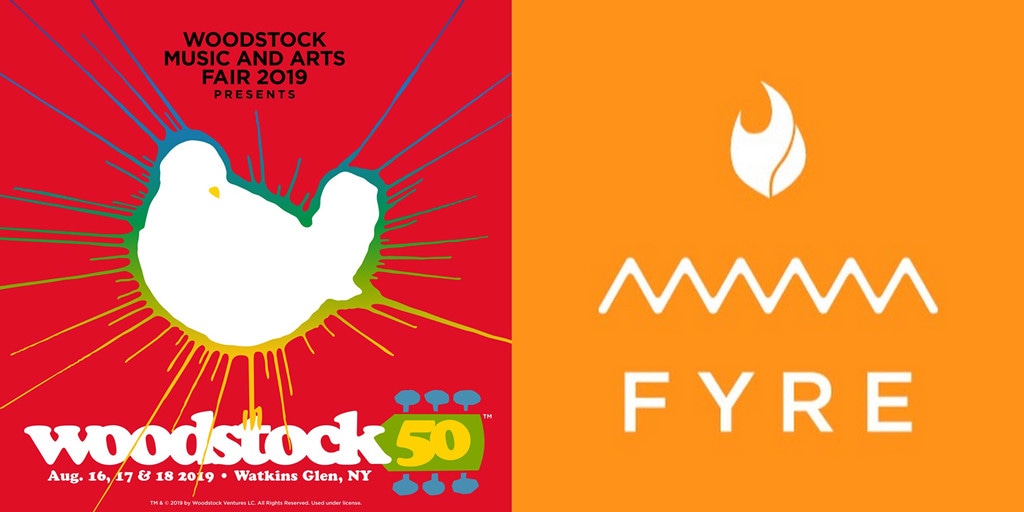 Woodstock 50; Fyre Festival
UPDATE: Woodstock 50 has been canceled, co-founder Michael Lang announced on Wednesday.
"We are saddened that a series of unforeseen setbacks has made it impossible to put on the festival we imagined with the great line-up we had booked and the social engagement we were anticipating," Lang shared in a statement (via Rolling Stone). "When we lost the Glen and then Vernon Downs we looked for a way to do some good rather than just cancel. We formed a collaboration with [voting encouragement organization] HeadCount to do a smaller event at [Columbia, Maryland's] Merriweather Pavilion to raise funds for them to get out the vote and for certain NGOs involved in fighting climate change."
"I would like to encourage artists and agents, who all have been fully paid, to donate 10% of their fees to HeadCount or causes of their choice in the spirit of peace," Lang continued. "Woodstock remains committed to social change and will continue to be active in support of HeadCount's critical mission to get out the vote before the next election. We thank the artists, fans and partners who stood by us even in the face of adversity. My thoughts turn to Bethel and its celebration of our 50th Anniversary to reinforce the values of compassion, human dignity, and the beauty of our differences embraced by Woodstock."
______
Peace, love and no music?
That's the question pop culture fans may be asking themselves after news broke that two of Woodstock 50's headliners have pulled out of the music festival completely. E! News can confirm that Miley Cyrus will no longer take the stage, who follows Jay-Z in her departure.
Other acts reportedly no longer participating in Woodstock 50 include The Lumineers, The Raconteurs, John Fogerty and Dead & Company. 
The latest development comes after reports surfaced that organizers planned to relocate the three-day festival from upstate to New York to Maryland. What's more, TMZ cites sources that say tickets will be released free of charge and that the entire event will be billed as a benefit concert.
Woodstock 50 has yet to officially comment on the ongoing debacle. 
Trouble first started brewing all the way back in April when a spokesperson for the festival's financial partner said the three-day festival was over.
"It's a dream for agencies to work with iconic brands and to be associated with meaningful movements. We have a strong history of producing experiences that bring people together around common interests and causes which is why we chose to be a part of the Woodstock 50th Anniversary Festival. But despite our tremendous investment of time, effort and commitment, we don't believe the production of the festival can be executed as an event worthy of the Woodstock Brand name while also ensuring the health and safety of the artists, partners and attendees," Dentsu Aegis Network's Amplifi Live said in a statement to USA Today. "As a result and after careful consideration, Dentsu Aegis Network's Amplifi Live, a partner of Woodstock 50, has decided to cancel the festival. As difficult as it is, we believe this is the most prudent decision for all parties involved."
Soon after, organizers said the show is still on.
"Woodstock 50 vehemently denies the festival's cancellation and legal remedy will (be) sought," Woodstock 50 said in a statement to the outlet.
But at the same time, pop culture fans can't help but think about another festival that promised an epic experience but never transpired. Yah, we're talking about Frye Festival.
According to Billboard, there have been "concerns about the capacity of the festival, site readiness and permitting issues." In addition, the publication reports that a representative for the festival reached out to officials with Live Nation and AEG to inquire about an investment up to $20 million for the event.
Fans also can't help but notice that tickets are "on sale soon." According to reports, those same tickets were supposed to go on sale April 22 but the date had been postponed for undisclosed reasons.
To top it all off, The Black Keys announced earlier this month that they will no longer be performing at Woodstock 50 citing a "scheduling conflict."
Or maybe they were able to peace out just in time.
(This story was originally published Monday, April 29, 2019 at 1:06 p.m. PST)