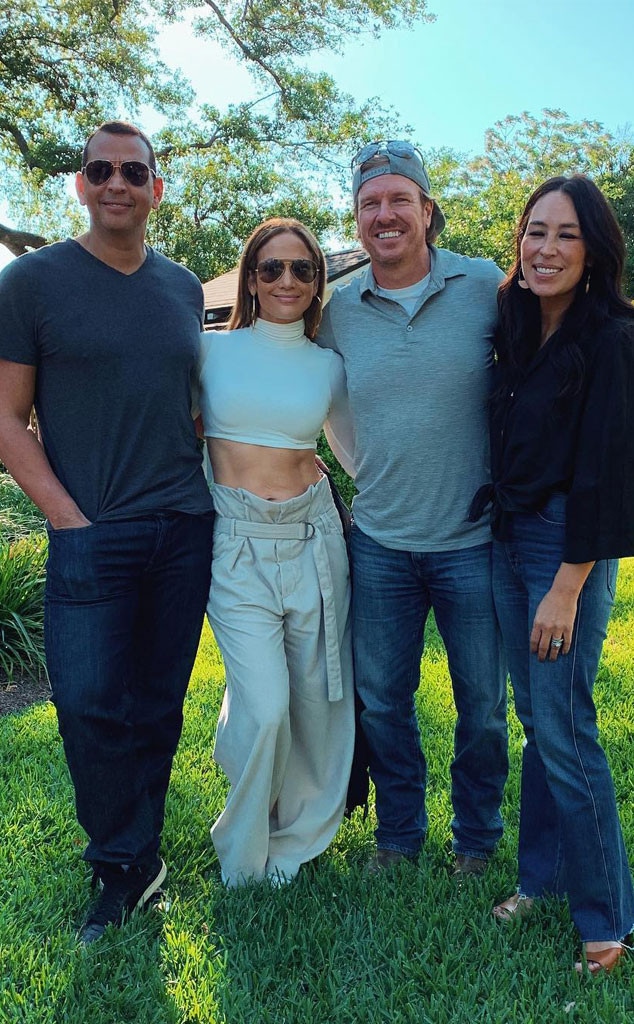 Instagram
Power couples: unite!
Jennifer Lopez and Alex Rodriguez ventured to Waco, Texas on Saturday and hung out with two of the city's most famous residents, Chip Gaines and Joanna Gaines.
Any other double date looks like a total fixer-upper compared to this.
A-Rod posted a photo of the four of them on Instagram with where they're posing and smiling together on a grassy lawn enjoying the sunny day. J.Lo's abs were on full display (hardly the first time) while the Magnolia Network stars and A-Rod kept it casual in jeans and shirts.
"ARod Corp hits Capital Gaines in Waco, Texas. #CapitalGaines," he captioned it.
The Hustlers star's excitement about the meetup was pretty evident in the comment she left under the picture. 
"Best anniversary gift ever!!" J.Lo wrote with a bunch of heart emojis.
Houston Texans defensive end J.J. Watt also commented "squad" on the photo with a flexing arm emoji.
While it's unclear if this get together was business-based or just a friendly hangout, the newly engaged couple has recently enlisted Chip and Joanna for their expertise.
In March, the "Dinero" singer was seen with Joanna in Malibu looking at how to fix up J.Lo's $6.6 million mansion. But seeing Joanna work on a home out of Waco is a rarity.
J.Lo explained the story about their new venture to Ellen DeGeneres, "We actually got a little fixer upper next to the water and we were like, 'Oh we gotta fix this up.' It's really a house that needs work. I was like, 'Wouldn't it be amazing to have her do it for us?' But she doesn't do anything outside of Waco. Like, nothing."
Then hopeless romantic A-Rod decided to step in. 
Lopez told DeGeneres, "And then comes our anniversary... he goes, 'I want you to go to this meeting with us for the architect for the house.' And I was like, 'OK, great.' And he opens up FaceTime and it's Joanna Gaines. And I was like, 'Are you kidding? Hi!'"
It's been a busy week for the Gaines' and it's about to get even busier for J.Lo.
Chip and Joanna were named this year as one of TIME's 100 Most Influential People in the World alongside world leaders, scientists, changemakers and other stars including Taylor Swift, Ariana Grande and Chrissy Teigen. On Tuesday, the couple attended the famous TIME 100 gala in New York City and had their fair share of cute moments together on the red carpet.
Meanwhile, J.Lo is busy with the 2019 Met Gala, which is quickly approaching on Monday, May 6. On April 10, it was announced that she was named to be on the 183-member committee, which also includes Bradley Cooper, Blake Lively, Kerry Washington, Chadwick Boseman and Lupita Nyong'o.