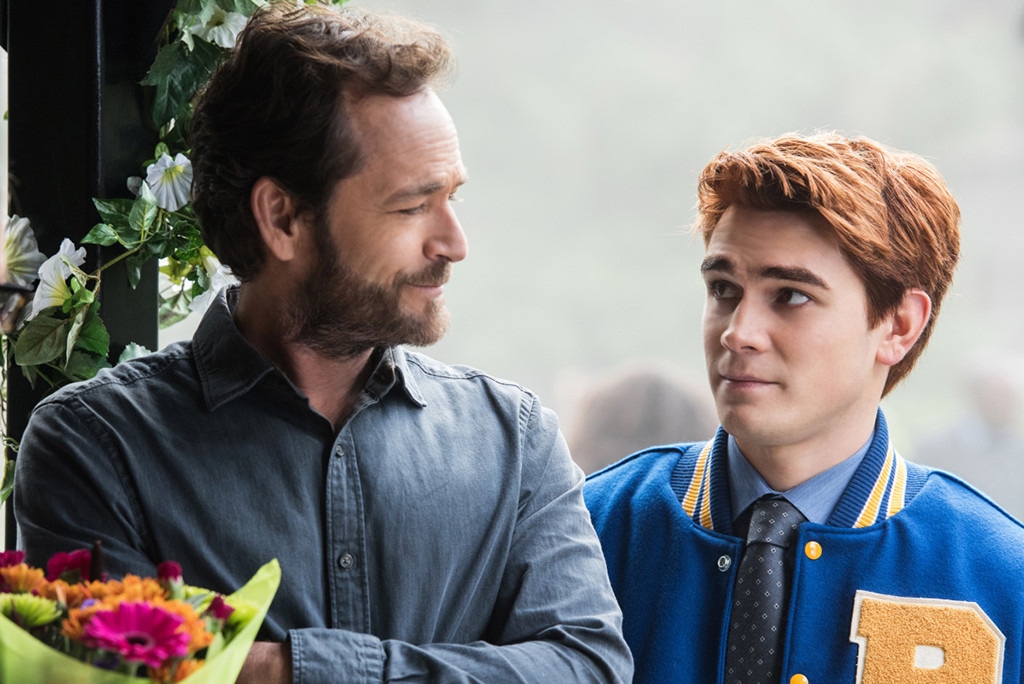 The CW
KJ Apa is opening up about his relationship with his late Riverdale dad, Luke Perry.
Apa, who plays Archie Andrews on the hit CW show, reminisced on their relationship during an interview with Jimmy Fallon on The Tonight Show.
"Luke is the kind of person who did everything he can to make whoever you are—no matter how big or how small—feel comfortable and feel welcome," he told the late-night host. "It's hard to put into words how that makes me feel."
The 21-year-old said that Perry's death on March 4 after suffering a stroke days earlier left "everyone pretty shocked."
"It's not everyday that you come across a guy like Luke," Apa shared.
Apa got choked up a few times during his conversation with Fallon, especially when talking about the father-son relationship they had off-screen as well.
"We had a really close relationship," the Auckland, New Zealand native explained. 
Their "close relationship" meant that Perry acted as a surrogate father to him in Vancouver, where they film.
Apa shared, "He would call my parents every week and keep them updated on how I'm going. If I had a cold or something he would say, 'I took some Gatorade to his apartment the other day.'"
Perry and Apa's dad apparently "always" texted. "He made such a huge effort from the beginning," he said.
Apa added emotionally, "I wish I could be like that."
Fallon assured him, "You can. You are like that."
Perry was buried in Tennessee in a private funeral on March 11. The Beverly Hills, 90210 star's last episode of Riverdale aired on Wednesday. The show's creator Roberto Aguirre Sacasa called it "A beautiful, true moment between a father and his son."
Mark Consuelos opened up to Esquire recently and echoed Apa's sentiments about about their co-star.
"All the great things you've heard about Luke? They're all true. That's who he was. He was an amazingly generous, kind person. You can't fake that," Consuelos said. "He was one of the good ones."
Watch Apa's interview with Jimmy Fallon above.