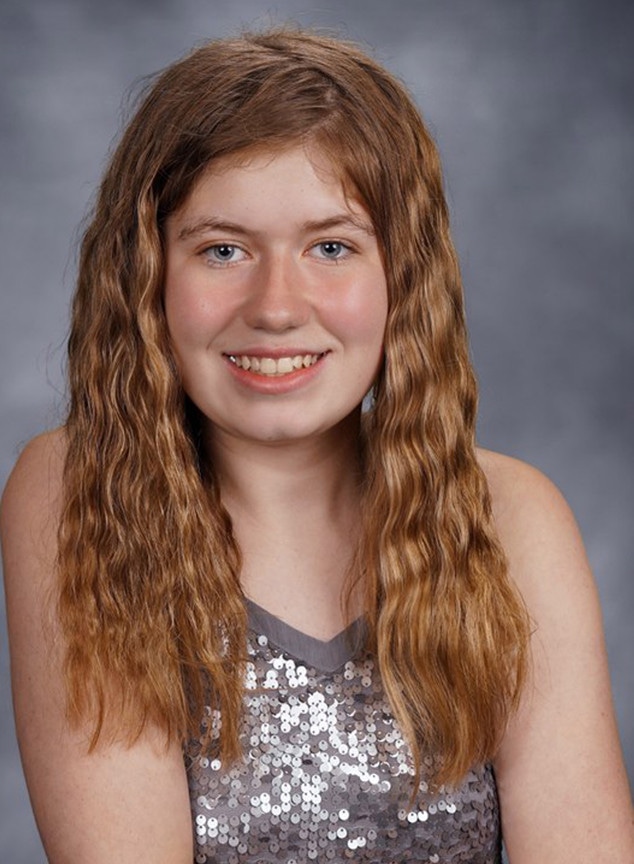 FBI
It's been nearly four months since a disheveled 13-year-old girl stepped out of the woods near Gordon, Wis. in 20 degree weather and identified herself to a passerby walking her dog, telling the stranger, "I don't know where I am."
That girl was abducted teenager Jayme Closs and that day—January 10, 2019, to be exact—was the end of an excruciating 88 day period in which her family didn't know if they'd ever see her again and vice versa. It was the day that Jayme's life was allowed to begin to return to if not quite normal (because, truly, how could it?), then perhaps, in time, something somewhat adjacent to it. 
And while Jayme's daring escape and rescue, followed by the apprehension of her kidnapper and parents' murderer, Jake Patterson, certainly meant that this specific nightmare was finally over, it was hardly the end of the story. In fact, it's only gotten started. 
But while Jayme has understandably remained out of the spotlight since her escape, living with her aunt and uncle Jennifer and Bob Smith as she grieves the loss of her parents, James and Denise Closs, and attempts to re-adjust to a radically different life, the focus has, as they tend to do in stories like this, shifted to that of her captor.  Why did he do what he did? And, now that he's admitted guilt, what will happen to him?
When Patterson was stopped behind the wheel of his car during a traffic stop after Jayme had offered up his name and the sort of car authorities ought to be on the look out for to police first on the scene after her recovery, he made no attempt to hide his identity and, as he stepped out of the vehicle, reportedly told the deputy, "I did it." And ever since, he's made no effort to hide his guilt in the matter.
As the criminal complaint released Monday, Jan. 14 by the Barron County district attorney revealed, Patterson had confessed to his crimes, admitting that he'd first seen Jayme on his way home from work while stopped behind the school bus she happened to get on in September. He told police he had no idea who she was but "when he saw (Jayme), he knew that was the girl he was going to take."
According to the complaint, he told police he "basically assumed he had gotten away with killing James and Denise and kidnapping Jayme since he hadn't been caught for the first two weeks," indicating that "he never would have been caught if he would have planned everything perfectly."
Baron County Sheriff's Department
Charged with two counts of first-degree intentional homicide, one count of kidnapping, and one count of armed burglary on January 14, Patterson's bail was set at $5 million cash. A day later he was moved from the Barron County jail to the Polk County jail because one of Jayme's relatives happened to work at the former. On February 6, he made his first appearance in a courtroom, waiving his right to a preliminary hearing and accepting the date of March 27 to return for arraignment, where his charges would be formally read into record and he would enter his plea. 
Speaking with the Green Bay Press Gazette by phone after the hearing, Jayme's uncle Michael Closs offered an update on the young victim. "The family is doing fine," he said. "Jayme is doing real well. We are really confident in the court system." While he declined to discuss the specifics of her recovery, family friend Michelle Saffert spoke with CBS News, telling them that the teenage was spending time with loved ones, receiving therapy and was beginning to heal. 
"I think that if she has to be with a group of people that will love her and support her for the rest of her life, she's in the perfect family to do that."
In a move quite uncommon for instances such as this, Patterson did not wait until his court date in late March to signal how he'd plead to the charges against him. On March 7, Lou Raguse, a reporter for Minneapolis-based NBC-affiliate KARE 11, received a letter from the defendant postmarked February 28 in which he answered several of the reporter's questions about the case which were not included in the court file. In the letter, Patterson stated that he planned to "plead guilty" and he wanted "Jayme and her relatives to know that." 
"Don't want them to worry about a trial," he added.
Responding to the query over whether he felt any remorse or regrets for the things he'd done, Patterson wrote, "Huge amounts. [PEN SCRIBBLE REDACTION] I can't believe I did this."
Barron County Sheriff's Dept
And while the initial complaint indicated that he'd detailed the thorough steps he'd taken to carry out his crimes, Patterson claimed that wasn't the case. "They're really good at twisting your words around, put them in different spots, straight up lie. Little mad about that. Trying to cover up their mistakes I guess," he wrote. "This was mostly on impulse. I don't think like a serial killer."
As for what was going through the mind of someone who wants to carry out such an unspeakable act, he wrote, "At the time I was really pissed. I didn't 'want' to. [PEN SCRIBBLE REDACTION] The reason I did this is complicated."
He concluded his letter by writing, "No one will believe or can even imagine how sorry I am for hurting Jayme this much. Can't express it."
On the back, he wrote, "I'm Sorry Jayme! For everything. I know it doesn't mean much."
Days later, Minneapolis-based WCCO-TV reporter Jennifer Mayerle, who had also sent questions to Patterson in jail, claimed to have received a phone call from the defendant in which he answered some of her questions over a nine-minute period. According to Mayerle, he said he wanted an opportunity to talk with Jayme, but knew that wouldn't happen. "I just love her," he reportedly said.
By the time March 27 rolled around, it seemed clear that Patterson would plead guilty. And after he was formally charged with the two counts of intentional homicide and one count of kidnapping—the count of armed burglary was dropped as part of a plea deal—he did just that. Defense attorney Richard Jones told Barron County Judge James Babler that his client "wanted to enter a plea from the day we met him," adding that he'd ignored all legal strategies presented to him, including trying to suppress his statements to investigators.
"He rejected all that and has decided this is what he wants to do," Jones continued.
Richard Tsong-Taatarii/Minneapolis Star Tribune/TNS via ZUMA Wire
With sentencing set for May 24, Patterson faces life in prison for each the killings, with an additional 40 years for the kidnapping. Wisconsin does not have the death penalty. Prosecutors in Douglas County, where Jayme was held, announced they had no plans to charge him for any crimes committed there, seen as a move aimed at sparing Jayme from having to relive whatever he may have done to her while in captivity through testimony. 
As Patterson left the courthouse after issuing his plea, he bizarrely turned back and said "Bye, Jayme" despite the fact that his victim wasn't present in the courthouse. 
Since then, Patterson has refused to cooperate with a pre-sentence investigation—designed to help inform the judge's decision about sentencing and parole recommendations by providing a summary of the defendant's character and needs—carried out by the state's Division of Probation and Parole, according to a one-paragraph letter agent Jennifer Sem wrote to Judge Babler on April 16. As she wrote, according to the Green Bay Press Gazette, Patterson is acting on advice of his lawyer. Sem added that she plans to complete the PSI "what whatever information I am able to obtain" unless the judge orders her not to.
While we wait to see how Patterson will be sentenced for his confessed crimes, Jayme and the town of Barron begin to rebuild. To help guide them through this painful process, Elizabeth Smart, known for surviving a horrific abduction of her own, has stepped in. Speaking to a packed gymnasium at Barron High School in mid-March, she encouraged the reclaiming of "all of your lives, because this has touched so many people."
"If you see her, it's OK to smile, but don't stare," she advised. "If you see her, it's OK to walk by and just let her go on her way. If you feel compelled to talk to her, write her a letter, and she can choose to read it whenever she's ready."
To the crowd of 1,300, she continued, "I'm not glad that this happened, but I'm so glad that she has you. All of you have come out tonight because you care so much."
In late April, Smart hosted a special for Lifetime entitled Smart Justice: The Jayme Closs Case, in which she revealed that she'd been in contact with the Closs family prior to arriving in Barron and eventually met with them in-person—and off-camera. "I could see straightaway that she was a very shy girl. I could sense she didn't know who I was, but why would she?" she said. "She wasn't even born when I was kidnapped." During the private conversation, Smart talked with the family about how to move forward, offering advice on when Jayme should resume going to school. 
Elsewhere in the special, Smart was took part in a roundtable discussion with six other kidnapping survivors to share their unique perspectives on Jayme's situation. "Only a few of us know what it's like, and we need to stick together to help Jayme," she said. "We want to help her move forward."
And while it's certainly a sigh of relief to know that Jayme is safe, survivor Alicia Kozakiewicz offered this sobering snapshot of the reality of the situation. "I feel that when we're rescued, that 'Yay, happy ending, it's all over,' literally the newspapers said that—'happy ending,'" she recalled. "It's not an ending. This book doesn't close and I just vanish."
The road ahead for Jayme is a tough one, there's no doubt about that. But thankfully there's a road at all.