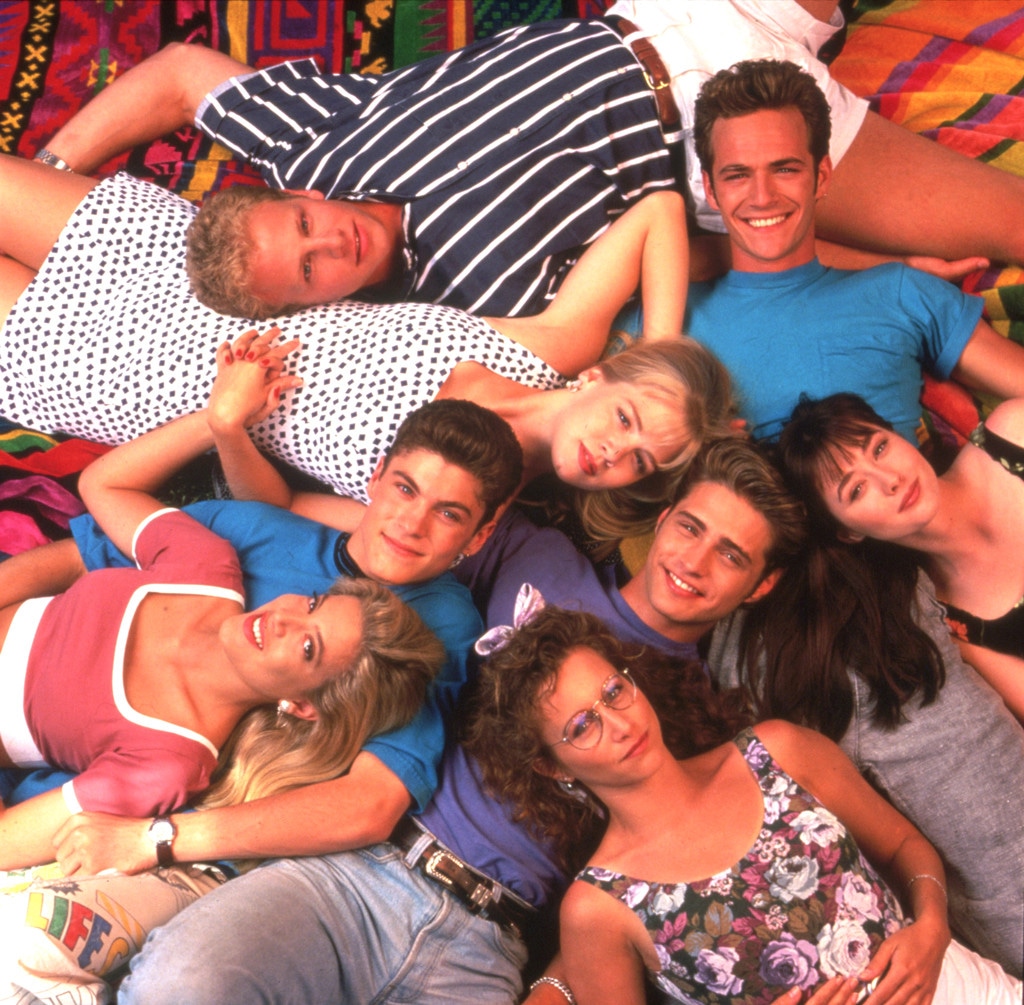 SNAP/Rex/REX USA
Shannen Doherty has officially signed on to Fox's Beverly Hills 90210 semi-revival, now called BH90210.
Jason Priestley, Jennie Garth, Ian Ziering, Gabrielle Carteris, Brian Austin Green, and Tori Spelling had all previously been announced to star in the six-episode event series that finds the stars and former costars playing "heightened versions of themselves," and Doherty's involvement had always been up in the air. Now, Fox confirms she'll not only appear in the series, but she'll also serve as executive producer alongside her fellow castmates. 
Doherty played Brenda Walsh for four seasons on the Fox drama. 
The show is described as a "brand-new serialized drama--with a healthy dose of irreverence--that is inspired by their real lives and relationships with each other." 
"Having gone their separate ways since the original series ended 19 years ago, Shannen, Jason, Jennie, Ian, Gabrielle, Brian and Tori reunite when one of them suggests it's time to get a "Beverly Hills, 90210" reboot up and running. But getting it going may make for an even more delicious soap than the reboot itself. What will happen when first loves, old romances, friends and frenemies come back together, as this iconic cast – whom the whole world watched grow up together—attempts to continue from where they left off?
Luke Perry, who played Dylan McKay for eight seasons, had not officially signed on to the series before his death on March 4, but would have appeared as a guest star. The new series is expected to pay tribute to him, and US Weekly reported that Doherty reconsidered her involvement in BH90210 after Perry's death. 
When she appeared on E!'s Daily Pop earlier this year (after being unmasked on The Masked Singer), Tori Spelling did her best to explain what the new series will look like. 
"It's not technically a reboot, because I feel like everyone has seen the reboot," she said. "We don't want to be the last ones like doing the reboot thing, and no one wants to see like old versions of ourselves, but they do want to see us playing our characters, so what we're doing is the entire cast is playing heightened versions of themselves." 
"Think Curb Your Enthusiasm episodes, in an hour long show, and we're all playing heightened versions, so it could be fictional, it could be non-fictional, people will have to guess," she continued. "And then we will have pop-ins, because we're behind the scenes trying to do the reboot." 
Beverly Hills 90210 originally ran from 1990 to 2000 on Fox. 
BH90210 will air this summer on Fox.