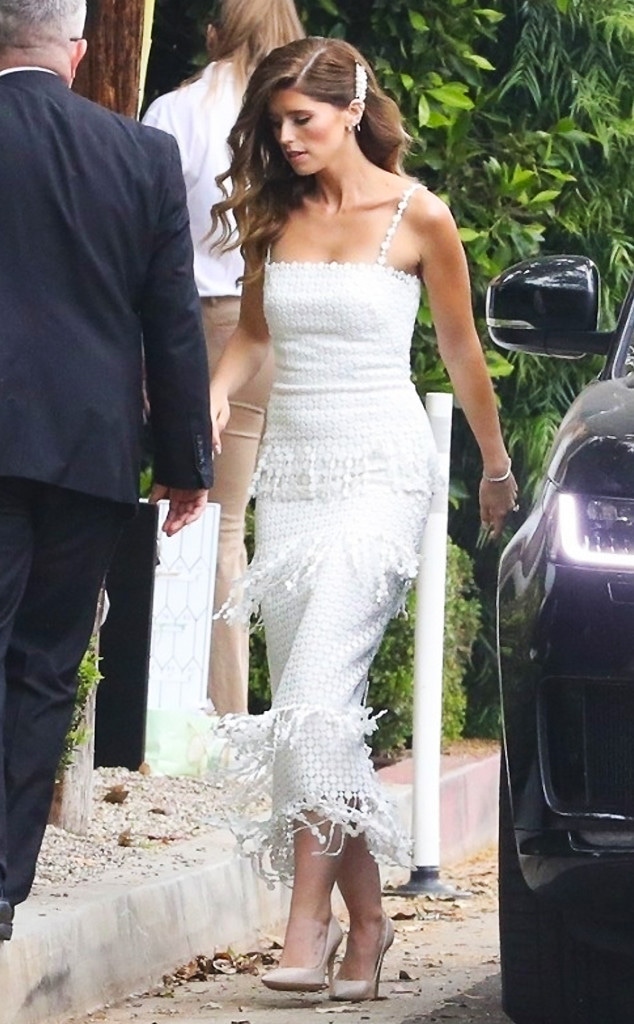 BACKGRID
Here comes the future Mrs. Pratt!
Katherine Schwarzenegger celebrated her upcoming nuptials to Chris Pratt at a lavish bridal shower at her mother Maria Shriver's Los Angeles home on Saturday.
A source described the shower as "beautiful and elegant" and it featured a pretty star-studded guest list with Oprah Winfrey among the 100 attendees. 
The source told E! News that the bride-to-be "looked stunning in a white skirt and fitted tank top with beaded fringe. Her hair was clipped back on one side." Schwarzenegger wore a Lela Rose "Dawson" dress from her bridal collection. 
Guests arrived at Shriver's home around noon for a "backyard luncheon" that was described as "very traditional and exactly what you would imagine for a classic bride." 
There was live music from a guitar player as well as lots of champagne. "There were photos of Katherine and Chris in picture frames at the entrance and large cherry blossom arrangements," the insider shared. 
Their lunch was "served in the backyard by the pool buffet style." According to our source, the aesthetic was "white and light green with lots of greenery and some pastel colored wildflowers. All the tables and chairs were wooden for a rustic chic vibe."
The dessert selection was just as tasty. The source told E! News there was "a table set up with several different miniature cakes, scones, pastries and Fonuts," which are gluten-free baked donuts.
Once guests finished eating, it was speech time. 
"Some of Katherine's friends spoke, her sister said something and then Maria gave a very long tribute to Katherine with the theme that she was born to love and to be loved," the insider said.
Schwarzenegger's bridal shower allowed for ample opportunities to take pictures. The source told E! News, "There was a photo wall backdrop for guests to take pictures and everyone walked around chatting and posing for photos."
Pratt arrived around 2 p.m. once the shower had been going on for a while. 
"Maria introduced him over the microphone as Katherine's husband to be and future fiancé. Everyone cheered and whistled," the source said.
The guitar player at the beginning of the day wasn't the only live music at the festivities. According to the insider, "Jason McGee and The Choir were introduced by Maria to serenade the bride and groom. The full choir sang 'Oh Happy Day,' 'All You Need Is Love,' 'A Whole New World' and 'Looks Like We Made It.'"
Shriver took a moment to praise her future son-in-law and "told everyone that the way he treats Katherine takes her breath away."
The Guardians of the Galaxy star said a few words in front of the crowd and, unsurprisingly, "had everyone laughing."
"He told Katherine he loves the way she laughs and he loves the way she cries," the source said. 
Towards the end, "Katherine thanked everyone for coming and gave a tearful speech."
"Everyone commented that it was the most beautiful shower they had ever been to. Even Chris said it was incredible and only something you would see in the movies," the insider continued.
"No expense was spared" for the beautiful gathering.
A second source echoed the other details about the beauty and elegance of the bridal shower. 
"It was a beautiful party and everyone really enjoyed each other and were together celebrating Katherine's shower with their family and friends," the insider shared. "She wanted to keep it classic and soft and simple to match her décor. Everything was white in the set up."
The all-white theme included "white flowers, white candles, clear vases and white linens." The color has significance because other than it being the traditional bridal color, it "represented purity which goes back to their relationship with God." 
The source explained that "their wedding will be focused on" that aspect as well. 
Shriver held the shower at her house in order to "keep it intimate for their guests." 
They added, "Katherine didn't want to go anywhere for it. She wanted to be in the company of her family and Chris' family. They had music playing and just lots of excitement that energized the afternoon."
The source called the shower "an amazing day celebrating their love" and that "everyone is getting so excited for the wedding."
Shriver was the one who helped set her and ex Arnold Schwarzenegger's 29-year-old eldest child and daughter up with the 39-year-old actor. Chris and Katherine began dating last summer and he announced in January that they are engaged. The two made their red carpet debut as a couple at the recent premiere of Avengers: Endgame.
Earlier this month, a source told E! News that the bride-to-be's family, closest girlfriends, and some of her mom's girlfriends would attend her bridal shower, while her sister Christina Schwarzenegger, 27, is planning a bachelorette weekend for her.
This will be the first time one of Maria and Arnold's four children will be tying the knot.
VALERIE MACON/AFP/Getty Images
"She's very much in wedding planning mode," the source said about Katherine. "She's excited and really enjoying the process. Her mom is very involved and helping her figure out all the details. They are doing it together but Maria is overseeing a lot of it."
Watch:
Timeline: Chris Pratt & Katherine Schwarzenegger's Road to Engagement
"They have been back and forth on potential dates and making sure that everyone that they want to have come can come," the source said. "They both have big families and a lot of people they want to include. They know they want it to be before the end of the year. Chris wants Katherine to have whatever she wants and is letting her take the reins on planning. He wants to make sure it's the best day of her life."
This will mark the second marriage for Chris, who divorced actress Anna Faris in 2018 after almost nine years of marriage. Another source had told E! News in March that the couple's 6-year-old son Jack "will of course be involved" in the wedding "in some big way, possibly as a little groomsmen."