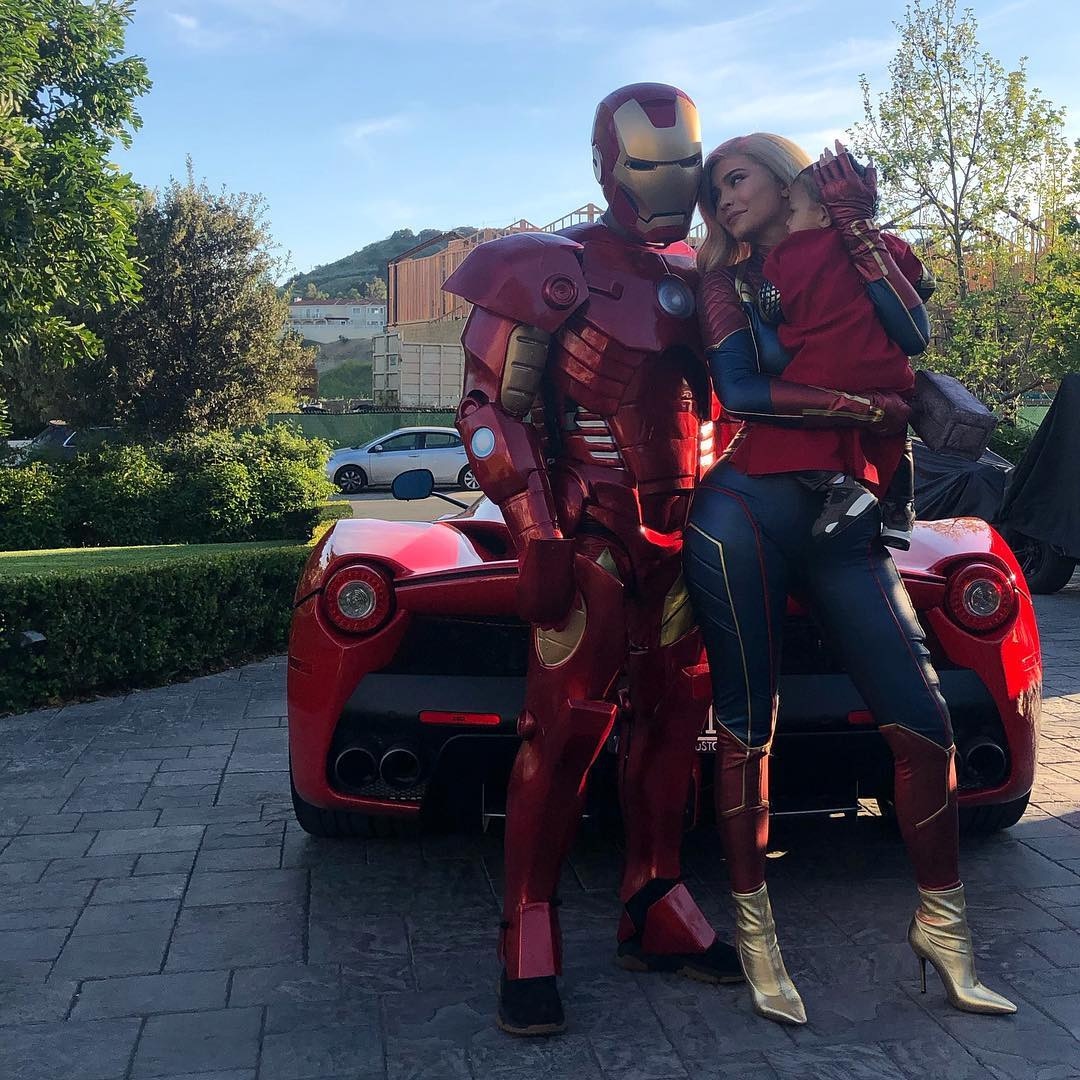 Instagram
Step aside Ant-Man: Captain Lip Kit and Iron Flame are here to save the world. (In need of SparkNotes? That's Kylie Jenner and Travis Scott, of course!)
To celebrate the hotly anticipated Friday release of Avengers: Endgame, Jenner, Scott and their daughter Stormi, 14 months, suited up last night to stop the finger-snapping, world-destroying Thanos. Or something like that. The Keeping Up With the Kardashians star slid into the badass suit of Brie Larson's Captain Marvel, while Scott donned a near replica of Robert Downey Jr.'s Iron Man getup. As for their tot? She dressed as none other than Thor, God of Thunder Thor, played by Chris Hemsworth.
"Happy end game everyone," Jenner captioned the family shot on Instagram. She followed up with a second, sexier shot of just her and Scott, officially introducing their characters to the Marvel Universe. 
"Oh, you didn't catch Iron Flame and Captain Lip Kit in the credits?" the 21-year-old joked. "Sucks 4 you."
The cosplay wasn't just for the 'gram. Post photoshoot, Jenner hosted an early 28th birthday party for her love at the Cinepolis Luxury Theatre in Westlake Village, California. There, guests—including Kris Jenner, Corey Gamble, Kanye West, Kourtney Kardashian, Kim Kardashian, Khloe Kardashian and Mason Disick—were treated to a screening of the new flick, which finds the fan-favorite superheroes desperately trying to reverse the damage caused in Infinity War.
Afterwards, Scott—his actual birthday is April 30—blew out the candles on his Avengers-themed cake, which read "Happy birthday husband." Blue balloons with the same message also decorated the space.
"It was a fun and casual night," a source tells E! News. "Kylie and Travis had a great time kicking off his birthday weekend. Everyone said the movie was awesome." 
But don't let the birthday messages fool you: Jenner and Scott are not subtly announcing they secretly wed. They simply have a habit of sparking speculation by calling each other "hubby" and "wifey."
After all, who needs a ring when you have infinity stones?