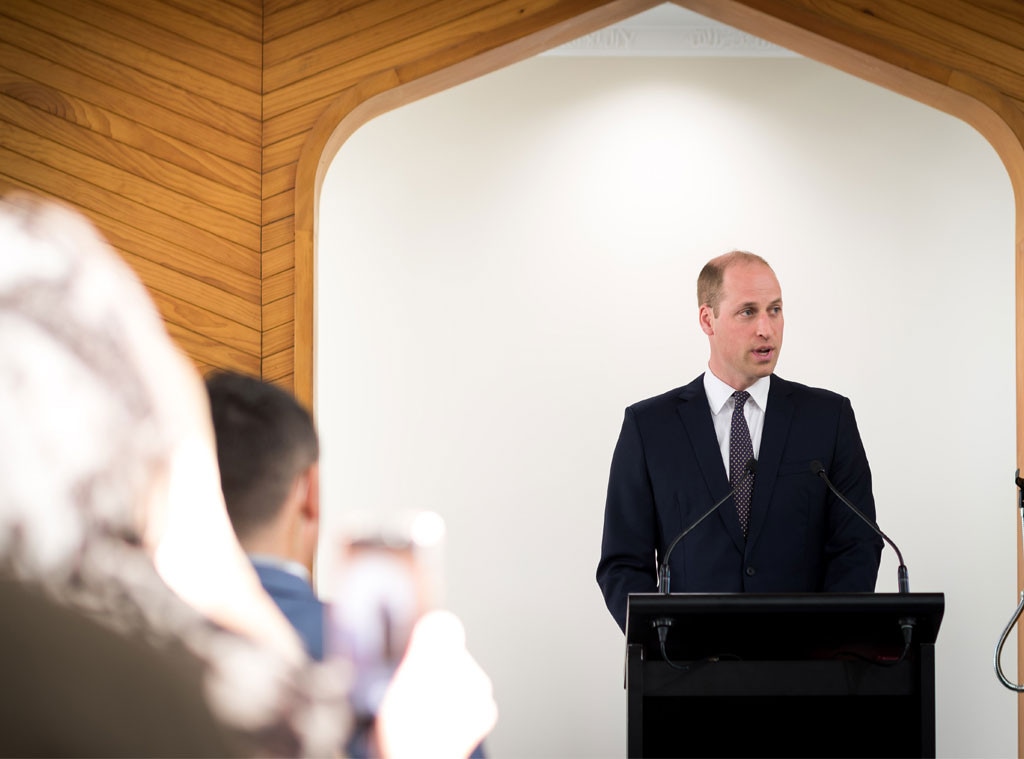 Mark Tantrum/The New Zealand Government via Getty Images
In the aftermath of the Christchurch mosques terrorist attack, Prince William stands with the victims in their grief. 
This week, the royal father of three has been in New Zealand on behalf of Queen Elizabeth II. While in the country on Friday, the prince paid a touching visit to the Al Noor Mosque in Christchurch, one of two mosques targeted in the March terrorist shootings that killed 50 people and injured others. 
Appearing before a room full of people at the mosque, William delivered lengthy remarks decrying division and hate and praising the people of New Zealand for their unity in a time of such tragedy. 
"On the 15th of March, tragedy unfolded in this room," the royal strikingly noted in his introduction. 
As he explained in his speech, "I have been visiting New Zealand since before I could walk. I have stood alongside New Zealanders in moments of joy and celebration and I have stood alongside New Zealanders in this city in moments of real pain, after loved ones, homes, and livelihoods had been lost after the 2011 earthquake." The royal also paid a visit to the Oi Manawa Canterbury Earthquake National Memorial, where he paid tribute to victims by laying a wreath. 
"And what I have known of New Zealanders from the earliest moments of my life, is that you are a people who look out to the world with optimism. You have a famous strength of character. You have a warm-hearted interest about cultures, religion, and people thousands of miles from your shores."
As the famous figure continued, he reflected on dealing with his own loss and what the process taught him. 
"In a moment of acute pain, you stood up and you stood together and in reaction to tragedy, you achieved something remarkable," he said. "I have had reasons myself to reflect on grief and sudden pain and loss in my own life and in my role, I have often seen up close the sorrow of others in moments of tragedy, as I have today. What I have realized is that of course grief can change your outlook. You don't ever forget the shock, the sadness, and the pain, but I do not believe that grief changes who you are. Grief—if you let it—will reveal who you are...The startling weight of grief can burst any bubble of complacency in how you live your life, and help you to live up to the values you espouse."
MARTY MELVILLE/AFP/Getty Images
William acknowledged all of the impressive ways the country responded to the attack and how it revealed the true nature and strength of the country. "An act of violence was designed to change New Zealand. But instead, the grief of a nation revealed just how deep your wells of empathy, compassion, warmth, and love truly run," he told his audience.
"The Muslim community showed the world the true face of Islam as a religion of peace and understanding."
As he concluded, the royal issued a call to end extremism and declared his support of New Zealand. "To the people of New Zealand and the people of Christchurch—to our Muslim community and all those who have rallied to your side—I stand with you in gratitude for what you have taught the world these past weeks. I stand with you in optimism about the future of this great city. I stand with you in grief for those we have lost, and with support for those who survived and I stand with you in firm belief that the forces of love will always prevail over the forces of hate."