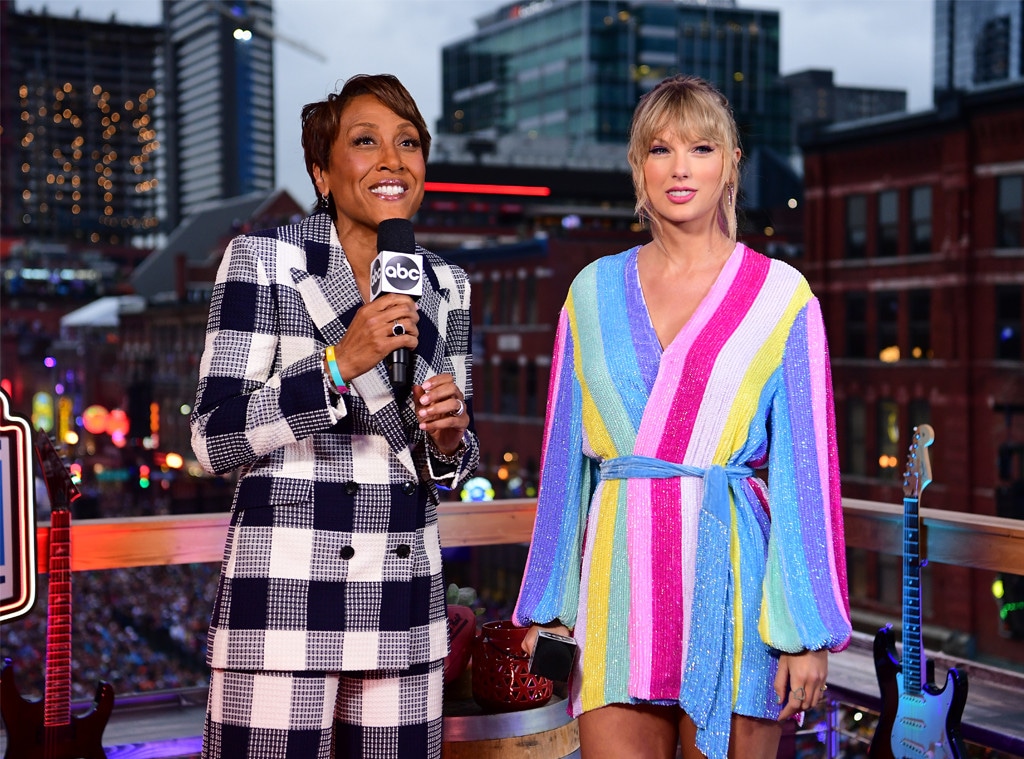 Phil Ellsworth / ESPN Images
It's the final countdown, Swifties.
After almost 13 days of anticipation, Taylor Swift confirmed on Thursday via an Instagram Story that a "song" and "new music" were coming. She teased her upcoming release even more in an interview with Robin Roberts on the 2019 NFL Draft on ABC in Nashville.
Before giving out all the details, she joked she wouldn't miss this "amazing" event, adding, "I've lived here for 15 years and I have never seen anything like this. Hey Guys!"
The 29-year-old pop star stunned in a bright rainbow-colored mini dress by Retrofete Gabrielle, as she spoke to Roberts, where she finally revealed her new song with Brendon Urie of Panic! At The Disco, which drops at midnight.
"It's going to be a new song and music video," she shared. "The song is called "ME!" and it's featuring Brendon Urie of Panic! at the Disco."
Hours before the interview, Swift made a surprise appearance at a presentation of a trippy new mural in her hometown of Nashville.
The mural depicts a massive, pastel and colorful butterfly whose wings bear images of cats—a common Swift staple—flowers, hearts and stars and the word "ME!," which was added just before the singer joined the crowd, where she posed for pics and took selfies with fans.
"This was one clue, we've got another clue coming tonight on ABC. So make sure to watch," she teased earlier today on her Instagram Story.
In addition to her mural, earlier in the evening fans noticed that a "ME!" music video was registered on YouTube. On it, it featured Urie. Moreover, a new image Taylor with the words "Me!" was placed on a billboard.
Furthermore, she also dropped several other clues about it, in the form of pastel and other colorful images on Instagram. She has also worn flowing, chiffon pastel dresses during her appearances in recent days.
Basically, the clues were staring at us in the face this whole time. "It's always been there," Taylor said of her many hints. "It's just gotten more fun as time has passed."
She explained that her Easter eggs wouldn't have been as fun if her fans weren't amazing. "I can not believe how dedicated they are, how thoughtful. I can't believe how much they care."
Along with the release of her new music, the "Delicate" singer shared she'll be answering fan questions during the premiere of her video.
Of her new tune, the Grammy winner told Roberts, "ME! is a song about embracing your individuality, and really celebrating it and owning it."
She continued, "I think that with a pop song we have the ability to get a melody stuck in people's heads, and I just want it to be one that makes people feel better about themselves."
On April 13, Swift, who has in recent years revamped her sound and image with every new release, posted on social media a countdown clock that counts down to April 26 at midnight ET, suggesting new music was on the way.
Swift has worked with ABC before to promote her new music. In 2017, she dropped a teaser for her single "...Ready For It?" from her last new album, Reputation, during the network's pre-show for a college football game. It was used in a commercial promoting ABC's new fall lineup.