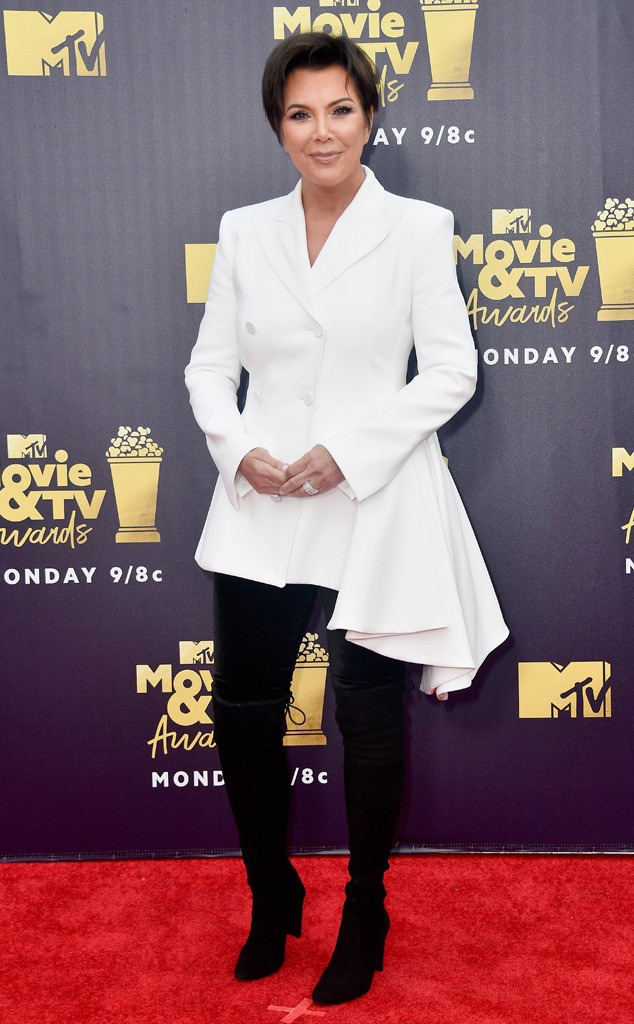 Frazer Harrison/Getty
Being a mom—or grandma—never ends.
When it comes to Kris Jenner's life, family is everything. And with nine grandchildren between her kids, the Keeping Up With the Kardashians star has plenty of stories and adventures to tell. Some of those tales, however, are a bit scarier than others.
When asked to share the most memorable late-night call she has received about her kids, Kris was quick to recall a recent incident.
"The most recent one that comes to mind is a week ago or so when we went to Palm Springs and Saint, my little grandson, we discovered he might be allergic to grass," she shared with Refinery 29. "We ended up in the E.R., but all is well—we figured it out."
But there's another instance that was just as frightening.
"The first one I ever got was the most alarming. It was when Mason ate peanut butter and his face started blowing up and his throat started closing," Kris recalled. "They had to rush him to the hospital. He had a peanut butter allergy for the longest time. He's fine now. The scariest is always the first time."
Ultimately, Kris is looking forward to an easy, breezy Mother's Day. In fact, she hopes to follow a long standing tradition with her family.
"Every time we have something special to celebrate, it's so much fun because we do it in such a big way," Kris explained. "For Mother's Day, we usually gather at Kourtney's house and we make this thing called Beeshee, which is an Armenian breakfast treat. We look forward to it all year long, it's so much fun."
And if her kids want to switch it up this year, the self-proclaimed momager has a memory she likely would be open to repeating.
After all, it does include the Happiest Place on Earth.
"I think the most memorable Mother's Day was, I wanna say, 12 years ago. My kids came into my room and said, 'What do you want to do today?' And I said, 'You know what I wanna do? I wanna go to Disneyland.' We got two cars and we drove to Disneyland and we had the time of our lives," Kris shared. "We ate all the churros that they could serve, saw all the shows, and ate the barbecue."