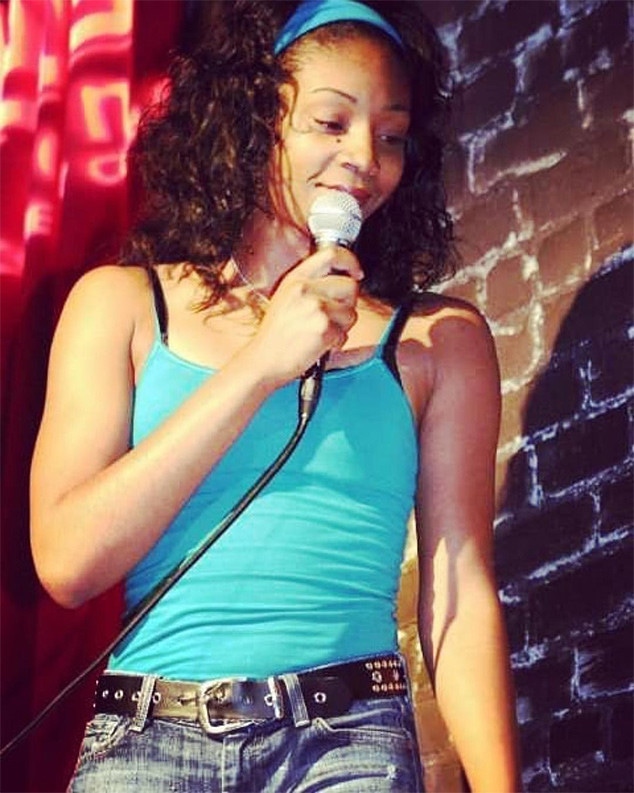 Instagram / Tiffany Haddish
Tiffany Haddish is happy she got to fulfill a promise she made to herself years ago when she was "homeless, hungry, scared, and hurt."
The 39-year-old comedienne and Girls Trip actress, who portrays a character in the upcoming Netflix animated series Tuca & Bertie, posted on her Instagram page on Thursday a throwback photo of herself performing standup, writing, "I look at this picture and want to cry tears of joy for this Girl. I remember that night. She was homeless, hungry, scared, and hurt. I promised her if she kept faith in God and Herself, We will get to a place where we will be Housed, Over Fed, Less Hurt and Fear Free."
"I am so Grateful that she Believed. I am so Happy we have come this far and excited about where we will Go," she continued. "Tiffany Sara Cornilia Haddish I Love and Approve of you and most of all God does too. You are prefect enough for both of us right now and always. #SHEREADYFORSUCCESS #ILoveYou #SoHappyForYou #DontWorryWhatTheyThink#WorryWhatYouThink."
In her 2017 memoir The Last Black Unicorn, Haddish revealed that at age 18, her grandmother kicked her out of her house and she was then "homeless as hell, just traveling around with my plastic bins," and was "basically couch surfing" at friends' houses. She said she had gotten accepted into New York University but could not afford to go, so she opted to attend Santa Monica Community College and get a job to pay the much more affordable tuition. She also had to temporarily stop doing comedy, when she had begun doing while in high school.
In the book, Haddish also said that in addition to growing up at her grandmother's home, she spent time in foster care between ages 13 and 18, during which she was molested, bullied, slapped, was made to clean and cook, and was exposed to marijuana smoke.
Watch:
Tiffany Haddish Reveals When She Feels Most Powerful
Haddish also previously revealed that when she was homeless, and living in her car, Kevin Hart gave her $300 to find a place to live for a week. At the time, they performing together in a sketch comedy show called Comedy Playground.
"He saw all the stuff in my car. He had like this long discussion with me, you know? Basically like, 'You're a beautiful woman. You could stay with any man. Why don't you just stay with a man, like?'" she told Vanity Fair in 2018. "And I was also like, 'I'm not sleeping with nobody for a roof over my head.' I'm just not that type of person."
And Kevin was like, "Oh, that's real commendable, look at your homeless ass," she said. "And he gave me $300 and told me I shouldn't be sleeping in my car. He was asking me where I was sleeping. I told him, 'Beverly Hills. If Imma be homeless, I'm gonna be homeless in the best area.' I would park my car in Beverly Hills and I would sleep over there, and the police would come every morning and make me move. That was like my wake-up call. I got to know a lot of police officers like that."
She said after a week, she obtained a run-down apartment to rent for $550 a month.
She and Hart would go on to work together again and be co-stars in the 2018 comedy film Night School. Now a movie star like him, Haddish tried to paid him back the money he gave her.
"I love my sister @tiffanyhaddish ....She has been trying to pay me back for years & I refused to take the money so she ambushed me on set and made it rain on me...." he wrote on Instagram, alongside a video. "What she doesn't know is that I put the money back in one of her wig caps that she wasn't wearing later that day!!!! I'm dead serious. Check your wig cap @tiffanyhaddish ....I love u and I will never take from you. You being my Co-Star in my movie Night School was more than enough. Love u with ur funky ass!!!! #NightSchool #HittingTheatersEverywhereSept28th."