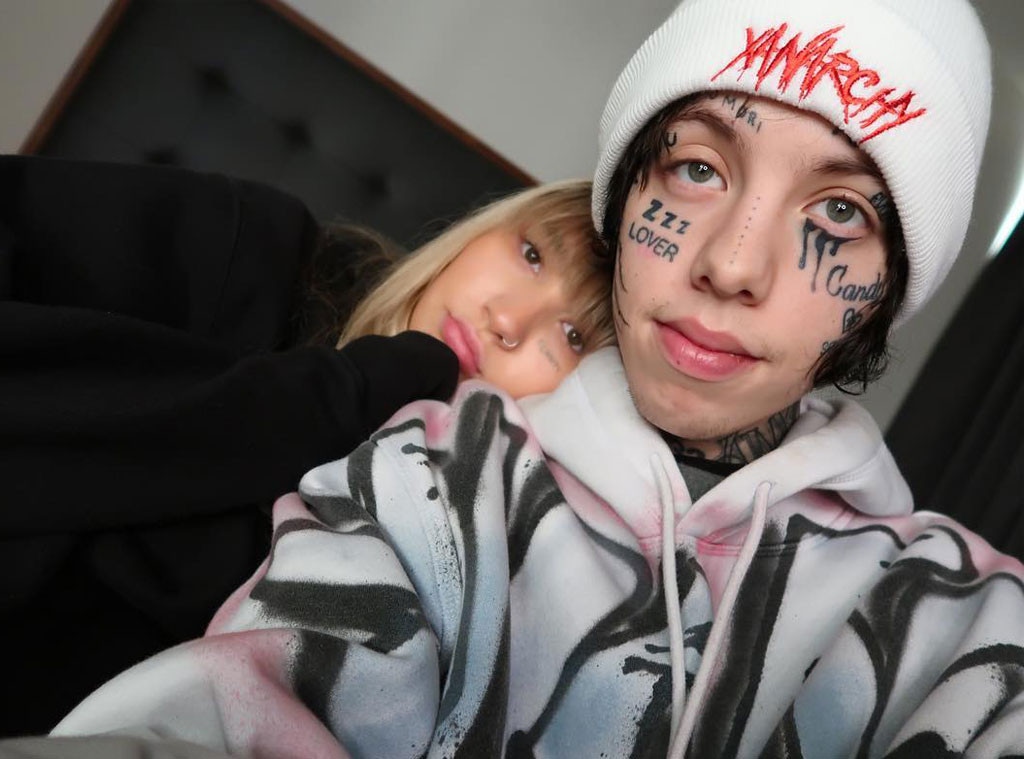 Instagram
Remember when Lil Xan was arguing with ex-girlfriend Noah Cyrus about who may or may not have cheated during their months-long liason? 
Well that was so 2018. 
These days the Sound Cloud rapper is wrapped up in a new he said, she said romantic entanglement, this one involving his possibly current, possibly former fiancée Annie Smith. The way Smith sees it, though their relationship is as complicated as it is deep, they're still very much a thing. 
"This beautiful angel is the love of my life," the YouTube personality wrote in an Apr. 24 post to her Instagram Stories. "My heart and soul. This morning when I woke up he just looked at me and said, 'Annie you know you are the most incredible person I've ever met right? You know I would do anything for you and I promise to give you the world.' My eyes were barely open from sleep. This is true love." 
As for Xan, let's say he has open other ideas. 
"It's just complicated as f--k right now, we in limbo or some s--t," he asserted during a recent return to the No Jumper podcast. Meaning their union was certainly off enough for him consider future prospects. "I want to date another celebrity," he shared. "I think imma go, like, the famous model route, like real famous model."
The singer-songwriter (born: Diego Leanos) has also joined the growing list of skeptics who have been questioning if 19-year-old Smith really did suffer a miscarriage or if she had been pretending to be pregnant the entire time. 
So let's say their next fight is going to be a big one. 
Because it's one thing for strangers to put forth conspiracy theories about a woman faking an experience so undeniably painful and personal, it's quite another when the man you've agreed to spend forever with goes on the radio and admits he was kind of wondering the same thing himself. 
"I saw two pregnancy test with the line that said you're pregnant and I was like, okay so she's definitely pregnant. You know what I mean? But I mean, I didn't watch her pee. And then I looked up certain s--t like you can fake a pregnancy test," he admitted on Tuesday's podcast. So now, he's "like 50-50" on if it was the real deal or not "because there were definitely things that are questionable that I can say that she really was pregnant. Like I really did start seeing a belly and s--t." 
Actually, he saw his entire future laid out before him. "When I found out I was going to be a father I was stoked. I was like, this is lit. This is going to calm me down from f--kin' b--ches, hopefully, you know what I mean?" he said. "Having a kid and all this, I hope, like, this is definitely going to calm me down from living a crazy lifestyle. And obviously, number one, the kid but just the impact that it would have on my life."
Because the "Live or Die" artist had already packed a lot of rebellion into his 22 years. The native of Redlands, Calif. dropped out of high school in the ninth grade, though, admittedly his appearances there became increasingly sporadic three years earlier. "School was never for me kinda," he offered to DJ Smallz by way of explanation.  
He thought photography would be his chosen route until his $1,200 camera was stolen one night when he set it down on a DJ booth and he discovered it'd be cheaper to spring for studio time than try replace it. Besides, as he told XXL, "All my friends were rappers so I just thought I might as well take a shot at it." 
Theo Wargo/Getty Images for Billboard
His ambivalence paid off in August 2017 when his track, "Betrayed" went viral on Sound Cloud, the go-to medium of Gen Z. "The longer I kept at it, I saw progress and everything kept going up," he told Pigeons and Planes. "I started to realize that this was a possibility to be a career for me instead of a hobby."
With his baby face plastered in tattoos and a stage name selected—an homage to a Xanax habit he became desperate to kick after his pal Lil Peep passed from an overdose of fentanyl and the anti-anxiety medication in November 2017—he dropped Total Xanarchy last April and soon he was predicting his future as the next "star or legend", telling XXL, "I don't want to sound cocky....It's just what I get called a lot." 
His first effort peaked at No. 10 on the Billboard 200, but it was a public romance with Miley Cyrus' little sis, complete with a red carpet debut at the MTV Video Music Awards in August, that would truly take him mainstream. 
Matt Baron/REX/Shutterstock
"She helps me, I help her," he would told Billboard of their relationship, which began, appropriately, after he slid into the singer's DMs and quickly transformed into a successful collaboration both in and out of the studio. "It's beautiful. I couldn't ask for a better best friend and girlfriend."
Their young love didn't so much burn out as it was engulfed in a blaze of cheating accusations that Cyrus blamed on his misunderstanding a meme featuring a naked Charlie Puth. He would later admit on Complex's show Open Late with Peter Rosenberg that the split was his fault—"I just feel like I f--ked everything up!"—while she would decry their entire fling as a "mistake." Either way, they were both back on the market by September when he became acquainted with Smith. 
The way the former nanny tells it, they had actually been introduced years earlier by a mutual friend and she was instantly smitten. 
"The moment i met you i knew you were special. i fell head over heels in love with you and only love you more and more every single day," she shared in an Instagram post. "i didn't know it was possible to feel this way about another human."
Xan on the other hand, who readily admitted on No Jumper "Yeah, I f--ked a lot of girls, dude, s--t," was less eager to settle down. It took some two years into their best friendship for the couple to decide to give it a shot. 
"We have been really close for a long time and we both have always just had a really special bond with each other...we both really cared about each other, we both loved each other, but we didn't know how the other person felt, so that's why it was like friends for so long," she explained to E! News, allowing that "there were other reasons that it was just not I guess the right time." 
Until it just was. "We were together 24/7. We went on trips together, we were always doing things together," she continued, "and I guess one day we were just kind of like, 'What are we doing? Why are we not together?'"
Having made the decision to commit some time before their first joint social media post last Thanksgiving, they went all in. 
By February he was rushing to Instagram to excitedly proclaim to his five million-plus followers, "it's official im going to be a father. i love you guys so much and hope you stay along for this crazy journey and i've never felt more happy in my life."
The news was a surprise, she allowed, but 100 percent intentional. The pair had been trying for a baby and toying around with names (they liked the middle name of Valentino for a boy, while a girl would likely bear the moniker of Izabella, in honor of his late niece). And he had even made things all official like with a proposal. 
"It was just causal. We were talking about it really casually for a long time, like we already knew we were going to get married, but we didn't talk about it in too much depth, we just knew it was going to happen eventually," she explained to E! News. "And then we were just at home and he just proposed. So, we are engaged. The ring...we're very unconventional. We're engaged, but we don't have the ring yet."
David Wolff - Patrick/Redferns
What they had were plans, both for the wedding ("Definitely the main ceremony part we want to keep really intimate, just like us and our parents or even just us and then maybe do something later down the line with family and friends," she shared) and after. "I think he's going to be an amazing father. He has the biggest heart, he's such a family man and he just does everything for his family."
But what she hadn't planned on was the wave of negativity that would wash over them. Though their families couldn't be more supportive—"They know that we want children, so they weren't too surprised,"—fans quickly began to question her news, even pushing forward a theory that she had photoshopped the pictures she shared from her nine-week ultrasound. The proof: a replica of the scan they found through a simple Google search. 
Smith's explanation was somewhat convoluted, but still plausible. "When I posted my YouTube video with my ultrasound pictures, a girl (i'm not going to comment on who) photoshopped them with another person's name, year, birthday etc, and uploaded them to Google," she told E! News, adding that she was disheartened by the negativity. I'm honestly really disappointed that we announced it and now this is the rumor floating around."
In fact the haters had taken a little wind out of her pregnancy sails. "The fact that it's basically being ruined or tarnished by the Internet is heartbreaking to me and it's really, really hard for me to deal with," she shared in an Instagram video. "I'm already very hormonal and sensitive and it's just a really hard thing to talk about."
Which is why she was hesitant to even share the news in the first place, initially planning to wait until she'd passed the all-important 12-week mark when the chance of a miscarriage lessens. 
"It's just really personal and I was just so excited when I first found out and of course I'm still so excited but I just really want to keep it private between [Lil Xan] and I god forbid something happened," she said. "My worst nightmare is having a miscarriage."
Sadly that fear came true just months into her pregnancy.
"Feeling you grow inside my body has been the most special gift i have been given, my prayers were answered with you. i wish more than anything that i could meet you, hold you and love you," she revealed in an Instagram post shortly after they wrapped his European tour. "teach you all the beautiful things in life and show you the world. i wish you could've known how truly blessed you were to have a daddy like diego. we love you little angel. always."
What's to come of their love, though, is currently up in the air. 
Along with admitting he pressed Smith to prove her lost pregnancy ("I was like, I need the paperwork of the miscarriage that you had,") he revealed on No Jumper that he hasn't been the most faithful of partners. "Annie's my ride or die," he shared, but his reasoning was, how you say, less than romantic. "She lets me f--k b--ches," he said. "She knew. She'd see me go into the bathroom with other girls on the tour bus, at shows." 
It wasn't that he was a bad guy, he stressed, "I told Annie, like, bro, I love you and you love me, but she loves me way more than I love her." 
Due to the imbalance, he continued, he's urged her to walk away, stopping just short of ending their relationship himself. "I told her she could leave whenever, but she wants to stay and I love her," he explains. "But, like, I'm a very terrible boyfriend." 
So for now his plan is to keep doing him and if that doesn't work for Smith, so be it. 
"I just feel like I'm 22, I got this fame, I got this money, I don't want to be tied down yet," he said. "That's my biggest thing, I don't want to be tied down yet. And she's like, 19. She's a teenager so, like, I feel like I want to get a girlfriend around like 24 or 25 maybe…literally 28 is when I want to settle down."
For better or for worse, though, Smith doesn't appear to be the type that scares easy. So maybe she's down for six more years of muddled romance. 
"All I can say is love is hard. True, passionate, unconditional, eternal love will never be easy. Love sucks and it is the most beautiful, magical feeling in the world," she espoused on Instagram. "You can love us or hate us, but we have each other forever and that is all any person could ever dream of. A love like this."