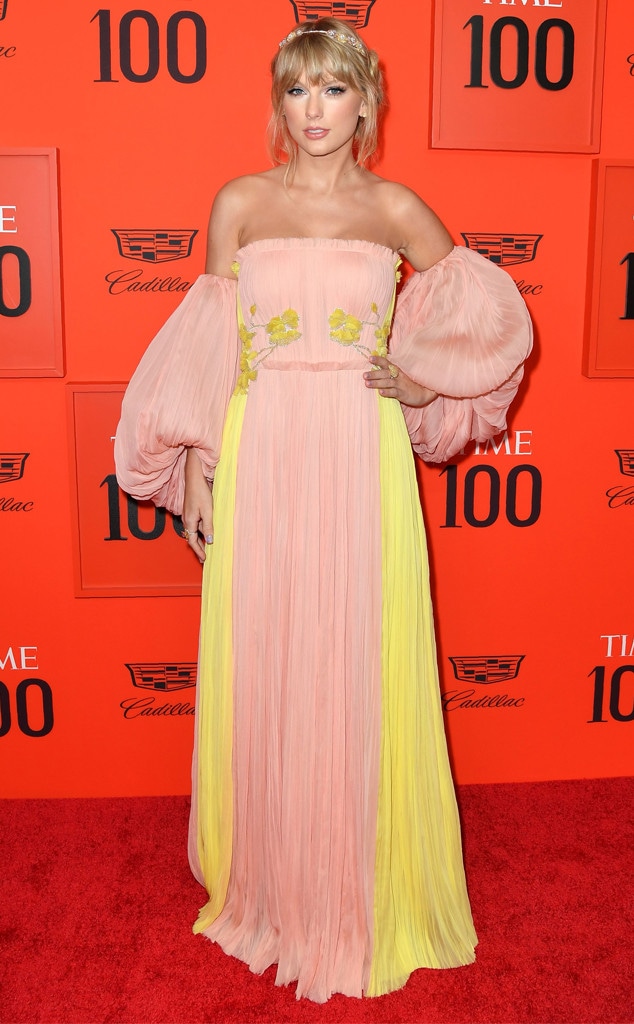 ANGELA WEISS/AFP/Getty Images
Celebrities, world leaders, athletes and more icons descended upon Lincoln Center in New York City on Tuesday night for the annual TIME 100 gala.
Taylor Swift, who is slated to perform later in the evening, arrived looking like a vision in spring colors. Her performance comes just days ahead of her rumored music release, which she has been actively teasing all over social media. The "Delicate" singer wore a nearly $7,000 strapless blush and yellow J. Mendel dress and paired it with Lorraine Schwartz jewels and Chloe Gosselin shoes. 
Khalid, who just released his new album Free Spirit on April 5, will also sing at the event.
The "Young Dumb & Broke" artist chatted with E! News on the red carpet at the event and said that being on the TIME 100 list "means the world" to him. 
"This isn't even anything I ever would have expected to happen," he shared. "It's awesome I'm just happy to be here. This is very nerve-wracking." 
Khalid added that he feels like "the new kid on the block" and he's getting invited to sit at the popular kids' table during lunch. 
The upside of joining the popular kids means getting to befriend them, and there's one cool kid in particular that the 21-year-old really wants to hang out with: Dwayne "The Rock" Johnson. 
"Before the night's over I've got to meet him," Khalid told E! News.
He discussed a bit of what he would possibly say if and when he met The Skyscraper star. "You're awesome," he said. "I feel like everyone pre-plans their meeting all of their life. That's someone I grew up always imagining meeting him and I feel like when I do, I'm going to be so starstruck and at a loss for words."
As it turns out, The Rock might be just as enthused to shake hands with his fellow honoree. He was thrilled when he found out from E! News that Khalid really wanted to meet him.
The adoration is pretty mutual.
"Thank you for telling me that because I literally listened to his entire album this afternoon," he explained. "I can't wait to meet him."
Watch:
Khalid Is Giddy Over the Possibility of Meeting Dwayne Johnson
What makes the TIME 100 so special and monumental is that so many other notable names write about these honorees who all have an indelible mark on society. Shawn Mendes, for instance, wrote about Swift for the magazine.
"Taylor makes the job of creating music for millions of people look easy. It all comes from her—her belief in magic and love, and her ability to be as honest and raw as possible," Mendes penned. "She's the master of putting the perfect amount of thought into not overthinking, and that's why her music connects so well."
Beyoncé honored former First Lady Michelle Obama, Shonda Rhimes wrote about Sandra Oh, Jordan Peele commended Spike Lee, Celine Dion praised Lady Gaga and so on. Other big names on the TIME 100 list this year include Ariana Grande, Chrissy Teigen, Richard Madden, Ozuna, Rami Malek, Joanna Gaines and Chip Gaines, BTS, Regina King and Emilia Clarke.
Take a look at the photos below to see what the stars wore to the TIME 100 gala.
Congratulations to all of this year's honorees.