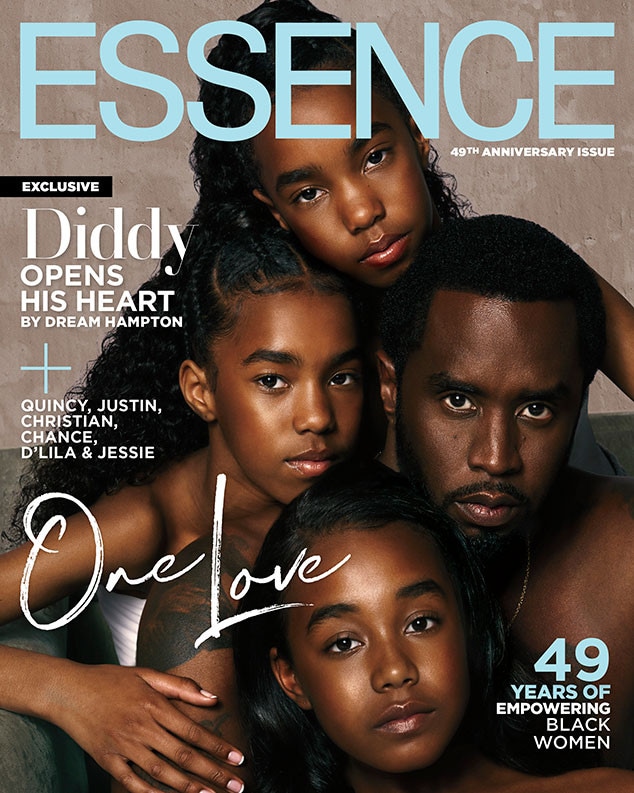 Courtesy of Essence
Sean "Diddy" Combs is revealing the last words Kim Porter said to him before her shocking death.
In the May issue of Essence, the single father is opening up about life after his ex-girlfriend's death and the impact it's had on the way he going about his daily life. Starting with the day she died, Puffy details the way his world has been "turned upside down."
"Three days before she passed, she wasn't feeling well. She had the flu, and she sent the kids over to my house so they wouldn't get sick. One night I was checking on her, and she was like, 'Puffy, take care of my babies,'" he candidly reveals. "She actually said that to me before she died."
Upon finding out about her death from pneumonia in November 2018, the star says he immediately "jumped into mommy mode." The rapper explains, "I sent people in every direction to try to make sure the kids would not hear about it on social media or the news."
While any father would strive to do their best to protect their kids, the artist says it felt like his frequent talks with Kim were preparing him for the day that she wouldn't be there anymore. "It was like some superhero sh-t. I ain't even gonna lie. On some level I knew she was training me for this. I knew that I had to be ready to do whatever I was supposed to do if something like this ever happened," Diddy explains. "There was screaming and crying when I heard the news, of course, but I had to ask myself, What would Kim do? I was scared, and I was crying out to God—and to her—and almost immediately Kim's voice kicked in, and I could hear her saying, 'Make sure you take care of my babies.'"
Now, in the after-life, Puffy thinks that she is continuing to guide him. He describes the way he "can hear her telling me to go and spend some time with the kids and make sure everybody's all right," as she used to in the past. He adds, "I'm just a lot more present, and, most important, now my kids come before anything else in my life."
Kim's words of wisdom and careful guidance may have prepared Diddy for the task of being a single dad, but he says that at first he "really didn't know how we'd be doing" months down the line. But with the help of his exes Sarah Chapman and Misa Hylton-Brim, as well as friends and family, they are "doing really well." 
Jean Baptiste Lacroix/WireImage
"And it's because of Kim we're doing this well, because of the way she loved us. We wouldn't be able to love any other way. Her spirit wouldn't let us," Diddy shares.
Together, the pair shared their son Christian, 20, and 12-year-old twin daughters D'Lila Star and Jessie James. Diddy also helped to raise Kim's son Quincy Brown, 27, from a previous relationship with singer/producer Al B. Sure.
All four of the children appear to be coping as good as one can after the loss of a parent, with Diddy adding that they are probably doing better than him. He says, "One day I asked them how are they being so strong. They said that, in a weird way, their mother had taught them how to deal with death... Now, ironically, they are teaching me how to deal with Kim's passing."