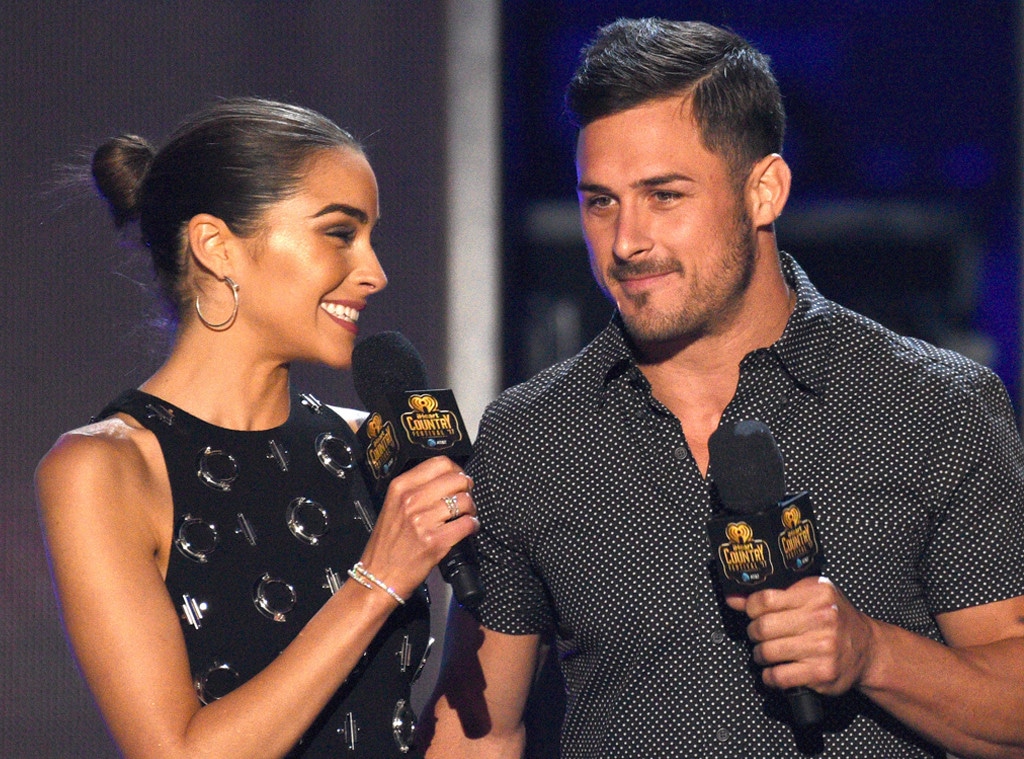 C Flanigan/Getty Images
Eager to call out the practice of oversharing, football pro Danny Amendola logged onto his Instagram account and, er, overshared. 
A month after splitting with Olivia Culpo—their second break-up in as many months—he named her public persona (a somewhat necessary evil when one is a model-slash-actor-slash-designer-slash-influencer) as reason to end their on-off three-year romance. 
"I believe there should be a boundary btw private life and social media. Olivia believes in fishbowl lifestyle," he dictated to his nearly 650,000 followers last Friday. "This fundamental difference was huge in our relationship. If you're my real friend you know I'm private."
The issue, he continued, is that she saw her absence from his Instagram feed as a sign he wasn't fully in on their romance. "She gets to mad at me for not posting her on social media, but I think this s--t is sometimes fake, sometimes toxic, but sometimes beautiful. And I felt like she had enough pictures online anyway."
Though he acknowledged some of the dips in their rollercoaster romance were of his own doing (more on that later), "She's f--ked up too! and if you cross me I'm a hard mfer to deal with." 
His rant, while seemingly out of the blue, was actually inspired by articles detailing the fun times his ex was enjoying at Coachella with DJ and record producer Zedd. "Reading all these wild stories about her and I, and seeing Olivia with other men, I just wanted to personally clear the air out here," he shared in the now-deleted post. "The universe brought her and I together to enjoy life, love and learn. We celebrated that as often as we could. and the sex was f--king crazy too." 
Okay, then...
Saying all that to say, he was glad to see she'd found someone new, but still bitter enough to fling an insult Zedd's way. "Not sure what's in the future but the only thing I care about is her HAPPINESS," noted the 5-foot-11, 190-pound Detroit Lions wide receiver. "And if that's dancing with scrony (sic) little f--ks, so be it. I'm happy too." 
A somewhat strange tribute to your former love, but the 33-year-old athlete may not have been in the best frame of mind when he wrote it. 
Though he tried to play it off the next day as a simple desire to confirm he and Culpo, 26, were no longer together—"It's not fun seeing your name attached to a click-bait headline story that is completely fabricated bulls--t..so when I saw this love triangle gossip I tried to clear the air," he wrote in a follow-up post—an insider told Us Weekly it was his hot under the collar response to seeing his girl coupled up with someone new. 
"They mutually decided to end and they were fine," the insider reported. "And then all of a sudden she goes to Coachella, there's video with Zedd and then Danny got mad and insecure." 
Consider this the final chapter in a Hollywood romance that started sweet before it began fraying at the edges, eventually coming completely unraveled beyond repair. 
But at least their meet-cute was on point. 
"I met her on the corner of Hollywood and Vine, just walking down the street and we bumped into one another," he shared with reporters while ostensibly answering questions about his job on the field ahead of the 2018 Super Bowl, his third appearance in football's biggest game. "It's crazy." 
As they made their romance Instagram official in February 2016, both were on the ascent. The former Texas Tech standout was in his third season of a five-year $28.5 million contract with the New England Patriots while she had parlayed 2012 victories in Miss Rhode Island USA (her first pageant ever) Miss USA and Miss Universe into a thriving career as a model, fronting brands such as Timex, Nine West and Samsung. Her natural skill, coupled with an admittedly Type A drive, would lead to a fashion collaboration (with Marled by Reunited Clothing), a burgeoning acting career and a comfort food restaurant that she opened with her family in her home state. 
Already well-versed in public romance thanks to couplings with Nick Jonas (their two-year union inspired his hit single "Jealous") and quarterback turned baseball player Tim Tebow, Culpo introduced Amendola to the red carpet circuit, their pairing becoming a whirlwind of Met Gala after parties and trips to Coachella.
Neil Rasmus/BFA/REX/Shutterstock
And while she was ushering him into her world, giving him tips on how to handle his first runway show for Philip Plein in 2017—"He said, 'Where should I look? Should I look at you?'" she told Women's Wear Daily. "I was like 'No, don't look at anybody. Look straight ahead,'"—she felt equally comfortable slipping into his. 
Following his second Super Bowl win that same year, she bounded onto the field to gather her guy in a celebratory embrace. 
"She's supportive, man," he would later tell reporters. "She's just really supportive. That's it." 
But she was also a woman with her eyes trained on building a career and by March 2018, their limited time together had caught up with him. Though he was signing a new two-year contract that would send him south to play with the Miami Dolphins it was no closer to where Culpo had made her home in L.A., a move she deemed necessary to propel her flourishing career forward. 
"Danny couldn't handle Olivia's demanding lifestyle and wasn't pleased with certain choices she was making," a source told E! News of their initial split. "The constant travel was also causing a rift."
Culpo dealt with the blow much like any twentysomething, she tapped sister Aurora Culpo and pal Cara Santana to join her for a weekend in Las Vegas, mixing business with pleasure by sharing her travel essentials with her nearly four million Instagram followers, including the telling titles Burn the Fairy Tales and Braving the Wilderness: The Quest for True Belonging and the Courage to Stand Alone.
"Olivia is upset about it but is really keeping busy and trying to move on," a source told E! News at the time, adding, "There could be a chance of reconciliation in the future but as of now they are split."
As it turned out, though, this was to be an absence makes the heart grow fonder situation and by late June he was hopping a flight to the recognized party island of Ibiza where Culpo was committed to making appearance for fashion brand REVOLVE. 
"They really needed space and to figure things out, but their paths led them to reconnect again and they're really happy," a source explained. With the NFL season still weeks away, Amendola joined Culpo on her flight back to California, the pair having agreed to do all they could to make the distance between them work. 
Trips to the Mediterranean aside, "They are trying to be a normal couple as long as possible until Olivia flies off to her next work commitment," said another insider, "but she is hoping he will tag along until his seasons starts."
Because while he was tied to the gridiron, she was the one playing the field, balancing a new E! docu-series Model Squad with her first major film role in last August's Bruce Willis thriller Reprisal (not to mention her fashion work and charitable endeavors with the likes of Best Buddies, Pencils of Promise, Project Sunshine and amfAR). She was able to blur the lines between her personal and professional lives a tad, revealing during a September appearance on Daily Pop that he'd be appearing on Model Squad "a little bit, but not too much," but otherwise she was wholly focused on her career. 
"Right now work is definitely important," she told Haute Living in August, "and my most important relationship is the one that I'm working on with myself."
Watch:
Olivia Culpo Says "Model Squad" Shows Ups & Downs of Modeling
A wise move, considering Amendola appeared out for himself as well. That October as Culpo was in Australia posing for the Sports Illustrated swimsuit edition, an honor she'd identified as one of her chief goals long before a local modeling agency discovered her midway through her freshman year at Boston University in 2012, the athlete was inadvertently caught up in a photo shoot of his own when cameras captured him frolicking in Miami Beach with local CBS sports journalist Bianca Peters. 
The pair had connected a few days earlier at a house party, a source revealed to E! News, and decided to join a group of friends for a weekend beach outing, but Peters was unaware of the role she'd unwittingly played. "Bianca had no idea he had a girlfriend," said the source. "Now that she understands the situation, she has no plans to see him again." 
Ultimately that's the sentiment Culpo landed on as well. Though an insider told E! News the Texas native pled his case, insisting he and Peters were just longtime pals catching up with a cozy splash in the ocean, "Olivia is not totally buying it."
Nor were her nearest and dearest, who urged her to cut ties with him right quick. "The status of their relationship is up in the air," said a source. "Her friends think it's best for her to move on." 
Which she did, but not before taunting him with everything he'd thrown away. Days after Amendola's beach romp, she flashed the $12,000 Rolex she had purportedly purchased for his 33rd birthday, writing, "Looks like this is my present now. HAPPY BDAY TO ME."
As it turned out, though, the time hadn't completely run out on their romance and as 2019 approached Culpo found herself feeling wistful about her lost love and wondering if the new year could provide a fresh start. Turning up in Miami, the duo celebrated New Year's Eve together, a source shared, "and realized they really care about one another. They are definitely trying to work out their relationship."
Of course, that would require a series of resolutions on Amendola's part. "Olivia has been more hesitant and is taking each day as it comes," said the source. "She doesn't fully trust Danny anymore, but has a soft spot for him. She is seeing how things go, but definitely wants Danny to prove himself to her." 
Which he did for a spell, but by March the couple had split for the third, and potentially final, time with Culpo reveling in her newfound freedom and opportunity to date around a bit. "Her schedule is insanely busy so it's hard for her to find someone who can relate or be understanding of the lifestyle she lives," explains a source.  
So file her connection with Zedd into the casual column. Though their meet-up at Coachella, which saw her hanging out in his trailer and watching his performance backstage before taking in Ariana Grande's headlining gig together, wasn't their first, their date tally is still on the low end. 
"Olivia has hung out with Zedd a few times recently," the source tells E! News. "They will talk and text here and there, but Olivia is still dating around." 
And should she decided she'd like to continue dancing with the decidedly not scrawny songwriter (at 5-foot-9 he clocks in at just two inches shorter than Amendola and two inches taller than Culpo) it seems unlikely she'll concern herself with her ex's views. 
"The opinions that hurt the most if they're negative would be my closest friends and family," she told Haute Living of her ability to brush off most criticism. "At the end of the day, you're never going to be able to control what other people think and say about you, you can only control the way that you interpret it and handle it. For me, I've been able to block it out unless it's someone who truly knows who I am."