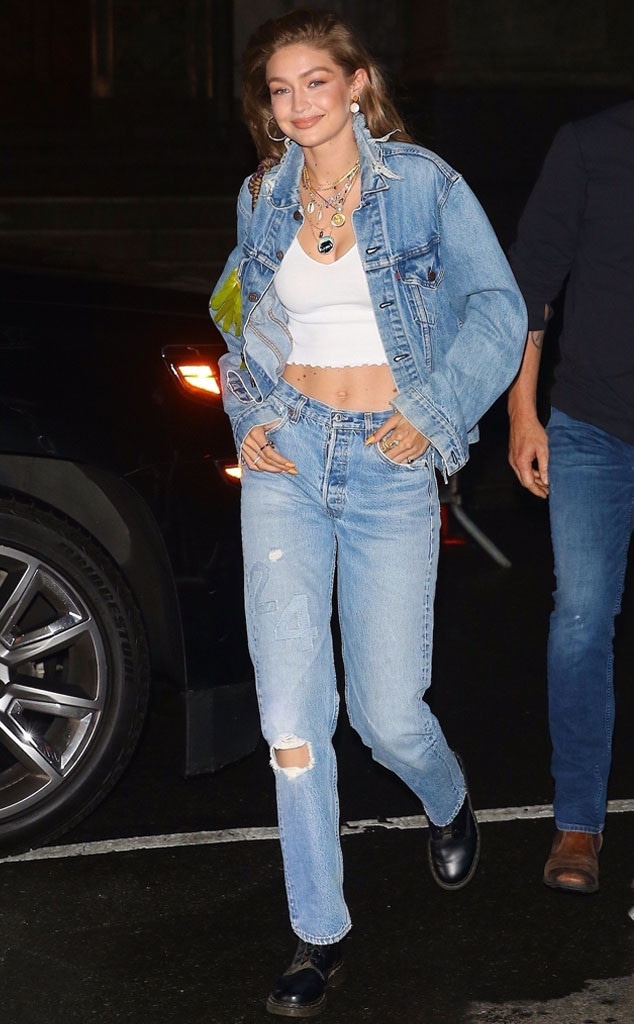 BlayzenPhotos / BACKGRID
Happy birthday, Gigi Hadid! The supermodel is celebrating her 24th birthday today!
To kick off the festivities, Gigi held a star-studded denim-themed birthday bash on Monday night at L'Avenue at Saks. Along with her family members, including Bella Hadid, Yolanda Hadid, Anwar Hadid, Alana Hadid and Mohamed Hadid, party attendees included Taylor Swift, Martha Hunt, Olivia Culpo, Marc Jacobs, Ashley Graham, Justin Ervin, Hailee Steinfeld, Laura Polko, Patrick Ta and Samuel Krost.
"Mohamed and Yolanda brought out a cake in the shape of a '24' for Gigi and the entire room sang happy birthday to her," a source tells E! News. "Everyone was drinking champagne and tequila and cheersed Gigi with birthday shots after she blew out her candles on the cake. Gigi had a huge smile on her face and looked so excited to be celebrating."
"Gigi and Bella were the life of the party," the insider shares. "They were having a great time and everyone was taking photos of them. They then pulled Yolanda to dance with them and were dancing with their mom. It was a really cute moment."
"At one point, everyone was dancing together circling around Gigi in the restaurant as the DJ was blaring music," the source adds. "Gigi and Bella were dancing to Drake and Rihanna most of the night and were having a blast together."
The birthday girl also got to spend time with her BFF T.Swift at the bash.
"They were both smiling and taking photos together on their phones," the source tells us. "Taylor looked really happy. She was very relaxed but looked happy to be there. She was bopping her head to the music, dancing a bit. Gigi was super excited to see Taylor and they gave each other a huge long hug."
While at the party, guests enjoyed appetizers of Gigi's favorite foods such as pasta, sliders, mac and cheese, as well as macaroons for dessert. Take a look at all of the party pics below!