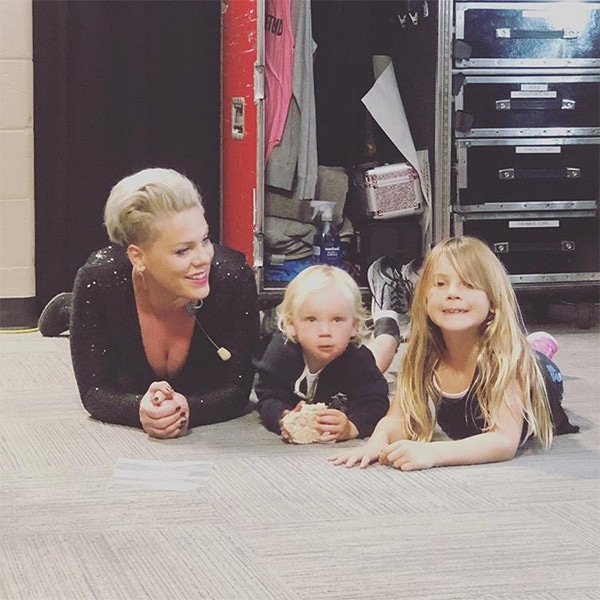 Instagram / Pink
Pink doesn't need any more reasons to stop sharing photos of her kids on social media. 
The mom of two has long been forthcoming about her famous family on social media, often sharing behind-the-scenes photos of her and husband Carey Hart with their daughter, 7-year-old Willow, and son, 2-year-old Jameson. However, as she's learned along the way, the public response isn't always kind and the songstress has not shied away from responding to recurring nasty criticism. 
"I have to [go after them] sometimes," she told Ellen DeGeneres on Monday. "I feel like I can change their minds."
The star continued, "I'm all about injustice. I don't like injustice...I don't like how brave people are anonymously and rude, just mean, mean, mean-spirited." 
One of the most recent cases was when the performer shared a photo of herself with her son and daughter on vacation with a pelican without noticing Jameson wasn't wearing a diaper. 
"2-year-olds don't like to wear wet swim diapers and apparently at some point he took it off," she explained to DeGeneres. "I don't think like that. We live on a farm. My kids are naked. It's what happens. I'm naked sometimes."
Pink continued, "People went as far as saying someone should call child services."
The Grammy winner said the backlash made her cry "so hard." "I like to share my family. It's my proudest moment in my whole life. I'm prouder of my kids than anything I've ever done," she said with emotion in her voice. "I won't share them anymore. I won't do it. I'm not posting pictures of them anymore."
The star added, "I understand people saying you need to be more careful because you are in the public eye and you should have thought of that and they're right, but there's a nice way to say that. There's a kind way to be online."
As Pink acknowledged, the decision comes at a fitting time. "[Willow is] 7 now. It's probably time to pull her back from the world and let her just live her best life."