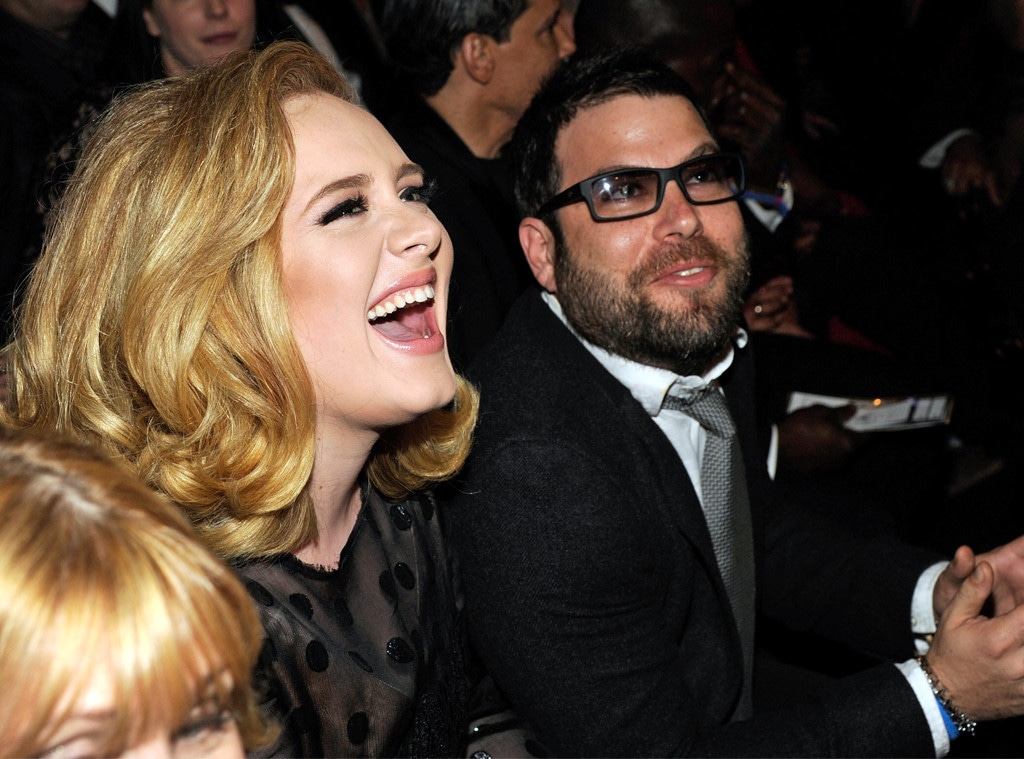 Kevin Mazur/WireImage
Everyone knows what lit the fire under Adele when she made her smash-hit 2011 album 21.
"This record is inspired by something that is really normal and everyone's been through it—just a rubbish relationship," the British singer said, smiling, her eyes aglow with happy tears, as she accept the Grammy for Album of the Year, one of six Grammys she won that night.
"And it's gone on to do things that I can't tell you how I feel about it. It's been the most life-changing year."
By then, future husband Simon Konecki was her date, and son Angelo was waiting for them back home, two great loves that tempered the ever-present heartbreak still to be found on 2015's 25, Adele's similarly adored and award-winning follow-up album.
But upon hearing the news this spring that Adele and Konecki had split up after more than eight years together, fans couldn't help but shadily express—along with their words of support and encouragement—their hopes for some more truly stellar breakup music.
"Adele and her partner have separated," read a statement emailed to the Associated Press on April 19. "They are committed to raising their son together lovingly. As always they ask for privacy. There will be no further comment."
As always, perhaps until it flows out in song. (Divorce papers, which she filed last week and Konecki responded to on Sept. 16, indicate the exes will go straight to private mediation.)
Their sounds are different, but Adele, 31, has inevitably found herself in the heartbreak genre also occupied by Taylor Swift, whose music has helped legions of women and men get through tough times. Swift's reputation was a tonal shift for the pop star, as much about getting even as about getting over anything, but it's hard to imagine Adele, who was spotted heading into a New York recording studio in March, coming up with anything other than gut-wrenching odes to love and loss.
But despite the tight lid on her private life—she only barely confirmed she was married in the first place, in 2017, and she has never voluntarily shared a photo of Angelo with the public—Adele has gifted her fans with a piece of her soul through her songs. There's no other way to fully explain the connection people feel with her music. And in that, she has shared enough of what she's been through to be, if not transparent or entirely knowable, than entirely, lovably relatable.
"I feel," she mused to The Guardian in 2008, 19 years old and a couple months away from releasing her debut album 19, "like I'm being shoved down everyone's throat. My worst fear is my music won't connect with the public."
Ironically, that was the last thing she ever had to worry about.
The newspaper called 19 a "break-up collection, melancholic and atmospheric," and inspired overall by an ex-boyfriend whom she dumped after he cheated. "Daydreamer," meanwhile, was about a friend she was falling for, and after they told each other they were falling in love with each other, he left her 18th birthday party with another guy.
"I was, 'We're not even going out yet and you've cheated on me already!'" she recalled. "So 'Daydreamer' is about everything I wanted him to be. The daydream of him.'"
As for the breakout single "Chasing Pavements," for which she would go on to win the Grammy for Best Female Pop Vocal Performance, as well as Best New Artist, in 2009, that too had a breakup connotation.
Ask to explain what the phrase meant, she explained in a 2008 interview, "It's about a rubbish boyfriend that I had, and I was quite rubbish to him toward the end…we had a fight one night—there's an actual story behind there. Had a fight one night—and I don't run anywhere, I don't even walk places, yeah? I get cabs everywhere," Adele said, laughing. "...I started running away and I felt like I was chasing something, and there was no one in front of me, and therefore I was chasing the floor, which was a pavement—so that's what chasing pavements is, it's chasing nothing."
Kevin Winter/Getty Images
Incidentally, that fight occurred the first night they met, so not exactly an auspicious beginning. "The night before I wrote ['Chasing Pavements'] was the same night I actually met the boy the album's written about," she recalled in 2009 to Blues and Soul.
Adele wrote the album while coming down from emotional run-ins with her beau because, as she herself said, she had best be alone when her feelings were all over the place.
"I will sit in my room on my own for ages," she shared with The Guardian. "Because otherwise I am rude to people. I can't be around anyone, I have to be on my own. And I'll write. That's how that atmosphere [in the songs] gets created."
And it wasn't at all accidental that her music was so packed with feeling—that's where she put her feelings!
"I don't have a hole in my soul," she said, puffing on one of her ubiquitous-at-the-time cigarettes. "I'm not insecure in any way. What I think it is, is, I'm really awful at saying how I feel. When it comes to, like, 'I love you,' or 'Mum, you're really pissing me off,' or to a friend, 'Look, I don't like us being friends any more,' I can never say it.
"I hate confrontation. So I've always written it down. Even when I was little. If I had an argument with Mum, I'd write down how she made me feel. I prefer people to write it down in a message or text or email. When I broke up with my boyfriend I did it by text. 'Babe, I can't do it no more.' I can't believe I just told you that. And now I write it in songs. That's what it is."
Kevin Winter/Getty Images
Not having any idea what a global sensation she'd become, at the time she predicted, "So at 30 I'll have my first bah-bee, be married, have a really nice three-story family house in Clapham with a little picket fence and be writing songs for pop tarts."
In 2009, Adele told Blues and Soul that she didn't have any "specific plans" for what her first album was going to be (other than that the likes of Etta James, Lauryn Hill and Mary J. Blige were musical influences), but ultimately, "it was simply that I got into a relationship that went very sour. "
"And," she continued, "if I'd been in the same frame of mind as I am when I'm talking to you now—i.e. sober!—I probably wouldn't have written ANY of it! But yeah, as cheesy as it sounds, I did write to kinda cleanse myself and get it all out of my system really. You know, I hate—I'm actually OFFENDED by—literal easy lyrics that have no thought behind them and are purely written because they rhyme. So I do always want my lyrics to be mature and thoughtful.
"And, while I've personally now stopped listening to my album because I sing it every day, ultimately I do think it is SINCERE. Apart from 'Hometown Glory,' 'Daydreamer' and 'My Same'— which were all written earlier, when I was between 16 and 18—the whole album is all about one boy. So I was very sad when I wrote it. And I think that genuinely does come through in the music."
So the end of Adele's teens was jam-packed with tumultuous romance, as were the beginning of her 20s.
"I like a bit of drama!" she admitted in a Q&A at a Manhattan club a few weeks before the 2009 Grammys when asked what she liked in a boyfriend. While talking to Vogue in late 2015, she recalled her first photo shoot for the magazine, in early 2009, taking place in "me messy hotel room in L.A. with my boyfriend's boxers hanging around!
While Adele (who in the early days of her career was referred to by her full name, Adele Adkins) has never, ever—Taylor- and Alanis-style—mentioned him by name, she dated photographer Alex Sturrock for about a year between 2008 and 2009.
"It was an intense period for them… they spent all their time together—and when they weren't together they would ring each other constantly," a Sturrock source told The Sun.
Vogue described an unnamed boyfriend in April 2009 as "a soft-spoken London lad with the looks of Michael York in Cabaret" and said they had been catching up on films while in L.A. for the Grammys.
Abc/Allied Artists/Kobal/Shutterstock
She was back in the studio by the beginning of 2010 recording 21, whose lead single, "Rolling in the Deep," seemingly said everything, ever, about relationships that you think will be everything but turn out to be big, fat zeroes. (Minus the endless accolades, in Adele's case.)
"It's me saying, 'Get the f--k out of my house instead of me begging him to come back," she explained to Spin.com in early November 2010, before "Rolling in the Deep" had debuted on either U.K. or U.S. radio, changing Adele's life forever.
In 2011, Adele told British Vogue that she had had three "proper boyfriends" (not counting her mate who inspired "Daydreamer")—"Chasing Pavements" guy, "Someone Like You" guy and someone who, at the time, had burned her recently.
"I do get massively distracted when I've got someone in my life, which I can't afford to do right now," she said. "Besides, no one treats me as well as I do…"
Asked about the possibility of ever dating someone famous, she replied, "I'm not really up for it. I mean, imagine if I went out with someone famous and we broke up and I wrote a song. It would be f--king obvious who I was singing about, d'you know what I mean?"
Adele met Konecki, an investment banker turned philanthropist and co-founder of Life Water, in 2011 (mutual friend Ed Sheeran has denied the rumors that he introduced them), in the halcyon glow of 21's success. Konecki has a daughter from his first marriage (that child's privacy has been fiercely protected as well), which ended in 2008.
The singer had throat surgery toward the end of 2011, which required six weeks of total silence and an abstention from performing until the 2012 Grammys, which she attended with Konecki. 
"He's wonderful," Adele told Vogue in 2012. "And he's proud of me, but he don't care about what I do or what other people think. He looks after me. I don't think I would have gotten through the recovery for my surgery if it hadn't been for him."
Adele confirmed she was pregnant in June 2012 via a statement posted on her website, writing, "I wanted you to hear the news direct from me, obviously we're over the moon and very excited but please respect our privacy at this precious time." Angelo was born on Oct. 19.
"All my plans went through," she remembered that short window between coming back from surgery and her triumphant Grammy haul in February 2012 and finding out she was pregnant.
"It was like, 'For good measure, let's see if I can cope with all of this and then having a baby.' But I think actually the pregnancy was perfect timing in the end. It might've seemed like the most ridiculous time to have a baby, but I was starting to get a bit afraid of everything." Angelo took away her fear. "When I had him, it made everything all right, and I trusted everything because the world had given me this miracle, you know, so I became a bit of a hippie, an Earth mother...I don't know if I would've come back had I not had my kid."
Adele even kept her baby's name secret for awhile, but was eventually spotted wearing an "Angelo" necklace, and she got her son's name tattooed on her hand.
By the time she was writing 25, Adele was a mom and settled down. So while songs such as "Hello" (though it's about multiple friends and lovers, as opposed to just one person) and "Send My Love (to Your Lover)" are right up there in the breakup music hall of fame, she was reflecting through the prism of happiness and hindsight.
"Becoming a parent and moving past my mid-twenties, I simply don't have the capacity to worry about as many things that I used to really enjoy worrying about," Adele reflected to i-D in 2015. 
"Oh yeah, I used to f--king love the drama of all of it, but now I'm a mum I only have so much head space. I've got to clear a lot of stuff the f--k out, which is really therapeutic, 'cause I can really hold a grudge. Life is so much easier when you don't hoard your past."
Moreover, "I was very conscious not to make 21 again. I definitely wasn't going to write a heartbreak record 'cause I'm not heartbroken, but I probably won't be able to better the one I did, so what's the point? Bit cliché, innit? Also, how I felt when I wrote 21, it ain't worth feeling like that again...I was very sad and very lonely. Regardless of being a mum or a girlfriend, I didn't want to feel like that again."
And yet Adele writing about her past has had the effect of easing so many other people's wounded feelings, at least for the duration of an album's running time.
As for the guy she wrote "Someone Like You" about, "that's over and done with, thank f--k. That's been over and done with for f--king years." But "Send My Love (to Your Lover)" was a message to the guy ("proper boyfriend" no. 3) she dated between Mr. 21 and Konecki. "It's one of those, like, 'I'm f--king fine so fuck you' songs," she told Rolling Stone.
"Water Under the Bridge," meanwhile—that's a bouncy ditty about Konecki.
"It was sort of about a relationship suddenly getting really, really serious," Adele explained to RS, "and then getting a bit frightened by it, and then realizing that 'I think this must be right. This is the relationship that I want to be in for as long as I can possibly be in it.'"
But if there had been more songs about past heartbreaks, Konecki could have handled it, she told Ryan Seacrest on his radio show.
"We're, like, in a solid relationship and he's my soul mate and my best mate, and he sees it as my art and my outlet and something that I did before him," Adele said. "['Hello'] is not about a past boyfriend or anything like that, but if it was, I think he'd be alright with it anyway because we're in a strong healthy place. It wouldn't be an issue."
As noted in the 2015 i-D article, there had already been rumors that she and Konecki were on the rocks, a narrative that tends to dog more celebrities than not, but they rarely let up for Adele.
"Simon spends a lot of his time hanging out at the Sussex home, while Adele prefers to be in London," a source told E! News toward the end of 2015. "So from time to time they do go through periods of not seeing each other every day. Simon has a business to run, and Adele obviously has a ridiculously full schedule at times, so they have time apart but then come together as a family.
"It's nice that they are able to have independence. They don't live in each other's pockets."
Adele also told Rolling Stone that year, "He's so supportive. And that takes a very big man, because I'm very successful at what I do. My last boyfriend was uncomfortable with how successful I was, and the fact that he had to share me with lots of people."
Clarifying their status, she said, "I have said a million times I'm not married and everyone still says we are. But, yeah, we're still together. We haven't broken up. We've never broken up. We've been together. We just haven't felt the need to get married. We've got a kid together. I feel like that's a big enough commitment."
Christopher Polk/Getty Images for NARAS
Konecki was by her side in 2017 as she scooped up five more Grammys, including another for Album of the Year, as well as Record and Song of the Year for "Hello."
"Grammys, I appreciate it," she said in accepting Album of the Year. "The Academy, I love you. My manager, my husband and my son—you're the only reason I do it." That was the first time she had publicly used the h-word, and she said again onstage the following month that she was, indeed, married.
With most of her Adele Live tour behind her, toward the end of 2016 she indicated she'd be taking a nice, long break to spend time with her family. (As it happened, she did end up having to cancel her final two 2017 shows due to vocal cord damage.)
"All of my relationships are more important to me than any tour I'll ever do," she told Vanity Fair. "If my relationship with Simon or my relationship with Angelo started to flounder a bit now, I would pull out of my tour. My life is more important to me than anything I'm doing because how the f--k am I supposed to write a record if I don't have a life? If I don't have a real life, then it's game over anyway."
It's difficult to pinpoint when relationships such as theirs—not splashily public, and with no voluntary social media presence whatsoever—take a turn, because there's no norm from which to measure a deviation. But Adele had been spotted out enjoying herself with friends over the last few months leading up to the split, most notably with Drake in Los Angeles and Jennifer Lawrence in New York.
A source told E! News that Adele and Konecki "had a lot in common early on" but "eventually, they just grew apart."
"She became a bigger and bigger star, and he was okay being in the background, but as she got bigger and had massive tours and intense schedules, they just grew apart."
Again, the exact timeline can't be nailed down, especially since the singer has been a force for years. That's Adele's business, however—the only timeline her fans truly are concerned with is the one that will herald more music from their favorite singer.
(Originally published April 22, 2019, at 1:57 p.m.)