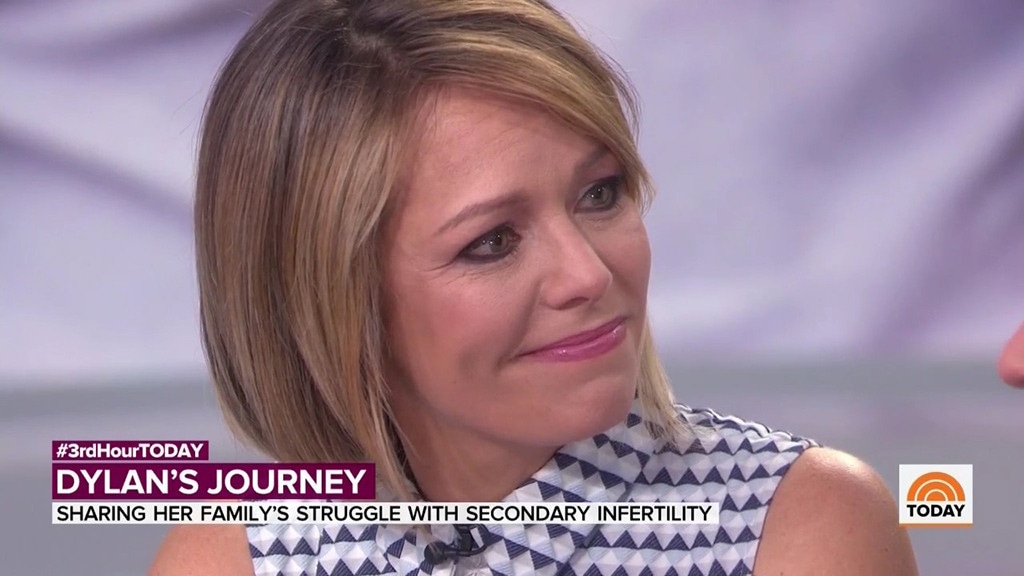 NBC/Today
When it comes to fertility struggles, Dylan Dreyer has her own story to share. 
On Monday during the third hour of Today, the longtime weather correspondent opened up about her previously private struggles with fertility and how she had suffered a miscarriage. 
"We got really lucky with Calvin," she said of her 2-year-old firstborn son with husband Brian Fichera. "We tried maybe one or two months."
Then, nine months ago, they decided they wanted to have another baby, but after six months of trying, the couple sensed something was wrong. As a result, Dreyer headed to the doctor, where she learned her egg count was low and her uterus was two-thirds scarred shut as a rare result of the emergency c-section she had for her son. After undergoing surgery to clear out the scar tissue, Dreyer got pregnant. 
Just over a month later, the correspondent woke up to non-stop bleeding, which she suspected meant she had lost the baby. She later learned at the doctor the bleeding was a fluke and the baby was still alive, but after a few more days and a return visit, that was no longer the case. 
"I am blessed with the family that I have," she said before adding, "Going through a miscarriage and not knowing what the future holds is emotional and I just want people to know that I'm going through it, too."
During a discussion with her co-hosts, Dreyer addressed the guilt you can face for having one child when other parents can't have any. She also rebuffed claims that you can't be happy for others amid your own struggle. 
"I'm so happy for [Jenna Bush Hager]. That's her world," she said of her colleague, who announced she's expecting her third child. "This is my world. My sadness doesn't take away from anyone else's happiness and my sadness isn't minimized because someone has a sadder situation."
Now as she battles secondary infertility, Dreyer said she will start the process for IVF. "We don't really know what to expect right now," Dreyer said. "A part of me feels a little mad at my body for not being able to do this naturally, but that's why we have amazing doctors and that's why I have a great support system," she said, holding her husband's hand on set. 
The Today star continued, "God has a plan and I pray every night—just let me stay out of your way and you do what is best for us."
(E! and NBC are both part of the NBCUniversal family.)