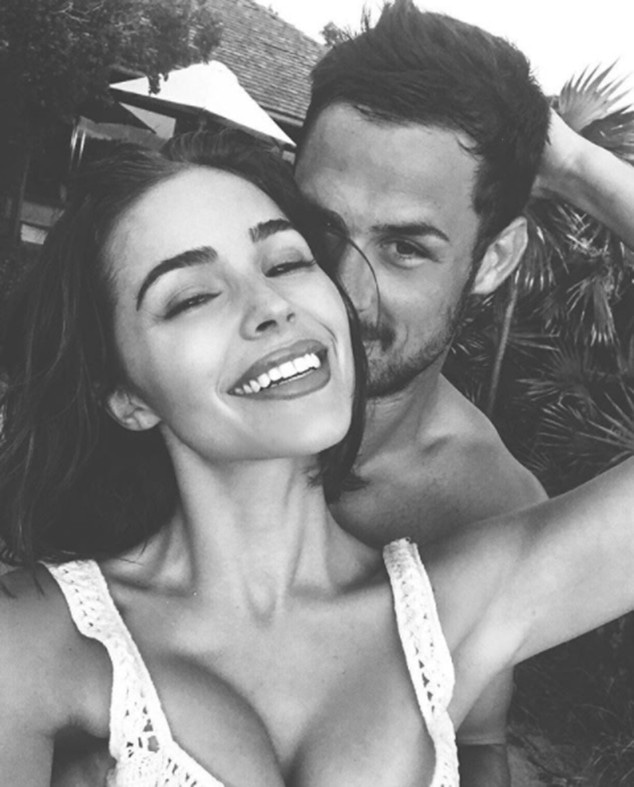 Instagram
Danny Amendola is sharing his side of the story.
In a lengthy Instagram post, which has since been deleted, the football player is airing his grievances about his recent split from model Olivia Culpo. The 33-year-old kicks things off by slamming Olivia's lifestyle choices, like her desire "to be noticed on the internet and in Hollywood to make money." 
"I believe there should be a boundary btw (sic) private life and social media. Olivia believes in fishbowl lifestyle," he explains. "This fundamental difference was huge in our relationship. If you're my real friend you know I'm private."
He adds that fans will never see a photo of his family members because "that's for their protection from those who criticize and judge." Instead, the athlete chooses to nail pictures in his home to remind himself of the people he cares about.
Olivia, on the other hand, seems to take a more worldly approach to life. "She gets so mad at me for not posting her on social media, but I think this s--t is sometimes fake, sometimes toxic, but sometimes beautiful. And I felt like she had enough pictures online anyway," he claims. 
Danny goes on to claim that during the course of their relationship he "quickly had to learn" that Olivia wanted media attention, which was difficult for him, because the "cost of fame in this world doesn't appeal to me." 
He acknowledges that he's made mistakes in their relationship because he's "an idiot," but adds, "She's fucked up too."
Despite being a star in his own right, he says that he plays football "for one reason and that's RESPECT." Moreover, he claims that "living a public image isn't my choice," but he has "learned to deal" with the consequences of the lifestyle. 
The on-again-off-again couple is "not together as of late," but he says he still feels the need to address the recent reports surrounding his relationship. "Reading all these wild stories about her and I, and seeing Olivia with other men, I just wanted to personally clear the air out here," Amendola explains. 
The lengthy IG statement comes off as bitter in tone, but he shares that they had "amazing times together," despite the drama. "The universe brought her and I together to enjoy life, love, and learn. We celebrated that as often as we could." He candidly shares, "And the sex was f--king crazy too."
He concludes his rant on a positive note: "Not sure what's in the future but the only thing I care about is her HAPPINESS. And if that's dancing with scrony (sic) little f--ks, so be it. I'm happy too. With that said! Liv! My beautiful ex-Gf!"
After deleting the post, Danny was seemingly in a joking mood. "Now that that's over, let's party," he quipped. 
Olivia has yet to respond to the heated IG rant, which he tagged her in.
During weekend one of Coachella, the famous Instagram influencer sparked romance rumors with the famed DJ Zedd. Things don't seem to be serious between the pair though. "Olivia is liking her freedom and is dating around," a source told E! News at the time. "Her schedule is insanely busy so it's hard for her to find someone who can relate or be understanding of the lifestyle she lives."