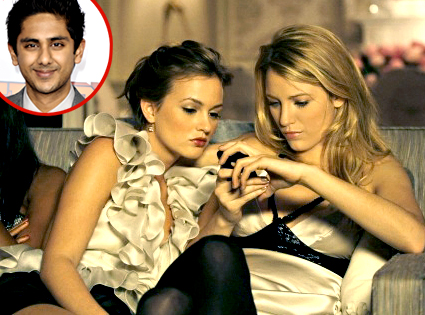 Giovanni Rufino / The CW; Jason LaVeris/Getty Images
Adhir Kalyan is on CBS' Rules of Engagement starting tonight. In addition to that, he just wrapped a stint on FX's Nip/Tuck, he's a big TV star in his native South Africa thanks to the surprise success of Aliens in America in that country and he's in all the movie comedies now playing, including Fired Up and Paul Blart: Mall Cop, but he still has a dream to dream.
He wants to cozy up to the honeys on Gossip Girl.
"I think that's the long-term goal for me in my career: at some point to get onto Gossip Girl and share screen time with either Blake Lively or Leighton Meester, whomever they see fit."
For the record, CW execs: Adhir is totally fine with either one.
"No, really, I am flexible. A rock-climbing instructor just told me so."
Adhir (who is perhaps even more hilarious in real life than he is onscreen) starts a five-episode stint on Rules of Engagement tonight. Here's what he spilled to us about that story...
"I play a character by the name of Timmy who has recently graduated top of his class from Harvard with an MBA in hand," Adhir explains, "and he arrives at the Dunbar corporation bright-eyed, fresh-faced and is ever so keen to work for Russell Dunbar (David Spade), who is heir to the throne, or so he believes. And the reality soon sets in that Russell Dunbar simply holds a figurehead position at the company so that his father can keep him out of trouble, and he's nothing more than a trust fund baby who has turned into a playboy."
But that's not all folks! "You'll see throughout my body of work in the upcoming year, Rules of Engagement included actually, a character who's involved at all times, or at any time, in something sexual or nude." Umm...yay?
As for life after the fan favorite but now-departed CW series Aliens in America, Adhir says he has no complaints. "You know, I was a little concerned to be completely honest, about what kind of roles I would be put up for after Aliens in America and what path would my career take," he admits. "And thus far, it's been really lovely to have played a variety of characters—be it a flamboyant gay male cheerleader in Fired Up or an angry obsessive ex-boyfriend who tracks his ex-girlfriend's whereabouts in Paul Blart: Mall Cop or a young man who's incredibly intellectually inclined and speaks four languages and loses his virginity onscreen later in Youth in Revolt, later this year."
Awww...our little Adhir is all grown up. We're so proud. (And pssst, Gossip Girl fans, just since you're here: If you haven't read it yet, take a look at Charles Isherwood's New York Times write-up about his upcoming Gossip Girl cameo. 'Tis hilar.)
Rules of Engagement airs Mondays at 9:30 p.m. on CBS.
—Reporting by Jennifer Godwin