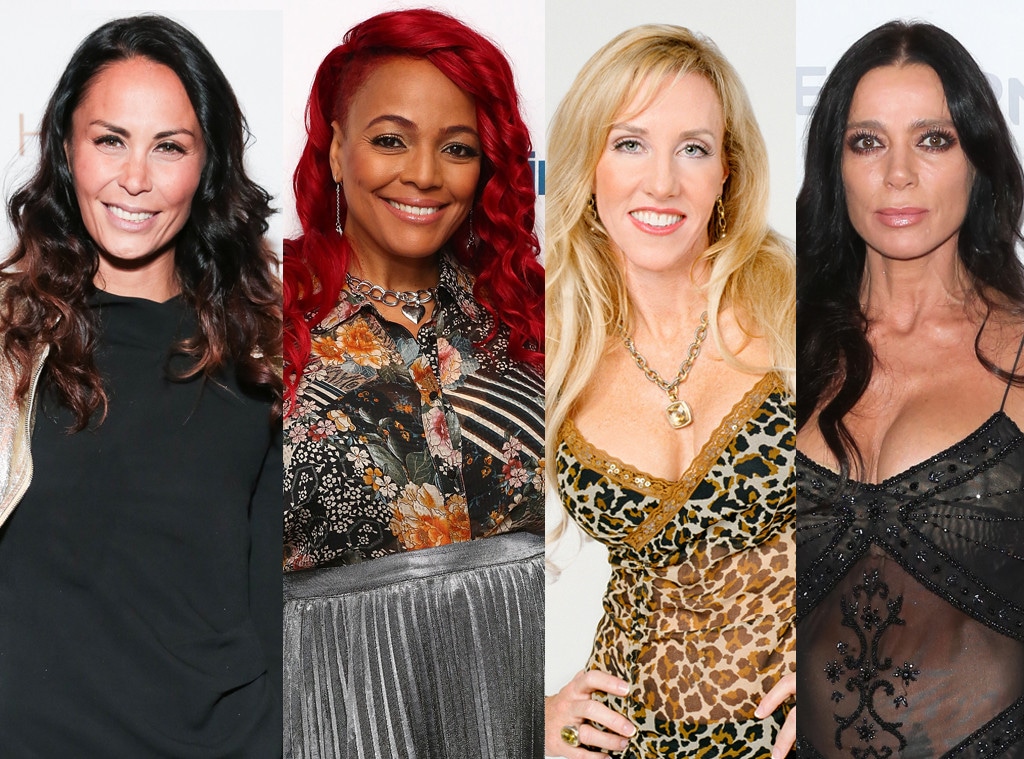 CJ Rivera/Getty Images, Astrid Stawiarz/Getty Images, Jeff Vespa/Getty Images for Glamour, Paul Archuleta/FilmMagic
Not everybody has the staying power of Vicki Gunvalson. No, Bravo's Real Housewives franchise has featured its fair share of "one and done" stars from pretty much every season. Sometimes they return in a guest capacity and other times they just fade away, becoming a small part of Housewives history. So, how well do you remember these "one and done" ladies? There's a video for that now.
In the video below, Bravo looks back at the vast Real Housewives history—this franchise has been around since the beginning of time—2006.
Kimberly Bryant was the original "one and done." As a cast member of The Real Housewives of Orange County season one, she mixed it up alongside Vicki, Jo De La Rosa, Jeana Keough and Lauri Waring. Kimberly moved from Orange County to Chicago after a skin cancer scare, however she did later appear in the series as a guest. RHOC also had one-seasoner Peggy Tanous in season six, Quinn Fry in season three, Lizzie Rovsek in season nine and Peggy Sulahian in season 12.
On The Real Housewives of Beverly Hills, there's Carlton Gebbia, the Housewife who practices Wicca, from season four. She joined the cast with fellow one and done star Joyce Giraud for that season. In season six, RHOBH introduced Kathryn Edwards for some clashing with Faye Resnick, but she was quickly gone after that.
The Real Housewives of New York City had Cindy Barshop in season four and Jules Wainstein in season eight. Both women brought something different to the show, but didn't fit.
In Atlanta, there was DeShawn Snow in season one, Claudia Jordan in season seven and The Facts of Life star Kim Fields in RHOA season eight.
The Garden State series had Amber Marchese, Teresa Aprea and Nicole Napolitano all on The Real Housewives of New Jersey season six as part of a reboot when Caroline Manzo left.
And then there's newcomers to The Real Housewives scene, The Real Housewives of Dallas and The Real Housewives of Potomac. Each new entry had some "one and done" ladies, including Dallas' Tiffany Hendra and Potomac's Katie Rost.
Click play on the video above to see the ladies in action.
(E! and Bravo are both part of the NBCUniversal family.)