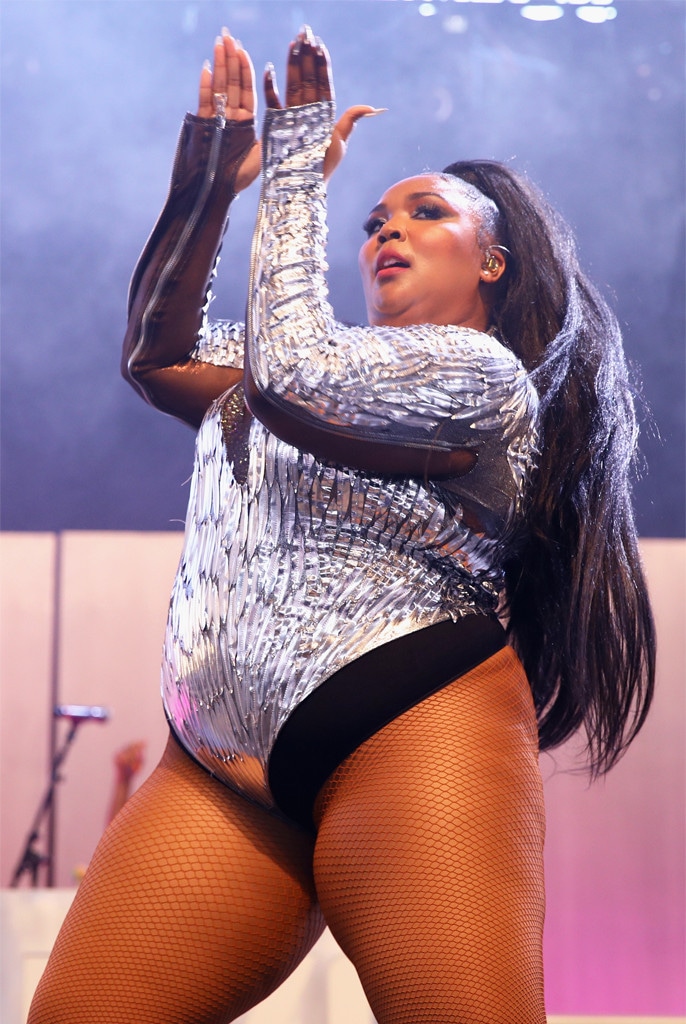 Rich Fury/Getty Images for Coachella
Lizzo has been waiting a long time for this moment.
Just days before the singer was due to return to the Coachella stage for an encore performance at weekend two of the music festival to end all festivals, her long-awaited album Cuz I Love You was finally released. It's not her debut album—in fact, it marks the third full-length LP release in her career—but it might as well have been. As the album, her first recorded with the backing and support of a major label (Atlantic), stood poised to be the breakthrough necessary to make her a household name, going on to eventually earn her a nomination for The Album of 2019 at this year's People's Choice Awards (held Sunday, Nov. 10 only on E!), it appeared that the world has finally begun to pay attention.
It's about time.
"[People] will be like, 'Lizzo's my favorite new artist...why am I late for the Lizzo train?'" the artist born Melissa Jefferson and nominated told Teen Vogue last year. "You're late, honey, but it's not your fault. You're late because I'm just at the back of the shelf. But I'm glad you're here because you worked to find this."
And while it may seem that the woman responsible for such body-positive feminist bops like "Good as Hell," "My Skin" and "Juice" arrived on the planet fully-formed, ready to spread her message of self-love twerking through a sermon of sick beats, the road from Melissa to Lizzo was, as they tend to be, a complicated one. And it began in the church and—of all places—the concert band.
Born in Detroit before moving to Houston at nine, Lizzo was raised in the Pentecostal church where she learned that "secular music was the devil," as she told the magazine. All she knew was gospel. But when her immediate family headed down south and away from the church, the world opened up to her. 
"I could listen to Freestyle Fridays on the radio and Lil Flip was like one of my [idols]. Destiny's Child were still coming up. The whole world of music opened up before my eyes," she told Rolling Stone in July 2018. "My older sister was getting into indie rock  — she was playing Björk and Radiohead in her room and going through her emo phase in middle school and high school. I was a classical music head. I loved classical flute. I had all of these backgrounds, and I still struggle with a sound. When you love everything, it's hard to choose."
So, she didn't.
Instead, she's dabbled in just about everything before crafting a sound that can only be described as unbound by genre. She's fronted rock bands, she spit fire on her first rap-heavy album Lizzobangers, she earned a Prince co-sign and sang alongside him on his 2014 album Plectrumelectrum. She's done—and impeccably well, we might add—it all. And on her new album, she's finally embracing the sort of singing that she'd been afraid to for so long.
"For a long time I didn't want to be that big black girl with a soulful voice," she told Entertainment Weekly in April. "That's how were tokenized—the big black girls were always the belters, and I've always been afraid of being put in that box. But you know what? I'm a big, fat black girl that can sing, and I can rap, and I can dance. I started to embrace how good I can finally sing, and now I'm celebrating that."
While Lizzo was falling in love with secular music and all it had to offer, she was also falling in love with the flute. "I started playing the flute when I was 12 and I studied music theory all the way up until college. I fell in love with writing first, then I fell in love with music. I didn't have an exact moment. It was always there," she told Rolling Stone. "I had so many different outlets for music, whether it was flute, writing, rapping or dancing. My family always says, 'You were never not going to do music. We always knew that was something you were going to do.'"
To get her there, though, tragedy had to intervene.
After her second year at the University of Houston, where she was studying music performance on scholarship, she flew to her family's new home in Denver for the summer with no intention of returning. "Something happened... that just sent me over the edge," she told Greenroom Magazine in 2015. That something? The death of her father.
"I dropped out, flew to Denver for summer vacation, went crazy and decided to become a singer," she continued. During that summer in Denver, Lizzo retreated within, speaking only in shrugs during an unintentional vow of silence that lasted for three months. She would walk to the grocery story, always buying 10 grapefruit and 10 chocolate bars. The only time she made noise was when she would sing Beyonce's "B-Day" as she walked down the block.
Scott Dudelson/Getty Images
"My mom is still like—anytime I'm quiet she's like 'Hey, Melissa! Don't go nowhere!'" she told the magazine, laughing. "[I went] crazy... in a good way though, because I got inspired," she says. "That was a summer of metamorphosis."
Through that metamorphosis came Lizzo's self-love. "I didn't love myself until I was 21," she told Teen Vogue. "Twenty-one was the worst year of my life." Not only had her father passed, but she had been homeless for a bit, living out of her car—and even though she was the skinniest she'd ever been, it was of little help. "I was addicted to the gym, I didn't eat, and I was sleeping in a dusty car," she told the magazine. "I thought my life was over."
But after hitting rock bottom and "crawling out of the tunnel," the Lizzo we see today began to take shape. But she wishes it didn't have to happen that way. "Everyone shouldn't have to hit rock bottom to love themselves," she said. "That's just the society we're all unfortunately born in — the one where you have to hit your worst and hate yourself in order to love yourself? Those laws only exist because self-hate is so prevalent. Body positivity only exists because body negativity is the norm."
"I remember one day being like, 'This is it.' Twenty-some-odd years of me believing that one day I can wake up and be some other girl," she recalled to NPR in 2016. "It's like, you're not gonna wake up and be bigger or smaller or lighter or darker; your hair's not gonna suddenly grow down past your knees. You're going to look this way for the rest of your life. And you have to be OK with that."
However tough of a time it may have been, Lizzo admits that, without it, she'd have never found the temerity necessary to think she could ever have a career like she's managed to build for herself. "That was pivotal, that was an extremely big moment. That was a make or break moment there," she told Vanyaland in 2017. "I think there is a little bit of — you know when a cowboy is riding his horse on his way to go shoot up a bunch of dudes and they're like 'He's crazy! He's a hero!'? That's what it is, the edge of insanity and heroism where you find the confidence to do something like that."
After returning to Houston to give music a shot, fronting a rock band that ultimately fell apart, a new opportunity presented itself. "Out of nowhere, this guy was like 'Do you want to come to Minneapolis and be in my band?' And I was like 'Whatever!'" Lizzo told Rolling Stone. "I went to Minneapolis and I played a show at the Varsity, and this girl came over to me crying and said, 'I don't know if you live here but you need to be here and we need to see people like you here.' That was the most love I had seen from any show in one person. It was one of the best decisions I've made in my life. It changed my life."
By 2013, she was preparing her debut album with producer Lazerbeak who, after tweeting that she wished she could afford a beat by him, offered her his services for a case of Mike's Hard Lemonade. Around the same time, her group The Chalice had caught the attention of Prince, who invited them to Paisley Park to sing on a track.
"I was in Denver with my family and when we got the phone call, I was jumping up and down," she told Greenroom. "And [we] drank... a lot. We were really excited."
And though she never met him—"When I arrived at the soundcheck at Paisley Park, he had just left," she told The Guardian in 2016. "I was like, nooo!"—she further earned his stamp of approval in 2015 when he named her as one of five artists everyone needed to be listening to in the New York Post. "I used to be so upset that I never had co-signs. I was like 'How come all these other rappers get co-signs?' I always thought about who got the rap cosign. I'm too weird for the rappers and too black for the indies," she told RS last year. "I was just sitting in this league of my own. To be embraced by Prince and co-signed, I am eternally grateful for that. I can't complain about not getting a co-sign anymore. I got the ultimate co-sign."
A second album, Big Grrrl Small World, released in December 2015 caught the attention of Atlantic and earned her a record deal. She quickly got to work on an EP that was released in October of the following year. And on Coconut Oil, her message and her sound began to truly take shape. On songs like "Scuse Me," "Worship" and "Good as Hell," you'll notice two things: Lizzo wants you to love yourself and Lizzo can saaaang.
Matt Winkelmeyer/Getty Images for Warner Music
She was initially hesitant to sing the way producer Ricky Reed needed her to, telling him that she just "sang a little growing up" and wasn't sure she could hit all the right notes. And then she opened her mouth. "I heard Aretha, I heard Chaka, I heard the soul of all my favorite singers in a whole new style that was all Lizzo," he told Teen Vogue. "I left that day and hit my manager, "We need Lizzo. The world needs Lizzo.'"
With each successive release, Lizzo's been hailed as a trailblazer from a media that's realized body positivity is taking hold in the culture. And she's not entirely thrilled about it. "It's bizarre to me that what I'm saying and doing is revolutionary, because it should be so innate and first-nature. Not even second-nature," she told the magazine. "We should love ourselves first. We should look at our bodies as vehicles for success, and not a signifier of who you are, how good your pussy is, if dudes like you or not, or if you can fit certain clothes...that's not what your body's for."
Her rising star has not only landed her gigs opening for Haim and Florence + the Machine, but also modeling with in campaigns for Lane Bryant and Khloe Kardashian's Good American. And while she's happy to wear the body-positive crown, "it's not a label I wanted to put on myself," she told The Cut in February.
"It's just my existence. All these f--king hashtags to convince people that the way you look is fine. Isn't that f--king crazy? I say I love myself, and they're like, 'Oh my gosh, she's so brave. She's so political.' For what? All I said is 'I love myself, bitch!'" she continued. "Even when body positivity is over, it's not like I'm going to be a thin white woman. I'm going to be black and fat. That's just hopping on a trend and expecting people to blindly love themselves. That's fake love. I'm trying to figure out how to actually live it."
Rich Fury/Getty Images for Coachella
As the fan base has begun to explode since the release of Cuz I Love You and the opportunities continued to reveal themselves—she was able to team with personal hero Missy Elliott on the absolute banger "Tempo," she performed at the GLAAD Media Awards and will made her televised award show performance debut at the 2019 MTV Movie and TV Awards, she's graced the pages of both Playboy and Allure, shared the big screen with the likes of Jennifer Lopez and Constance Wu in the smash hit Hustlers, became the first black woman in 2019 to score a No. 1 hit when her two-year old track "Truth Hurts" scaled the Billboard Hot 100 and stayed there for weeks, and she's incorporated her flute, named Sasha Flute as a nod to Queen Bey's Sasha Fierce alter ego, into all her performances as a tribute to her dad who never get to see his daughter flourish—the movement has continued to take shape. And it's one that Lizzo is proud to proclaim is all her own. 
"The body-positive movement is the body-positive movement, and we high five. We're parallel. But my movement is my movement," she told Allure in March. "When all the dust has settled on the groundbreaking-ness, I'm going to still be doing this. I'm not going to suddenly change. I'm going to still be telling my life story through music. And if that's body positive to you, amen. That's feminist to you, amen. If that's pro-black to you, amen. Because ma'am, I'm all of those things."
And at the end of the day, she's just ready to bring a little bit of light back into the world.
"If I was 19 right now, I would be f--king terrified," she told EW. "But I'm older, I'm wise, I'm feeling like I'm getting actualized. I genuinely care about living a quality life, and if y'all gonna look up to that, then that's cool! I want people to be happier. I've seen how sick the world is, I've seen how sad people can be—I've been that person—and I genuinely want to use my gifts and the talents that I was blessed with to make sure that s--t is even a fraction less sad than it is now."
And she'll doing it one certified bop at a time.
(This story was originally published on Friday, April 19, 2019 at 3 a.m. PT.)