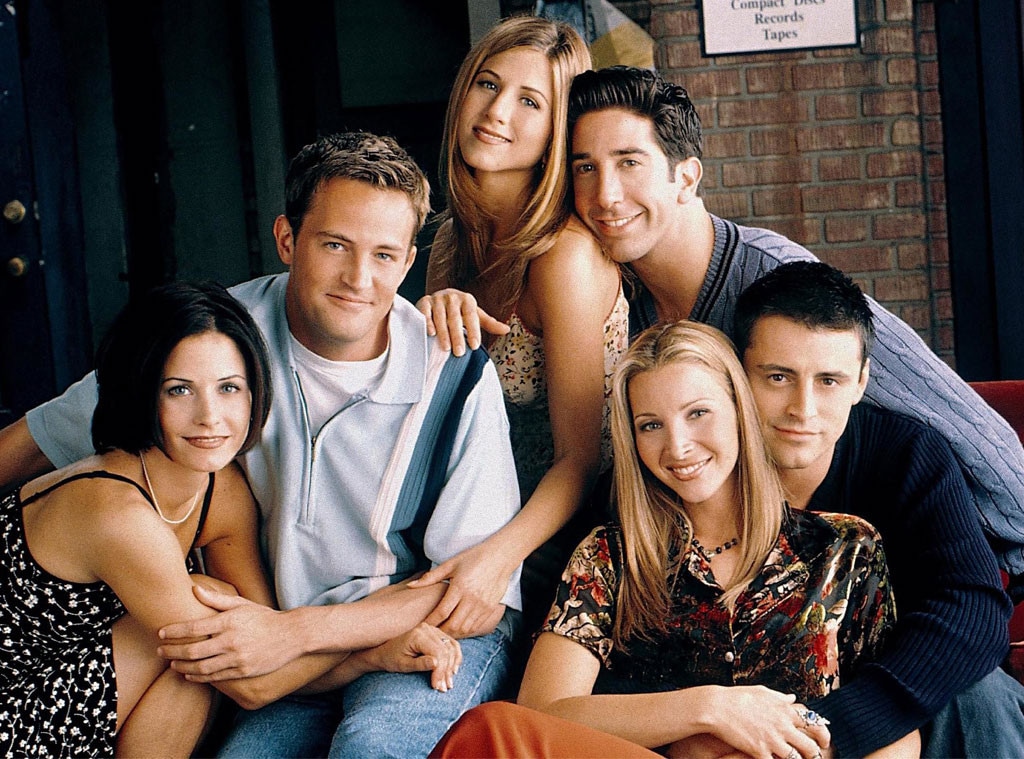 Courtesy NBC
BRB, we're just heading to Central Perk to meet up with our favorite friends!
OK, so sadly that's not our reality, but wouldn't it be great if you were actually pals with the characters on Friends? That's a not-so-secret dream of ours...since we did just tell you about it.
While our obsession with Friends and the wonderful characters that frequently sipped out of massive coffee cups in the cutest, hippest coffee shop in New York City, is well-known, how long we've loved them might be shocking.
For fans of the NBC series, loving Friends has become a way of life for so many years now that we've lost track. What you might not know is that the show originally premiered on September 22 in 1994. What's even more insane is that today, May 6, 2019, marks the series' 15-year anniversary of its iconic and tear-filled finale. 
Yes, the show left our TV screens 15 years ago in 2004 and we're still not happy about it.
Sure, you can watch the show in its entirety on Netflix, but it's not exactly the same.
For 10 seasons fans watched as the Geller siblings, Monica (Courteney Cox) and Ross (David Schwimmer) and their four best friends, Rachel Green (Jennifer Aniston), Phoebe Buffay (Lisa Kudrow), Chandler Bing (Matthew Perry) and Joey Tribbiani (Matt LeBlanc) lived it up in NYC and then they were gone.
We know we're being a tad bit dramatic, but 10 seasons of any show is a long time and therefore we were invested in everything about this crew. Whether it was waiting on Ross and Rachel to figure out they were each other's lobsters, or waiting to see if Joey would ever actually get another good acting gig, we were there rooting for them.
They were our friends, and luckily 15 years after the show ended fans are still singing their praises and arguing about who is the best character.
If you're like us, you have a definitive answer to the question, of which Friends character is No.1, and we want to hear all about it.
Before you weigh in on your favorite—cough, Ross the dinosaur guy, cough—let's recap what made each of the six BFFs so great.
Let's start with the oldest guy, shall we? Ross Geller, or should we say, Dr. Ross Geller.
While we know that the character had his annoying moments, like when he wouldn't stop yelling "pivot," he was a total gem of a person.
He was smart, loved dinosaurs (dorky, but cute), was loyal to his friends and knew just how to push his sister's buttons. He was a great dad, an excellent dancer and his love for Rachel was so pure that it still makes us swoon.
Ross' sister Monica was also pretty freaking great. She had her issues, mainly being too much of a cleaner and control freak, but she really did hold the gang together.
She was their mom, cooked delicious things on a regular basis, had great banter with her brother and she dated a lot of hot guys before bringing out the best in Chandler and living happily, ever after.
Speaking of Chandler, what's not to love about the goofball? He could be annoying at times with all his jokes, jokes, jokes and we have no idea what he did at work, but he was so sweet.
Despite his traumatizing childhood he was all about his chosen family, looked after Joey no matter what, and made us all laugh week after week.
When it comes to Joey all we can say is, "Joey doesn't share food!"
OK, we can say more than that like, how dreamy, funny and aloof the character was. He might not have had the greatest success career wise, but he was so relatable with his love of food, family and how protective he was over his crew...and not wanting to turn 30.
Next, is our gal pal Rachel Green. She was just the right amount of spoiled and sassy.
Her friendship with Mon will forever be one of our favorites. Even though she was a daddy's girl, she worked hard to make her own name in the world and we loved her for it. Plus, she got off the plane!
Last, but not least, is Phoebe. The free-spirited female was the ideal person to balance out all of the different personalities in this group.
She was able to make light of almost any situation, she was totally weird and at the same time totally lovable. She was selfless, had great style and could sing...especially about that darn smelly cat.
Now that you've taken a trip down memory lane with us, Friends style, we want to know which of these six characters is your forever favorite. Vote now!