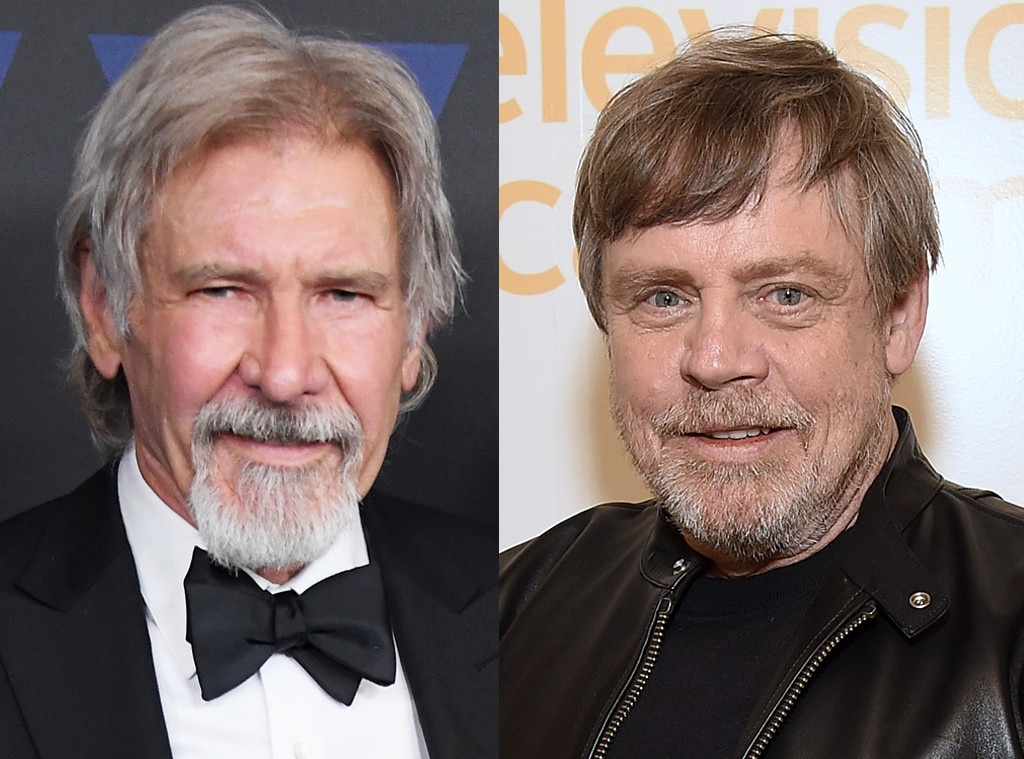 Steve Granitz/WireImage, Michael Kovac/Getty Images for HISTORY
Mark Hamill does a spot-on impression of Harrison Ford!
While appearing on Late Night With Seth Meyers on Tuesday night, the Star Wars legend talked about working with Ford on 1977's Star Wars: A New Hope. After host Seth Meyers showed a picture of Hamill (Luke Skywalker), Ford (Han Solo) and the late Carrie Fisher (Princess Leia) dressed up in character, Hamill revealed what it was like on the set of that first film.
"George [Lucas] likes to cast people that are so close to what he wants he doesn't have to really get in there and give ya a lot of direction," Hamill explained. "So Harrison walks in and he's just too cool for school, I mean, instant idolization."
"Carrie was funny and witty and adorable," Hamill went on to add. "We just immediately hit it off, it was perfect."
"Harrison had a really firm grasp of like the overview, I think he'd make a really good director if he weren't so lazy," the 67-year-old joked. "We'll edit that out later."
Hamill then recalled filming a scene right after they got out of the trash compactor.
"We hadn't filmed that scene yet, and I'm looking in continuity and I said, 'Well, wait a second, this is right after we got out of the trash compactor, shouldn't my hair be all wet and matted with schmutz all through it?'" Hamill remembered. "And [Harrison] turns to me and he says, 'Hey kid, it ain't that kinda movie.'"
Hamill then continued his impressive impression, recalling Ford telling him, "If people are looking at your hair we're all in big trouble."
Take a look at the videos above to see Hamill's impression of Ford! And find out what he had to say about trolling Star Wars fans!