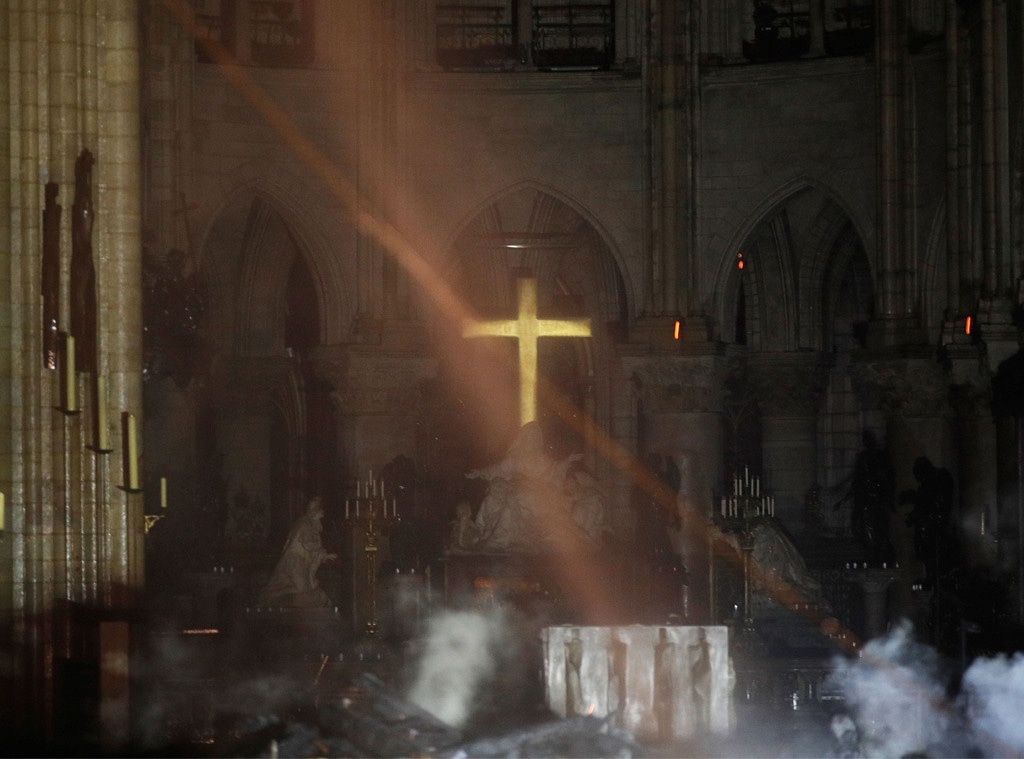 PHILIPPE WOJAZER/AFP/Getty Image
In the aftermath of a devastating fire, some of Notre Dame still stands. 
The world-famous cathedral in Paris caught fire on Monday,engulfing the iconic French landmark, which had been under renovation, in flames. While the cause of the fire is currently unconfirmed, the cathedral's spire and most of its roof structure have reportedly been destroyed. However, thanks to the efforts of hundreds of firefighters, the facade and two towers remain. Now, the first photos of inside the cathedral have emerged, where you can still see a fire burning above. According to CNN, Paris Fire Brigade Commander General Jean-Claude Gallet said authorities were initially notified of a fire in the attic.
In another image, smoke hauntingly fills the altar as the outline of a cross is visible while in a third shot, a group of firefighters enters the tragic scene. 
PHILIPPE WOJAZER/AFP/Getty Images
The event immediately sent shockwaves through the world with many who have visited the cathedral expressing their grief and reflecting on their happier travels to the iconic structure. 
"Notre Dame is one of the world's great treasures, and we're thinking of the people of France in your time of grief," former President Barack Obama tweeted. "It's in our nature to mourn when we see history lost – but it's also in our nature to rebuild for tomorrow, as strong as we can."
Omar Havana / Getty Images
French President Emmanuel Macron vowed to do just that when he told his people, "Notre Dame is our history, it's our literature, it's our imagery. It's the place where we live our greatest moments, from wars to pandemics to liberations...I'm telling you all tonight—we will rebuild this cathedral together. This is probably part of the French destiny."
Salma Hayek's husband, Kering CEO Francois-Henri Pinault, and his famous family have already pledged €100 million, or a roughly $113 million, to the restoration of the iconic cathedral.
"As many others I'm in deep shock and sadness to witness the beauty of Notre-Dame turn into smoke," the Oscar nominee wrote on social media Monday. "I love you Paris."