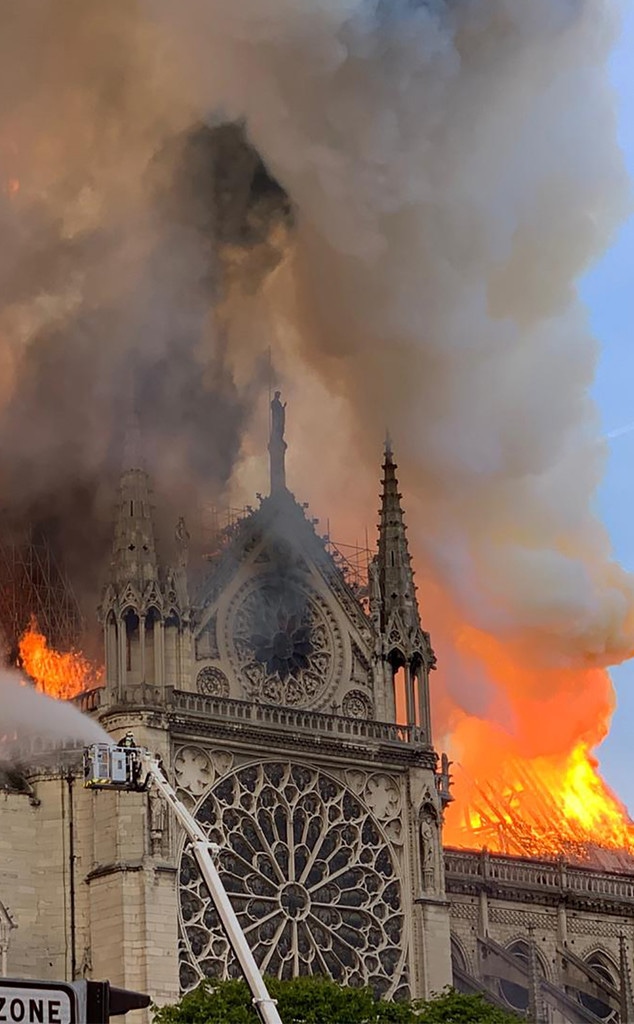 PATRICK ANIDJAR/AFP/Getty Images
The world is in shock after the loss of the Notre Dame Cathedral.
Earlier today, a massive fire destroyed most of the iconic Parisian church that has been a popular destination for tourists and residents in Paris, France for decades. According to NBC News, at least 400 firefighters were on the scene and desperately tried to douse the flames that forever changed one of France's most treasured sites. Fortunately, by early Tuesday morning President Emmanuel Macron was able to share that the cathedral's entrance and two towers, which often serves as the backdrop to tourists' photos, was saved from ruin.
In the wake of the tragedy, Salma Hayek's husband, Francois-Henri Pinault, is pledging €100 million or a roughly $113 million to the restoration of the iconic cathedral. Others will be able to donate to the rebuilding when an official fundraiser begins on Tuesday morning. 
The news has been trending on social media throughout the day with President Donald Trump reacting to the shocking footage.
"So horrible to watch the massive fire at Notre Dame Cathedral in Paris," he shared on social media. "Perhaps flying water tankers could be used to put it out. Must act quickly!"
First Lady Melania Trump  added, "My heart breaks for the people of Paris after seeing the fire at Notre Dame Cathedral. Praying for everyone's safety."
Former President Barack Obama also shared a family photo during a recent visit to the Notre Dame Cathedral.
"Notre Dame is one of the world's great treasures, and we're thinking of the people of France in your time of grief," he wrote on Instagram. "It's in our nature to mourn when we see history lost—but it's also in our nature to rebuild for tomorrow, as strong as we can."
Many familiar faces in and out of Hollywood are also speaking out on social media and expressing their sadness at the fire. Take a look at some of the candid comments below.