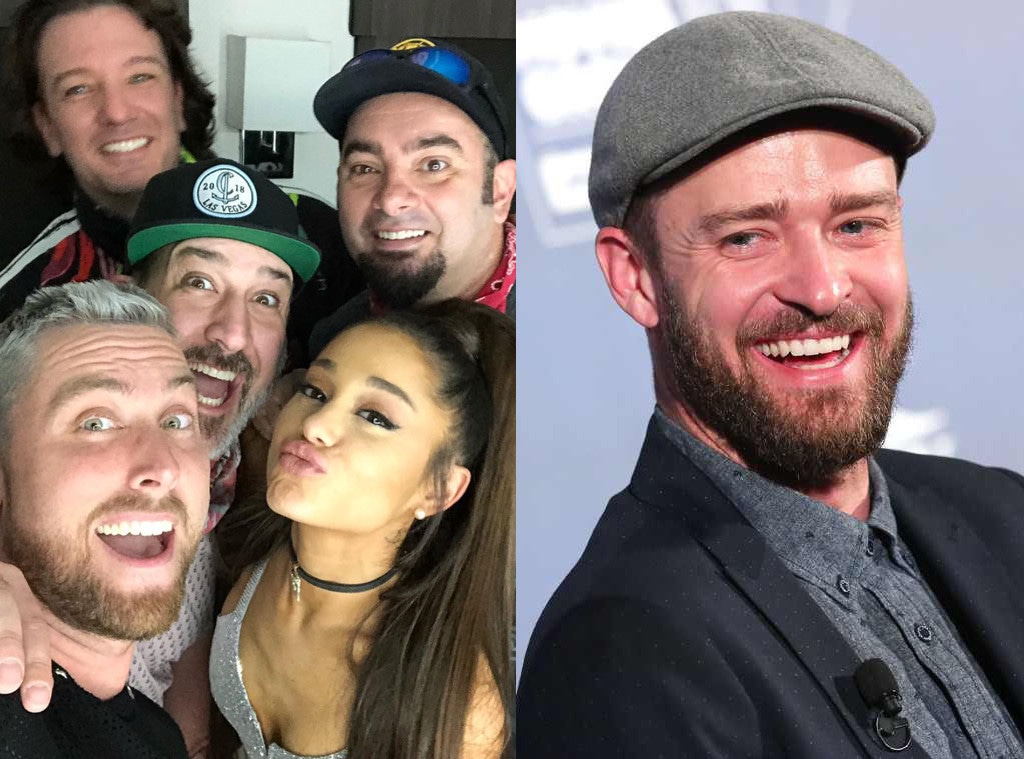 Instagram; Buchan/Variety/REX/Shutterstock
It was a performance to remember!
On Sunday night, *NSYNC members JC Chasez, Lance Bass, Joey Fatone and Chris Kirkpatrick joined Ariana Grande onstage during her headlining 2019 Coachella set. The group sang "Tearin' Up My Heart" for the delighted crowd, even dancing alongside Grande. 
Before exiting the stage, Chasez told the Coachella audience, "This has been a dream of ours. Thank you for sharing this with us."
While the four members were able to join Grande for the performance, the group was without one its members, Justin Timberlake. While the "Say Something" singer was noticeably absent from the reunion, there's no bad blood between Timberlake and the group.
It turns out, it was just about scheduling. Over the weekend, Timberlake wrapped up his 115-show Man of the Woods tour, which took him all over the world.
"Wow. 115 shows, wrapped. THANK YOU to every single person on and off stage who kept us running for the past year and a half... and huge thank you to all of you who came out to see us," Timberlake wrote on Instagram on Sunday. "You guys are the best fans in the world. Can't believe it's over #MOTWTOUR."
Timberlake's schedule simply didn't allow for him to be able to make it to Coachella, or to rehearse for performance. But he did send *NSYNC and Grande love on social media after their onstage collab.
"You guys killed it last night," Timberlake wrote alongside a group photo of the band and Grande.
"You were missed my friend!" Bass commented on the post.
Grande, who is a big *NSYNC fan, used part of the group's song "It Makes Me Ill" for her hit track, "Break Up With Your Girlfriend, I'm Bored." So, having them join her for the epic performance was extra special. 
E! News has learned that the group was honored to be asked to join Grande at the music festival. The band members, who had one and half days to rehearse, all sang live during the performance.
"i'll be recovering from this moment for the next twenty years tbh. the nicest human beings possible," Grande captioned a group photo. "it can go either way when you meet your childhood heroes and no one has ever been kinder or cooler or sillier or more lovely to be around. ever! also how the f--k do y'all still sound and dance exactly like you did when my mom and i followed you around on tour when i was 5? thank you thank you thank you for your time and energy and i love you so much forever."