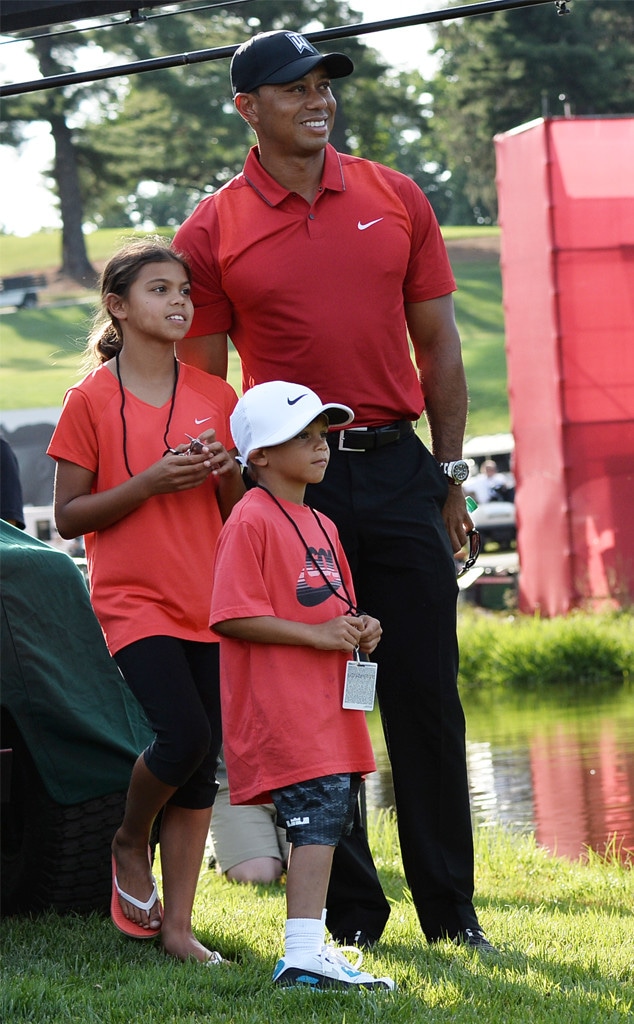 ANDREW CABALLERO-REYNOLDS/AFP/Getty Images
Tiger Woods just made the ultimate comeback and for the first time, he got to share his major win with his kids.
On Sunday, the 43-year-old golf champion won his fifth Masters and first major title in 11 years, following multiple injuries and personal and legal turmoil. This is the first time his children, daughter Sam, 11, and son Charlie, 10, were able to witness him achieving such a victory in person and in real-time. After his win, they were filmed hugging him.
Charlie was born a year after Woods won his 14th major at Torrey Pines at the 2008 U.S Open.
After his win, Woods also embraced his mother, Kultida, and girlfriend, Eric Herman.
This also marks the first time he has won the Green Jacket at the Masters since 2005. After his victory, by just one stroke, Woods gave one of his signature fist pumps and shouted with glee as the crowd chanted his name.
"This has meant so much to me and my family, this tournament, to have everyone here. It's something I'll never ever forget," Woods said at a press conference, getting emotional.
Kevin C. Cox/Getty Images
In 2009, a year after he won his previous major title, the golfer made headlines when he was charged with careless driving after crashing his Cadillac Escalade. Following the crash, rumors surfaced that Woods had been having extramarital affairs, which he later admitted. He and wife Elin Nordegren, Sam and Charlie's mother, divorced the following year.
Woods endured leg injuries in 2011, then returned to become the No. 1 golfer with eight victories in 2012 and 2013. He later suffered back injuries and underwent surgeries
In 2017, Woods was arrested for a suspected DUI. He pleaded guilty to reckless driving and was given probation, which ended after less than a year. Also that year, his health suffered another setback; at the Masters, he said he needed a nerve block just to walk to the Champions Dinner.
President Donald Trump and former President Barack Obama both congratulated the golf champion on Twitter after his win on Sunday.
"Congratulations to @TigerWoods, a truly Great Champion!" Trump tweeted, adding, "Love people who are great under pressure. What a fantastic life comeback for a really great guy!"
"Congratulations, Tiger!" Obama wrote. "To come back and win the Masters after all the highs and lows is a testament to excellence, grit, and determination."