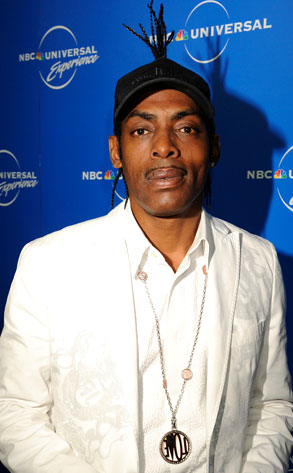 AP Photo/Jennifer Graylock
Apparently, Coolio couldn't just say no.
The one-time chart topper turned British reality-show also-ran was arrested at Los Angeles International Airport this morning after security screeners allegedly found drugs on him.
Police declined to reveal the type of narcotic he is accused of possessing. TMZ reports that it was crack cocaine.
Coolio, 45, was taken into custody shortly after 10:30 a.m. after he made his way through a checkpoint at the Southwest Airlines terminal and was stopped by one of TSA's finest. He's scheduled to perform in Tulsa, Okla., tonight, though it's unclear if the gig will proceed as planned.
The "Gangsta's Paradise" purveyor, whose real name is Artis Leon Ivey Jr., was released on $10,000 bail this afternoon after being booked on suspicion of felony narcotics possession at the L.A. Police Department's Pacific Division.
(Originally published March 6, 2009 at 12:59 p.m. PT)
—Additional reporting by Whitney English