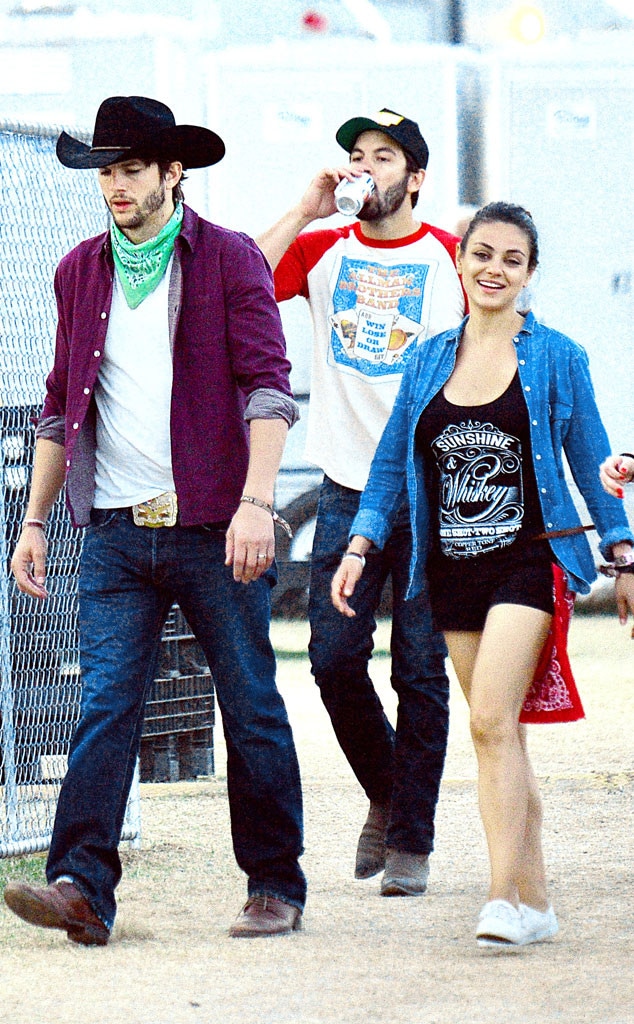 Sharpshooter Images / Splash
Bust out the flannel and dust off the cowboy boots—it's time for Stagecoach!
One of country music's biggest festivals of the year is right around the corner. And if you love the sounds of Jason Aldean, Luke Bryan and Sam Hunt, chances are you're hoping to travel to Indio, Calif., this weekend.
While the official lineup was announced months ago, many are curious to see if any Hollywood stars will be in attendance.
If the past is any indication, we may want to keep our eyes open for Ashton Kutcher and Mila Kunis.
After all, Hollywood's beloved power couple has proven time and time again that they are huge fans of country music.
Back in 2014, a then-pregnant Mila joined Ashton and headed to the California desert for three nights of music that included headlining sets from Eric Church, Jason and Luke.
Between Ashton's overalls and Mila's flannel, the pair certainly nailed the fashion department. And with their front-row seats, these two concertgoers certainly made it a festival to remember. They would ultimately return 12 months later.
Just last year, the pair traveled to the festival grounds again and had the opportunity to hang with some of their favorite artists like Lee Brice.
But with further research, this couple's love for the popular genre isn't limited to one weekend. Oh no, it goes way back!
Thomas Rhett made an appearance on Ashton's Netflix show The Ranch back in December 2017. And just one year earlier, the country singer invited Ashton on stage to perform a track as part of the Back Porch Revival benefiting The Native Fund in Iowa City.
"Thanks for helping me out @aplusk," he shared on Instagram after the special moment. "Your hometown crowd in Iowa City brought the heat! #Kinnickstadium #Nativefund."
And guess what? Thomas Rhett later revealed in an interview that his wife Lauren Akins hit it off with Mila and a dinner invite was later exchanged between the couples.
"I remember him and his wife Mila Kunis, which is crazy, invited me and Lauren to dinner one night in L.A.. And we're sitting there going, 'Are we seriously about to go to dinner with them?'" Thomas Rhett once confessed in an interview after being introduced at Stagecoach. "Before we walked in, we're like crossing our fingers like, 'Please be as cool as we think you are,' And we walked in and just immediately hit it off and we've gotten to become decently close with them."
He continued, "But I never in a million years would've dreamed that one of my favorite actors would have been a fan of mine without ever meeting him before."
A true and loyal fan to say the least. Ashton previously confessed to The Des Moines Register that he also loves the music of Dierks Bentley. And yes, he loved the collaboration between Kenny Chesney and Pink called "Setting the World on Fire."
For those who need just a bit more proof that this couple has mad love for the genre, you're in luck. We compiled some of their best moments in our gallery below.  
Will we see this pair out in the desert this year? Stay tuned to E! News for complete coverage of Stagecoach all weekend long.