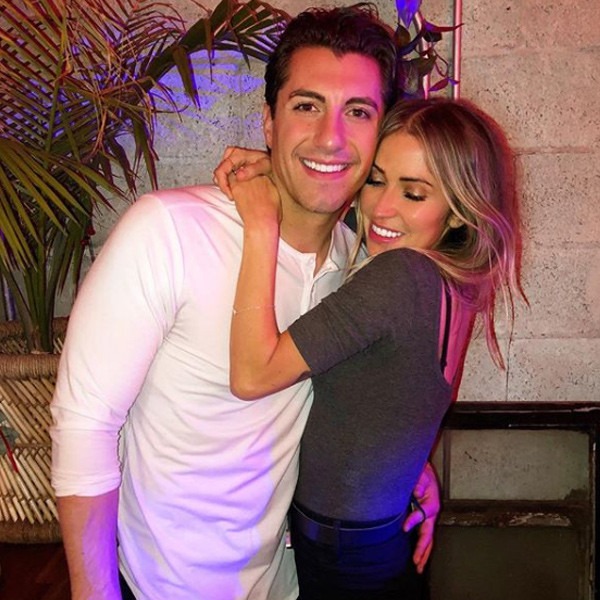 Instagram
Kaitlyn Bristowe is ready to kiss and tell!
It's no secret that The Bachelorette star and Jason Tartick have developed quite the special relationship. In fact, the couple has documented many of their romantic date nights on social media.
But in the latest episode of PodcastOne's Off the Vine  podcast, Kaitlyn decided to drop a confession she hasn't shared with anyone.
Ladies and gentlemen, it's time to relive her first hookup with Jason.
"I had a funny confession. It has to do with you. The first time Jason and I ever hooked up…the first time we actually felt romantic towards each other, we meet up and it's hot and heavy," Kaitlyn explained. "For this time, we knew it was on."
She continued, "I was on my period. This is a natural thing for women. We don't have to act like it's weird...I was like 'Yo, let's just dry hump.' So we did. Literally, I had pants on. We were fully clothed and hot and heavy."
And if you thought that was intriguing, there's more.
"In five minutes, he picked my nose and gave me an orgasm," she joked. "So yah, it was good."
The latest confessions come as Kaitlyn travels the country as part of her Spring Break Tour. In upcoming cities including Aspen and Denver, the reality star will tape her podcast live with special guests.
During her latest episode, Kaitlyn also gushed about her relationship with Jason. Whenever he gives her a compliment, Kaitlyn joked that it must be the "honeymoon phase."
"Talk to me in two years," she joked to the crowd.
As for Jason, he has his own predictions of what life could be like in two years.
"Talk to me in two years and we'll be married with a kid," he shared as the crowd erupted in laughter. "Two dogs too."