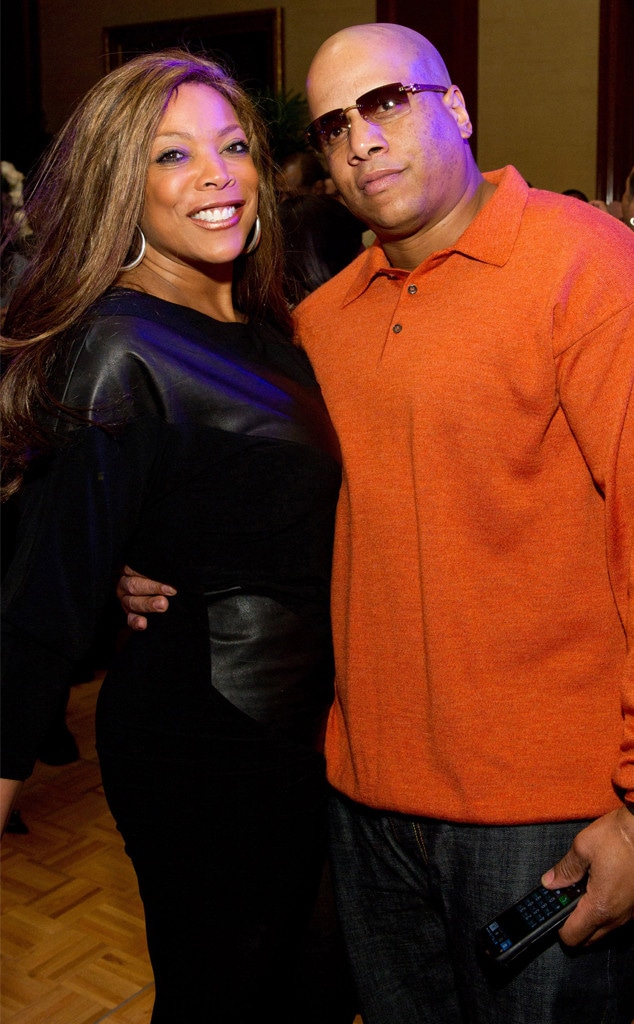 AP Photo/Charles Sykes
Well, she did say this would be the tell. 
"Anybody who's been married for five minutes or 500 years, you know marriages have ebbs and flows. Marriages are not easy," Wendy Williams stated, addressing rumors that her extended absence from her titular talk show was the result of issues in her personal life. "Don't ask me about mine until you see this gone," she said pointing to the bling affixed to the fourth finger of her left hand.   
Though, on that March show, her first time on air in more than two months, she followed that statement up by insisting, "and it ain't going anywhere—not in this lifetime."
Perhaps she undershot just a bit. Because earlier today, the sizable round-cut diamond was missing as Williams helmed her series and her left hand was still markedly bare in an Instagram video her makeup artist posted after the closing credits ran. 
And by early afternoon any questions about her union were answered as reports emerged the 54-year-old purveyor of Hot Topics had, in fact, filed to end her nearly 22-year marriage to manager Kevin Hunter.  
A source confirms to E! News that Williams filed the paper work, then served Hunter, an executive producer on the long-running show, before taping began at the New York City studio Thursday. "Kevin is supportive of Wendy and they are working through this process together," a personal rep added to E! News in a statement.  
It's hard to qualify the move as shocking. Though it came after weeks, even months, of denials on Williams' part, every person has their breaking point and the New Jersey native had already outlined hers in her 2001 memoir, Wendy's Got the Heat. Revealing Hunter, 46, had cheated on her shortly after she gave birth to their son Kevin Jr., now 18, she swore she would "walk out for good" if he violated any of her other hard and fast tenets.
Lying about anything was a no-no, she wrote, as was letting an indiscretion develop into a full-blown affair. "If he was in love, if she was just as successful at what she does as I am in my career, if she had his baby," she continued, she would leave.
So when the reports that Hunter had been squiring a mistress for years jumped from whispered chatter to headline news, accompanied by stories that Sharina Hudson, the 33-year-old woman in question had, given birth to his daughter at a Philadelphia hospital in March, well, it was hard to see how the pair's marriage could possibly be sustained. 
Though they certainly had a strong showing.
Their story began with a meet-cute at an ice rink in 1994 after Williams separated from her first husband, a salesman she referred to in her book only using the pseudonym Robert Morris III. By November 1997 they were wed. And, after suffering two miscarriages, Hunter's namesake followed along in 2000, though he was accompanied by the first signs of strife. 
Just weeks removed from labor, she was wandering about the house, she detailed in a 2013 interview with VladTV, when she happened upon Hunter mid-conversation, "a late-night telephone call and some clandestine whispering."
In that moment, she wrote in her memoir, "my woman's intuition kicked in and I knew he was on the phone with a lover." Her initial reaction, she shared, was blind rage—"I wanted to kill him. I mean really kill him. For real. I wanted to kill him more because I was in the process of breaking my Number One Rule: No Cheating,"—followed by an insatiable urge to uncover every detail. 
Bruce Glikas/Getty Images
"I needed to know if she was in love? Was he in love?" she outlined, admitting that she hired a private investigator to learning everything about her husband's alleged mistress. "Were condoms used? Is she pregnant? Was she laying up in the Marriott with him?"
Still, despite insisting "no woman deserves this," the former radio host wasn't quite ready to sign off—a decision she shared in her 2013 sit-down that she doesn't regret. 
"It has made our marriage—and I know this is cliché, but it's true—it's made our marriage stronger. No, I'm not back to the girl I was before him, because when you get stung like that, you never go back to who you were—only a fool does," she said. "But I love him, and he loves me, and we addressed it head-on."
As had been her way throughout her successful career as a radio shock jock, she was open about the struggle. 
Bernard Smalls for The Hunter Foundation
"It was a mutual decision to reveal this in my 2001 autobiography Wendy's Got the Heat," she continued. "If you told me when I was 25 years old, or 30 years old, that I would stay around for a cheater, I would've been like, 'you's a liah, you are lying, I've got way too much to offer a man to stick around for him cheating on me.'
"But I did, and I don't regret it. I do think it's a double standard with cheating. I think that you men are just sometimes so neanderthal that you could never put up with your woman cheating, a man putting paws on your meat. But women have got to deal with that fact, many of us, at some point in our lives."
Though she understood that hers wasn't a view shared by all. 
"People will always, for the rest of my life, throw darts at my situation," Williams once told San Francisco's WiLD 94.9 FM. "They will throw—and we explained this to our son—they will throw them at him, they've thrown them at me in my entire career, my husband. He knew what he was getting involved with, but it takes a special kind of man to be with a 'Wendy Williams.'"
Of course Hunter came with his own set of headlines. 
By then the married duo linked up professionally with Hunter becoming his wife's manager and partner in Wendy Williams Productions. And in 2008, a talent booker on The Wendy Williams Experience radio show filed a sexual harassment lawsuit against both of them, alleging Hunter had aggressively hit on her at work and after hours and that Williams, as was stated in court documents, "aided and abetted" his behavior. The couple denied her claims and eventually the suit was reportedly settled out of court. 
But five years later, Hunter was blasted once again when an unnamed source told the New York Daily News that the producer was a problematic fixture on her talk show set, forcing staffers to clear all questions, scripts and guest bookings through him. 
"Wendy is smart. No one can understand why she does not tell him to f--k off," said the source. "He is making everyone's lives miserable and is causing problems on an otherwise great show."
But that's not how Williams saw it, telling Howard Stern during a 2013 interview on his radio show that she loved having her husband as manager. 
And though she unequivocally called the shots in their professional life, she shared in a 2015 with New York Family magazine, she didn't demand center stage back at their New Jersey manse.
"On the home front, I just want to maintain good health for my husband and my son," she said. "While my husband and I work together, and I'm the 'star' of the family, I don't like to be that way at home. It's not really a challenge, but it's something that is definitely done personally." 
To that end, the seven-time author revealed during another stop off at The Howard Stern Show in 2017, she took strides to keep their two-decade marriage spicy, visiting strip clubs together and just generally interjecting some romance into their daily lives. "I'm a fun woman, Howard," she insisted. 
Take the time her then-13-year-old son wandered into her bedroom in the middle of the night. "He walked in on me giving my husband a favor, at 2 o'clock in the morning," she shared during a particular racy appearance on Conan. "And what do you think we did? Continued!" 
Still, being open-minded about strip club visits and public displays of affection isn't the same as being willing to try a more modern take on a marriage. An open relationship, she had stated unequivocally in her 2013 VladTV interview was a "recipe for disaster." 
She was speaking from experience, she continued, knowing four different couples who had eschewed the traditional take on monogamy. "For the life of me, I would never do that—but you know what I've noticed? Open relationships seemed cute and worked for these couples...and I kind of enjoyed being friends with them...but guess what's happened? As the women have gotten older, 'cause now we're all around 50, they've slowed down on this notion, and the husbands still want it."
So it seemed clear, then, that Williams would never have signed off on what DailyMailTV called Hunter's double-life, stating in their bombshell September 2017 report that he had been tooling around with Hudson, a massage therapist, for more than a decade. According to the story, he even lived with her part-time, first at a two-bedroom luxury condo, then at a suburban four-bedroom home, when he wasn't staying with Williams at their $2 million five-bedroom New Jersey abode. 
Used to tackling scandal-laced celeb stories head on, Williams immediately brushed this one off as rumor, a collection of fallacies that she could dismiss in her patented show opener. 
"It's weird doing Hot Topics and being a hot topic," she said coyly on air just one day after the article was published. "It's some sort of weird story going around the Internet regarding my husband. Now look, I'm a straight shooter, pow-pow. All you've got to do is Google him and you see the story. You can believe what you want, but..." Once again, she flashed her massive diamond. "I stand by my guy," she continued. "We commuted this morning. The paparazzi was outside, catching me in the cutest negligee...All is well in Hunterville. Don't believe the hype and if there was hype, believe me you—I would let you know!"
The producer was actually a source of strength for her, not consternation, she told People months later, explaining how he'd helped her grapple with Grave's disease, an autoimmune condition that affects the thyroid and the reason, she has said, she toppled over while hosting a Halloween episode in a particular sparkly Statue of Liberty costume. 
"My husband was extremely concerned," she said. "He's not just my husband, he's my business partner, one of the executive producers on the show and he's also my manager. He and I are glued at the hip."
So as she dealt with the vertigo, high blood pressure and eye protusion that accompany the disease, "He was with me every step," she told the magazine. "For him, seeing me go through all of this, it's really been trying on him. I've been concerned about him. I'm like, 'Don't worry about me!'"
Though, of course, there was reason to worry all was not well with Williams. The star, a four-time Daytime Emmy nominee for Outstanding Entertainment Talk Show Host, initially explained away her early 2019 hiatus—slated to only be a few weeks when she announced her time off before heading into the holiday season—as the result of a Graves' flare-up and a particularly painful hairline fracture in her upper arm.
But eventually she shared that there were more issues at play. 
On her March 19 show the former "three-gram-a-day cocaine" user revealed she'd been living in a sober house "for some time now, and even today and beyond." 
Continued Williams, "When you see me come to work, glammed up, right after the show I go across the street, I do my Pilates. I told you, two hours a day or like to take care of my body. And you know I've had a struggle with cocaine in my past. And I never went to a place to get the treatment. I don't know how, except God was sitting on my shoulder and I just stopped." 
While she credited simply being around her husband as reason enough to get "weaned off the stuff," this time she was truly committing to the trappings of sobriety. "After I go to the Pilates, I go to several meetings all around town in the Tri-state area," said Williams, who launched the Hunter Foundation for those struggling with addiction in 2014. "And I see my brothers and sisters caught up in their addiction and looking for help. They don't know I'm Wendy. They don't care I'm Wendy. There's no autographs, there is no nothing. It's the brothers and sisters caught up in the struggle It's been really interesting. This ride." 
But it wasn't Hunter's behavior that had thrown her for the loop, she insisted. Despite reports he had fathered a daughter with Hudson (though she was discharged from a Philadelphia hospital in March, E! News could not independently confirm that her baby is Hunter's), she remained steadfast that there was nothing to see in her home life other than the fact that she wasn't actually there. 
Watch:
Wendy Williams Admits to Secret Stay at Sober House
"Believe me you, when you've been with somebody for 28 years...married for 25 years...we know each other. He's my best friend, he's my lover, he's all this and he's all that," she said. "I know what you've been seeing and I know what the streets have been talking about."
So she painted a new picture, stepping out with Hunter in New York City in late March. And Hunter did his part by speaking to Entertainment Tonight, telling them pointedly that they were working through her setback as a team: "We're moving forward with working on her sobriety and doing the work to help others, not just ourselves. It is a family process. Anybody that has to deal with this knows this is a family process...and we are dealing with it and moving forward." 
And then, in the ultimate gesture, he relied on the power of jewelry, working with Flawless Jewelry to upgrade her customized diamond-encrusted Frank Muller watch, a move that set him back some $40,000. 
In return, though, Williams would gift him with divorce papers. "There exists irreconcilable differences between the parties which have caused the breakdown of the marriage for a period of six months," her attorney stated in the filing, "and which make it appear that the marriage should be dissolved as there is no reasonable prospect of reconciliation." 
Audience members at a Thursday afternoon taping said that Williams didn't get into details during the show, but we'd imagine given her frankness on the rest of life's dramas, it's destined for a Hot Topics segment in the near future. As the host stated this past week, talking about a particularly unflattering series of photos showing her making a middle-of-the-night Walmart run, "One of the best things about being truthful to yourself and truthful to you and having your own show is I can came on and dispel my own rumors." 
Or, as the case may be this time around, confidently confirm them.