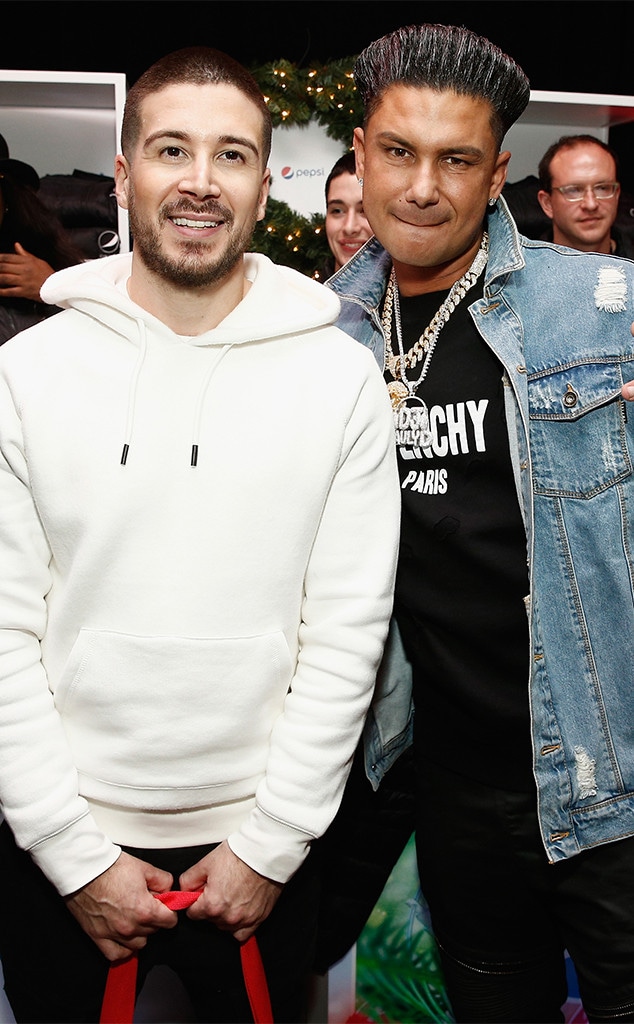 Brian Ach/Getty Images for iHeartMedia
Jersey Shore's Vinny Guadagnino and DJ Pauly D took a brief break from finding their double shot at love to share an update on their pal Mike "The Situation" Sorrentino.
Vinny and Pauly D stopped by SiriusXM's The Jenny McCarthy Show and shed some light onto how The Situation is handling his prison sentence at the Federal Correctional Institution in Otisville, N.Y. The reality TV star turned himself in on Jan. 15 to begin his 8-month sentence. Despite not being home with his wife Lauren Sorrentino or fellow Jersey Shore pals, he's doing "so good" up in Otisville, which is a male-only, medium security prison.
Vinny told Jenny McCarthy that he and Pauly D "talk to [Mike] every day."  He explained that The Situation is "the exact same" as before and they talk through a special app "and he has a computer room that he can go to throughout the day" to communicate with them.
The Situation's communications are hardly limited to this app program. From what it sounds like, he's being as social as ever. The Double Shot at Love stars talked a bit about who The Situation hangs out with. According to the two friends, one of his prison companions includes Fyre Festival's disgraced founder, Billy McFarland.
McFarland was charged with wire fraud on June 30, 2017 and he was sentenced to six years in prison in October 2018. 
McCarthy urged Vinny and Pauly D to tell The Situation to "get as much information as possible about the Fyre Festival."
As it turns out, "the guy from the Fyre Festival" isn't the only big name there. It's also where President Donald Trump's former lawyer Michael Cohen will serve his three-year prison sentence.
Vinny added, "He's in there with the guy that leaked Jennifer Lawrence's nudes that hacked her phone." McCarthy said she, too, was a victim of a nude photo hacking scandal.
The hacker, George Garofano, was sentenced to eight months in prison in August 2018. According to Pauly D, the two of them "play Scrabble together."
The radio show host quipped, "Imagine what he's learning in there!"
Pauly D joked, "He's learning how to hack phones!"
Just like how The Situation was before heading to prison, he seems to be maintaining a glass half-full perspective.
Vinny shared, "He sends me such positive vibes. He gets me through my day."
Pauly D reaffirmed these thoughts and explained why their friend "is in such good spirits" in prison.
"He sees Lauren his wife once a week and he has so much to come home to," Pauly D said. "He has a job—he'll be filming—so he just wants to get it over with and do his time."
The DJ continued, "He's happy."
Fellow Jersey Shore star Snooki had similar words when E! News talked to her at her store, The Snooki Shop, in April. She even likened his stint in prison to that of "a senior home."
"He's playing Bingo, he's helping people recover in jail," she said. "We all talk to him through an email, so I talk to him like once a week. He's in the gym a lot, so he's probably gonna come out ripped. You know, he's not gonna be BDS anymore–Big Daddy Sitch–he's gonna have his, probably, six-pack again. But he's doing...he's doing good in there."
Snooki said it seems like The Situation is "having the time of his life in there."
FCI Otisville; Getty Images
Vinny and Pauly D begged to differ a bit. Vinny said that assertion was "a bit extreme" but Pauly D also painted Otisville not to be a place where he's stuck in a cell all day.
"There's no bars, there's not that many people," Pauly D said. "It's like a vacation from your life."
In 2009, Forbes dubbed Otisville one of "America's cushiest prisons" and it apparently only takes about an hour to reach by train from New York City.
Vinny and Pauly D's show Double Shot at Love premieres Thursday, April 11 at 8 p.m. on MTV.